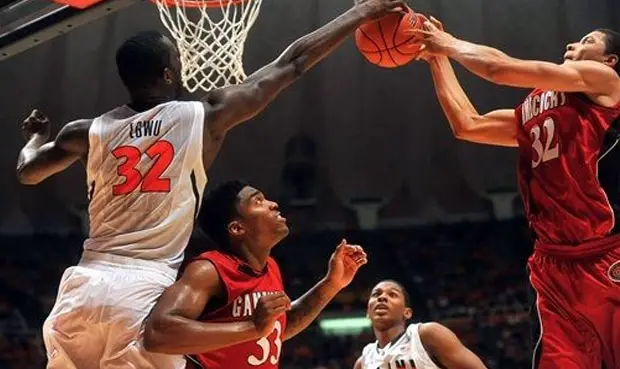 After a successful season opener, Illinois welcomed the Jacksonville State Gamecocks for their second game in the Global Sports Invitational. The Fighting Illini showed off a balanced attack in their 80-63 win over Alabama State on Friday, with all eleven players on the roster scoring in the game. The Illini once again had all eleven players score in the game, but they had to fight to hold off the feisty Gamecocks. After missing their first eight shots in the second half, the Illini regrouped and sprinted out to an 86-62 win.
The Gamecocks quickly cut into the Illinois halftime lead with two three pointers by senior guard Brian Williams to make it a 40-33 game.
The freshmen were once again huge for Illinois.
Freshman guard Jaylon Tate scored on an athletic and-one drive, followed up by fellow freshman guard Malcom Hill pump faking his defender and finishing a midrange jumper. The Illini pushed their lead back up to 53-38 with 12:50 left.
Tate finished with 10 points shooting 3-3 from the field with 8 assists to one turnover.
Many were caught off guard by the high level play from Tate, but his performance was no surprise to Illinois center Nnanna Egwu.
"I knew that in the summer when I first saw him play," Egwu said. "I knew how smart he was, his IQ is real high, and the way he shares the ball. The one thing about him he has a great attitude, he always want to learn, he wants to get better and he always wants to help everyone get better."
Three straight buckets by junior point guard Tracy Abrams punctuated by an and-one drive blew the game open for Illinois, extending their lead to 66-45 with 7:25 left in the contest.
Abrams finished with 13 points after scoring just one point in the first half.
After scoring 22 points in his debut, Rice didn't take too long to get started in this one. Rice scored a basket just a minute and a half into the game on an athletic drive to the basket.
Rice finished with 13 on the night.
After the Rice score, Bertrand scored five straight points of his own. Bertrand found his way to the bucket after a nifty in and out crossover froze his defender. Illinois led 8-1 three and half minutes into the contest.
Bertrand had a career night, finishing with 20 points, 10 rebounds and 3 assists shooting 7-9.
"I thought he was terrific," Illinois coach John Groce said. "I basically told him, 'I'm not taking you out until you tell me you're tired,' because I thought he was the one guy that was really locked in."
Bertrand looked like a totally different player in the go-to role—attacking the rim at will, making the timely pass and playing solid defense.
"I think [Groce has] really pushed me to get in the lane, that's one of the things that I do best—those straight line drives," Bertrand said. "Rebounding as well they've really been on me, I think we've done a really good job of crashing the glass that's one thing that we've definitely been working on in practice."
Egwu continued to show off his improved back to the basket game and anchored the Illini interior defense.
Egwu finished with 10 points, 7 rebounds and tied a career high with 5 blocks.
After having a 24 rebound advantage over Alabama State on Friday, the Illini were outrebounded 44-37, including 25-14 on the offensive glass.
"I thought it was unacceptable," Groce said. "I don't like giving up that many offensive rebounds. I think part of it is we got in rotation because the ball got in the paint too much—and then loose balls, you gotta go get them."
Illinois only attempted three three-pointers in the first half after shooting 4-20 on Friday and finished shooting 4-12 from deep on the night.
Despite failing to provide their typical volume three pointers, the Illini shot 52% from the field and held the Gamecocks to 33% shooting on the night and only turned the ball over five times.
Illinois scored 80 points for the second consecutive game after reaching that mark only five times all of last season.
The Illini will take on the 2-0 Valparaiso Crusaders on Wednesday as their third game in the Global Sports Invitational.
For More Great Chicago Sports Content
Follow us on Twitter at @chicitysports23 for more great content. We appreciate you taking time to read our articles. To interact more with our community and keep up to date on the latest in Chicago sports news, JOIN OUR FREE FACEBOOK GROUP by CLICKING HERE