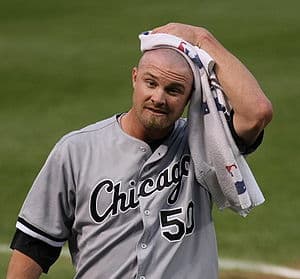 Game 1, not so good for the White Sox.  But games 2 and 3 can go a long way to erase the debacle of tonight.
But in order for the Sox to turn this series around, someone is going to have to step up.  Coming off the atrocious showing in Baltimore in which the South Siders dropped 3 games out of 4 to the worst team in baseball, game 1 of 3 in Minnesota is not what the Sox were hoping for.  However, the pitching matchups look pretty good as this series continues.
Danks, Gavin, or someone on the offensive end has to pick this team up and carry them back onto the tracks. Danks takes the hill tomorrow night.  He is historically not great against the Twinks (5-6, 5.28 ERA), but he has come up big against them before.  Floyd is 4-5 with a 4.04 ERA lifetime vs. Minnesota, but he has been as hot as any pitcher in the Majors.
If it's not one of the two of them, it has to be a hitter to break this team out of the funk.  Konerko tried with his game tying bomb in Baltimore, that didn't help, Quentin hit a 3-run shot tonight, didn't help.   So I'm thinking, maybe it needs to be a Pierre, Lillibridge type.  Someone quick, someone who can get the ball rolling, set it up for the big guys.
It really could be anybody.  But one thing I do know is that this is a "must-not-get-swept" series.  The momentum is clearly in the hands of the Twinks right now, but just 1 win can at least take some of it away.  2 wins, and tonight's game never happened.
For More Great Chicago Sports Content
Follow us on Twitter at @chicitysports23 for more great content. We appreciate you taking time to read our articles. To interact more with our community and keep up to date on the latest in Chicago sports news, JOIN OUR FREE FACEBOOK GROUP by CLICKING HERE