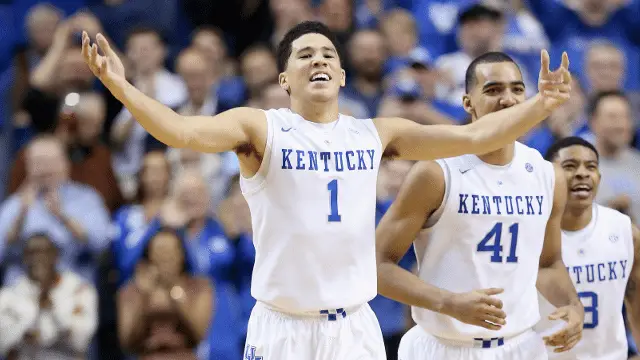 The CBS Sports Classic in Chicago was one of the most highly anticipated showcases in recent college basketball history—and it didn't disappoint. The United Center was packed with NBA scouts and GM's all drooling over the crop of talent spread across North Carolina, Ohio State, UCLA, and most of all, Kentucky. ESPN draft expert Chad Ford said the games showcased 21 of his top 100 draft prospects. It's extremely rare to see so many prospects playing one city, let alone under the same roof.
The two games weren't what you would call barnburners.
In the first game, North Carolina held off Ohio State 82-74. In the second game, the No. 1 Wildcats ran the Bruins out of the building, winning 83-44.
Neither game featured the back and forth, tight basketball we all love to see, but the talent on all four teams was undeniable. With so many prospects sharing the same floor, it was almost impossible to keep a close eye on every player. Here's some observations from the players I kept a close eye on:
Ohio State Freshman PG/SG D'Angelo Russell
Even with the stacked Wildcats in the building, there was no player I was more excited to see than OSU's D'Angelo Russell. Russell was a top rated prospect out of high school, but no one expected him to take over so quickly. Russell is averaging 17.4 points, 4.7 rebounds, 5.2 assists, and 1.8 steals per game while shooting 41% for three.
At 6'5", Russell is still more of a combo guard right now, but if he can convince NBA scouts that he can run an offense, he'll be a lock for the top 10. Unfortunately, Russell didn't do much Saturday to sway those scouts.
Russell finished with 11 points, 8 rebounds, and 5 assists shooting 4-17 from the field and 3-10 from downtown.
It wasn't Russell's best night, but he showed off glimpses of his talent.
Russell displayed the ability to handle the ball and made some solid passes to the rim and corners. Russell got unlucky on a few potential assists with guys missing easy shots or getting fouled. It also didn't help that center Amir Williams spent a ton of time on the bench in foul trouble, so the Buckeyes really lacked an inside presence.
Russell has a quick, sweet looking lefty jumper. With Ohio State struggling on offense, Russell was forced to take a lot of defended jumpers. He rarely attacked the basket, which was surprising considering North Carolina's 6'1" Marcus Paige defended him the entire first half.
On defense, Russell looked the part in the Buckeye's zone and he didn't look overpowered. He used his length to disrupt the passing lane on numerous occasions. He came away with three steals, but he'll need to prove he can stay in front of quick guards in a man to man setting.
With tough outings in Ohio State's losses to North Carolina and Louisville (6-20 from the field with 4 turnovers), Russell will need to prove he can play at a high level against top teams. Russell should land somewhere in the 8-14 range if he does decide to declare.
North Carolina Junior PG/SG Marcus Paige
Paige didn't sneak up on anyone this season as he was a pre-season All-American. He's got a lot of the same question marks as Russell. He'll need to prove he can run an offense before an NBA team takes a chance on him.
Paige's height is an issue even if he can prove that he's a point guard, but that remains to be seen. Paige has dropped off statistically across the board this year, shooting only 34.7% from the field, 34.2% for three and he's averaging only 13.4 points per game.
He scored 16 points against Ohio State, but shot 4-12 from the field and finished with 4 assists on 4 turnovers. The Tar Heels offense ran better through back point guard Joel Berry. Even starting forward J.P. Tokoto made more plays for others than Paige.
Like Russell, Paige has a smooth looking lefty jumper, but he'll need to improve his shot selection. He held his own on defense limiting Russell in the first half. In order to prove he can make it in the NBA, he'll need to improve his consistency on his jumper and score at a higher efficiency.
It's looking more and more like his best chances of making it on an NBA team will be as a backup combo guard, but he'll likely be a second round pick at this point.
UCLA Freshman SF/PF Kevon Looney
UCLA's Kevon Looney was another player I couldn't wait to see in person. Looney has an interesting skillset to say the least. At 6'9," Looney has a fantastic handle, even playing point guard for his high school team.
Looney and his UCLA teammates ran into a brick wall against the Kentucky frontline, but Looney did his best to hold his own.
"It was pretty difficult, hard to get scoring angles on your layups and try to finish over the top, they're real long, great shot blockers. But it was a lot of fun and a great experience playing out there," Looney said. "Hopefully we see them again, because that was embarrassing and we want another stab at it."
Looney showcased his ability to get into the lane off the dribble and even step out for three pointers. He drew a tough assignment with Kentucky's Willie Cauley-Stein on him, as he was held to 4-14 shooting and 9 points on the night.
Looney did score 5 of UCLA's 7 first half points and grabbed 9 boards on the night. Looney's 14 shot attempts were actually his second highest of the season, as he was one of the few Bruin players that didn't take himself out of the game.
No one is supposed to have a career night against this all-time deep Kentucky team, so doing the little things like going after loose balls, staying confident, and running the floor can really impress scouts.
Looney is a virtual lock for the top ten when he decides to declare.
Kentucky Freshman SG/SF Devin Booker and Sophomore C Dakari Johnson
It was tough for me to choose which Kentucky players to talk about, so I chose to discuss two lesser talked about players. The immense talent of bigs Karl-Anthony Towns and Caulie-Stein are obvious and well-documented at this point, so let's analyze two guys from UK's "Blue Platoon."
It's pretty telling that Devin Booker entered the game when it was already 16-0, but he may have had the most impressive performance of the night.
Booker scored eight straight points after checking into the game, hitting two of his five three pointers. Booker finished with 19 points on 7-10 shooting and 5-6 shooting from beyond the arc. After missing nine straight three's, Booker has connected on eight of his last nine.
Despite the sudden improvement, Booker claims he hasn't changed anything with his jumper.
"I wouldn't say it's different at all. I keep all my mechanics the same, always. I always have my whole life," Booker said. "I feel like shooters go through slumps sometimes and you have to shoot your way out of it. When you have a team behind you that tells you to keep shooting it and a coach that tells you to keep shooting it, it makes it easy for me.
Booker has solid length at 6'6" with a very high basketball IQ. Over half his shots come from deep, a skill that is highly coveted by NBA teams.
Booker is averaging 22 points, 3.2 assists, and 2 steals per 40 minutes. I don't see him leaving for the draft after this season, but he certainly has the potential to be a future lottery pick.
Teammate Dakari Johnson, who is only playing 18.7 minutes per game this season, has some startling per 40 minute numbers as well.
Johnson is averaging 18.9 points, 12.7 rebounds, 3.2 assists, 1.4 steals and 2.9 blocks per 40 minutes. His ability to put up solid numbers in limited minutes was on full display Saturday.
Johnson finished with a line of 5 points, 4 rebounds, 6 assists, 4 blocks, and a steal in 20 minutes. The 6 assists might seem like a fluke, but Johnson has the shown ability to find shooters from out of the post.
Booker attributes the team's shooting success to the Kentucky big men, including Johnson.
"I think Aaron [Harrison] started the game out with two big threes because they started out in a zone-and-one to cram the middle, but once he did that they had to open it up and give our bigs man-to-man looks," Booker said. "So we threw it into our big, and my man would help and it just gave me a wide-open shot. Dakari made passes and made it a lot easier on me."
Johnson is huge at 7'0," 255 pounds and he knows how to use his wide body in the post. You don't find 19 year olds with such a polished post game very often.
Johnson will need to show he can play regular minutes at the next level, but at the very least he can be a valuable big off the bench.
For More Great Chicago Sports Content
Follow us on Twitter at @chicitysports23 for more great content. We appreciate you taking time to read our articles. To interact more with our community and keep up to date on the latest in Chicago sports news, JOIN OUR FREE FACEBOOK GROUP by CLICKING HERE