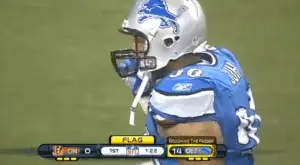 James Harrison is letting out a huge sigh of relief right now. He is no longer #1 on Roger Goodell's watch list. Ndamukong Suh established himself as one of the NFL's dirtiest players with yet another cheap shot taken during the Lions' first pre-season game.You might remember last season when Suh attempted to rip off Jake Delhomme's head last season and moose-clubbing Cutler in the back of the head. His violent play is very admirable as a defensive tackle however, intentionally slamming players when he doesn't need to isn't going to make him very popular around the league.
Suh intentionally slammed Bengals QB Andy Dalton once the ball was released. What makes this so bad is that the ball was clearly away and Dalton was helmet-less. Malicious plays such as this one are why Suh is gaining a bad reputation in the league. Lions' fans can expect two things to stem from this incident…
Offensive linemen will be looking to take his knees out given the opportunity.
Referees will be paying extra close to him increasing the volume of personal fouls he receives. So much for being discrete about it!
For More Great Chicago Sports Content
Follow us on Twitter at @chicitysports23 for more great content. We appreciate you taking time to read our articles. To interact more with our community and keep up to date on the latest in Chicago sports news, JOIN OUR FREE FACEBOOK GROUP by CLICKING HERE