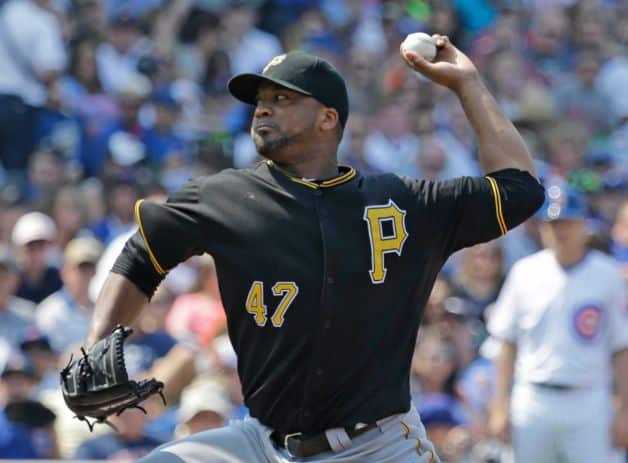 Francisco Liriano kept the Pirates hot and in business Friday when he handed the Cubs nine complete innings of dominant baseball. The league's best came to Chicago and surely enough Liriano picked up where he left off.
It was his second career complete game in his career and second complete game in the Windy City. He finished one back in 2011 while pitching for the Twins against the White Sox at U.S. Cellular Field. Today Liriano pitched 2 run, 4 hit, 7 K summer ball all while making sure to cover all other bases.
Liriano batted in Pittsburgh's first run on the day with a soft single to left scoring Russell Martin. He snagged the first out in the ninth and a web gem when he fielded a sharp grounder through his legs while facing second. The two runs the Cubs earned were on a lone home run from Scott Hairston with Cody Ransom on base.
The Cubs weren't able to win on their 2-1 lead as Jeff Samardzija wasn't as sharp as his previous starts. In fact, he walked a season high 5 in his first loss in his last five games. The floodgates were opened in the third when Neil Walker tripled to score Starling Marte. Garret Jones would then knock in Walker with a base hit. On somewhat of a double steal, Andrew McCutchen stole home after noticing Dioner Navarro taking the bate of a running Jones.
They would add on in the 5th and 8th innings but Samardzija would leave after 6, allowing 5 runs on 9 hits. Hector Rondon would allow the sixth and final Bucs' run which would lead to a 6-2 Cubs loss.
What really wasn't pretty was the base running on Starling Castro's part in eighth. It may not have led to a 5-run comeback but he took the bat right out of Navarro's hands as he got too excited leading off second.
The Cubs look to turn their fundamentals around tomorrow at 3:05pm when Charlie Morton (1-1, 2.50) will face Edwin Jackson (4-10, 5.75).
For More Great Chicago Sports Content
Follow us on Twitter at @chicitysports23 for more great content. We appreciate you taking time to read our articles. To interact more with our community and keep up to date on the latest in Chicago sports news, JOIN OUR FREE FACEBOOK GROUP by CLICKING HERE