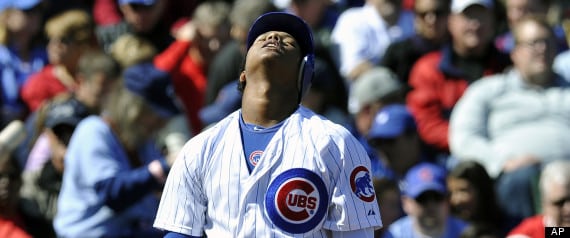 St. Louis did what Chicago couldn't. The Cardinals cashed in their base runners when it counted and the Cubs wiped them off clean with their own double plays.
St. Louis had Jake Westbrook (2-1, 1.07) on the mound, who had been nothing but reliable this season and had yet to allow a homerun. Carlos Villenueva (1-2, 3.02) went out to do the same for Chicago.
Action began in the first as Matt Carpenter walked, advanced to third on a Carlos Beltran single to right and reached home on a Matt Holliday double play putting the Cardinals up with a quick 1-0 lead. The Cubs kept up pace with an Anthony Rizzo two-out double turned triple off the right field wall enabling Luis Valbuena to tie it up.
Both pitchers seemed locked in after rocky firsts which made scoring opportunities all the more important knowing runs would be hard to come by. Still, in the bottom third, the Cubs did a great job moving Cody Ransom along after he led off with a base hit, but left him stranded 90 feet away.
In the top of the fourth, Allen Craig took base after he was hit by a pitch from Villenueva, advanced to third on a Yadier Molina single and scored on a Jon Jay sacrifice fly to left-center to take back the lead 2-1. The Cubs reacted and did take advatange of a leadoff walk to Valbuena. Rizzo went the other way singling into left and was followed up with a Nate Schierholtz 2-run double that trickeled passed the bag in right. Dioner Navarro did ground to first, throw not in time at home allowing Schierholtz to score another run to make it 4-2 Cubs.
St. Louis did tack on another run following in the fifth, after some by-the-book fundamental baseball involving a Carpenter bunt and a Beltran single scoring Pete Kozma. Despite the "strike 'em out, throw 'em out" double play, Villanueva did walk Kozma to lead off the seventh and was shortly replaced by James Russell. He left allowing those 3 earned runs, seven hits, 3 walks and striking out just two.
Carpenter then reached third on a fielding error by Schierholtz in right, and tied it up on a Beltran single to left, leaving Russell with his first allowed earned run on the year and Villanueva with a no-decision on the afternoon.
Michael Bowden replaced Russell at the start of the eighth but wasn't much fresher as Molina singled to left. He then threw a wild pitch allowing Molina to move up one and later score on a line drive into center by Jay. That fifth run would be enough to take the win on the day and split the 2 game set.
The holes in what looked like a promising game were the chances not taken advatage of. The Cubs wasted men on base and hit into double plays in the fifth, sixth, seventh and eighth innings today, going 1 for 9 with runners in scoring position.
On a positive note, in addition to aiding the offense today going 2-4, scoring a run and batting in two himself, Schierholtz made brilliant defensive gems with a sliding and diving catch in the fifth and eighth innings.
For St. Louis, Carpenter went 2 for 3, Beltran 3 for 5 and Molina 2 for 4. The Cards came in with a .324 batting average with RISP and it showed in today's game.
Seth Maness (2-0) claimed the win, Edward Mujica grabbed the save (9), and Michael Bowden (1-2) took the loss.
Up next, the Cubs will be traveling to Washington, D.C. to greet the Nationals on Friday. Probables include Jeff Samardzija (1-4, 3.09 ERA) for Chicago and Ross Detwiler (1-3, 2.50 ERA) for Washington.
For More Great Chicago Sports Content
Follow us on Twitter at @chicitysports23 for more great content. We appreciate you taking time to read our articles. To interact more with our community and keep up to date on the latest in Chicago sports news, JOIN OUR FREE FACEBOOK GROUP by CLICKING HERE