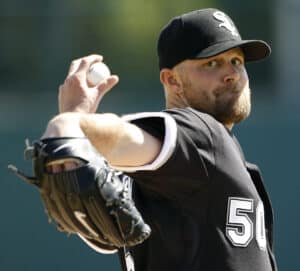 This weekend's series is large for a number of reasons. Coming off a series win against the Boston Red Sox, the White Sox now enter a stretch of their schedule in which they face numerous struggling teams. This next month or so is a huge one for the South Siders, who currently sit at 21-24, if they want to get back in contention.
In addition to the relative let up in scheduling, the Sox will get a couple of their cornerstone players back from injury. John Danks will get the start Friday night for the first time in about a year. Danks will need to produc
e for the Sox in order for them to have a shot of competing. While the velocity may not be back quite yet, Danks will certainly benefit from being in the presence of pitching coach Don Cooper. Danks has never been one to blow hitters away with over powering speed, so it isn't too far off to expect production right away from the lefty, if he can locate effectively. Only time will tell how he bounces back from his injury, but the clock starts ticking tonight against the Marlins. Also possibly making a comeback during this series is 2nd Baseman Gordon Beckham. Beckham was off to a great start before being sidelined with a wrist injury early on in the season. The Sox have certainly missed his presence both in the line up as well as on the diamond. Beckham saved a couple games early in the year for the Sox with his glove.
The pitching matchups for this series are as follows;
John Danks (0-0 0.00 ERA) vs. Tom Koehler (0-2 2.81)
Jake Peavy (5-2 3.31) vs Ricky Nolasco (3-5 3.96)
Dylan Axelrod (2-3 4.13) Alex Sanabia (3-6 4.56)
As the weather warms up, so do I expect the Sox. They certainly have the ability to hit, and the pitching has been very solid this far. This weekend against the Marlins should provide a pleasant preview of things to come on the South Side. Stay tuned!
For More Great Chicago Sports Content
Follow us on Twitter at @chicitysports23 for more great content. We appreciate you taking time to read our articles. To interact more with our community and keep up to date on the latest in Chicago sports news, JOIN OUR FREE FACEBOOK GROUP by CLICKING HERE