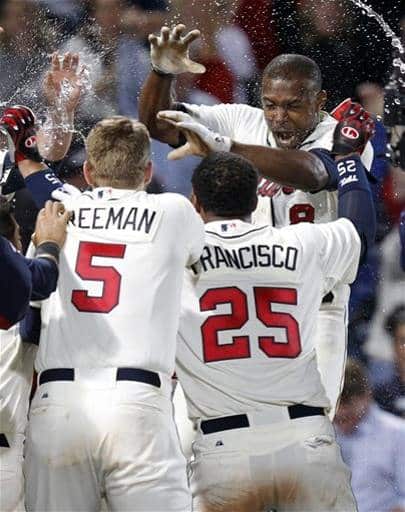 Win: Eric O'Flaherty (1-0) Loss: Carlos Marmol (0-1)
Home Runs: J.Upton 2(5) B. Upton (1), Rizzo (2), Valbuena (1)
It is safe to say this was a game the Cubs should have won. They took a 5-1 lead into the bottom of the 8th before the wheels came off. Kyuji Fujikawa, who had been lights out in his first two appearances, allowed three runs, which wasn't ideal but still kept the Cubs in the lead. However, Carlos Marmol, arguably the worst closer in baseball, was again brought in to close the game, and he allowed two home runs to the Upton brothers, resulting in a Braves win.
The Good: Believe it or not, there was a lot of good that came out of this game. Nate Schierholtz continued his hot start by doubling and singling in the first Cubs run of the game. Luis Valbuena and Anthony Rizzo went deep off of Atlanta starter Julio Teheran, which gave the Cubs a comfortable lead at the time. Carlos Villanueva, in his first start in a Cubs uniform, was very good, allowing just one run over 6.2 innings and should have got the win.
The Bad: As mentioned earlier, Kyuji Fujikawa turned a four run lead into a one run lead, which in turn led to Marmol blowing the game. Another pivotal moment came when the Cubs had the bases loaded for the top of the order in the top half of the 8th inning, but David DeJesus, Starlin Castro and Anthony Rizzo could not even drive in one run.
The Ugly: CARLOS MARMOL
Stat: Marmol's ERA stands at 27.00. That should give him All-Star consideration.
Notes: Dale Sveum said in his postgame interview that the team would consider other options for the closers job. Shawn Camp, Fujikawa and James Russell are the candidates.
Tommorow, the Cubs send out Jeff Samardzija to try to avoid the sweep, while the Braves will send out their ace Tim Hudson.
For More Great Chicago Sports Content
Follow us on Twitter at @chicitysports23 for more great content. We appreciate you taking time to read our articles. To interact more with our community and keep up to date on the latest in Chicago sports news, JOIN OUR FREE FACEBOOK GROUP by CLICKING HERE