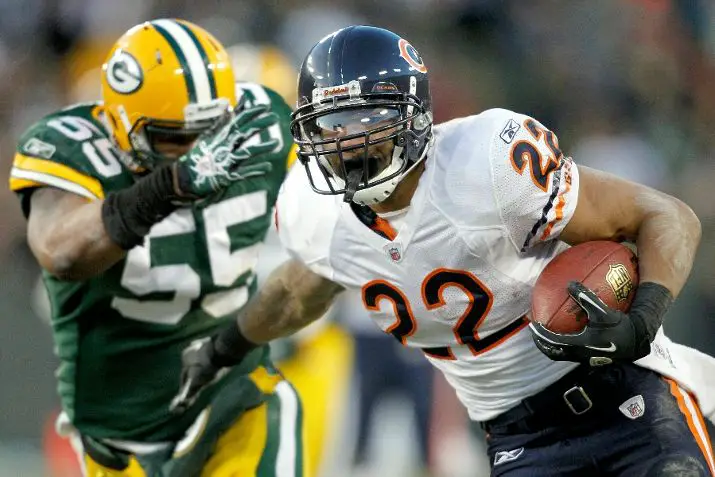 The Chicago Bears awoke this morning the number two seed in the NFC Playoffs, the same position they had woken up in on Sunday morning. We can debate for two weeks (or more depending on the outcome of playoff game one) about whether or not Lovie made the correct decision to play his starters the entirety of the game in week 17, but the fact remains, the Bears did nothing to hurt their playoff standing on Sunday and they did very little to deter my belief that they have just as good a chance as any team in the NFC playoffs to win the conference title.
The one thing that disturbs me most about yesterday's game was not the play of the offensive line, though they did bring on flashbacks of September and October, a time when this group looked as incompetent as any unit in the NFL. It was not the play of Jay Cutler, who left me scratching my head a couple of times, most notably on the red zone interception. It was not the wide receivers, a group that had fought for their reputation all season long, but on Sunday looked more like their early season selves; Johnny Knox looked completely out matched, zero catches on eight targets.
None of that left me more confused than the play calling of Mike Martz. At one point during the game, amongst my numerous texts with Packer fan friends, I was asked, "Why are the Bears trying to pass when we (the Packers) quite obviously can't stop the run?" I retorted with something to the effect of the situation dictating the play calling, but the reality was that Martz had somehow reverted back to his early season self, and not surprisingly the Bears and their offense suffered.
It was the fifth time this season that Martz and the Bears offense had run the ball less than 35% of the time, and not coincidentally it was their fifth loss of the season. Even in last week's shootout with the Jets, the Bears offense managed an exact 50-50 balance in running plays and passing plays.
If anything bothers you about the last game of the season it should be that the Bears, who played one of their best defensive games of the year versus one of the league's most dynamic offenses, let a game slip through their fingers because they got away from what worked for them throughout the entire season.
We love to try to figure out what can be learned from every game. How many times throughout this season did we say, "We will know more about this Bears team after X game." I'm not sure we know more about the Bears today than we knew yesterday morning, but there is something to be (re)learned from the outcome. The Bears need to be a more balanced offense to be successful, something they weren't against the Packers.