It doesn't take a genius to know that the Bears need to show Matt Forte the money. Forte told reporters Monday at the Super Bowl XLV media center, that he would like an extension. Forte has been very cordial in his discussions about his contract. He hasn't thrown a hissy fit as some other athletes have when voicing their concerns over an extension.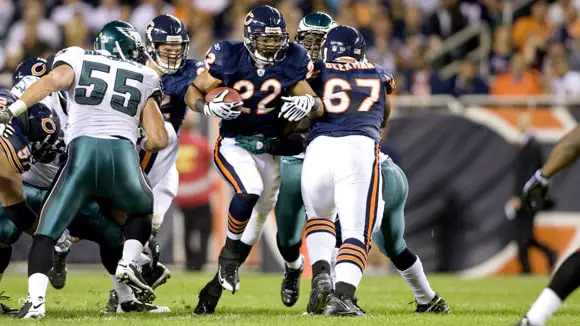 DALLAS — After joining Walter Payton as the only Chicago Bears running backs to have multiple seasons with 1,600 yards from scrimmage, Matt Forte appears in line for a contract extension.

Forte — the Bears' 2008 second-round draft choice — is entering the final year of a rookie contract that calls for the multi-purpose back to earn $550,000 in 2011. That's a low figure when you take into account Forte eclipsed the 1,000-yard rushing mark twice in three years. He ran for 929 yards in an injury plagued 2009 campaign, and he fueled the Bears' offensive resurgence this season following the bye week with a 4.5 yards-per-carry average.

"It would be nice [to get the contract done]," Forte told ESPNChicago.com Monday at the Super Bowl XLV media center. "It's always nice to have something like that happen. It's really up to my agent [Adisa Bakari] and the Bears to negotiate it. I just want to stay informed with what they're talking about. Hopefully it's all good things.

"I love playing for the Bears, and I think it's a great organization and I just want to continue to succeed and play well for them.
According to YAHOO, here are the 2010 team salaries. Here is a list of players who make significantly more then Matt Forte.
Matt Forte's 2010 Salary = $388,120

Patrick Mannelly = $850,200
Todd Collins = $2,000,000
Matt Gutierrez = $467,280
Garrett Wolfe = $465,200
Chester Taylor = $3,005,330
Rashied Davis = $1,215,000
Frank Omiyale = $6,300,000
Henry Melton = $821,232
Hunter Hillenmeyer = $1,550,000
Brian Iwuh = $1,210,000
Rod Wilson = $606,760
D.J Moore = $776,753
Patrick Mannelly = $850,200
Looking at his statistics and levels of production, when comparing that to the players who make more then him, it's easy to acknowledge he needs a pay day. Expect the Bears to throw a lot of money at Forte to insure that their biggest means of offensive production remains a Bear for a long time to come.
For More Great Chicago Sports Content
Follow us on Twitter at @chicitysports23 for more great content. We appreciate you taking time to read our articles. To interact more with our community and keep up to date on the latest in Chicago sports news, JOIN OUR FREE FACEBOOK GROUP by CLICKING HERE