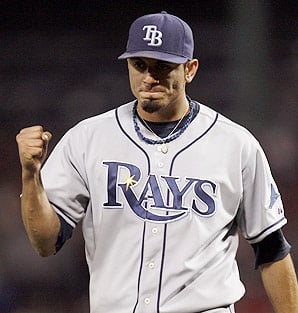 Yesterday, the Chicago Cubs and Tampa Bay Rays announced the trade that will send Matt Garza and two minor league prospects to the Chicago Cubs in exchange for 5 minor leaguers.  The trade, which has been rumored since the Winter Meetings, is the first trade of the off season for Jim Hendry, but certainly not the last.
In the 8 player deal, the Chicago Cubs aquired Matt Garza, Fernando Perez, and Zach Rosscup in exchange for Chris Archer, Hak Ju Lee, Brandon Guyer, Robinson Chirinos, and Sam Fuld.  While it is too early to see who won this deal, I am going to analyze this trade to see who should win this deal.
The good news for the Cubs is that they now have the experienced starting pitcher that they have desired.  According to Rays' pitching coach, Jim Hickey, Garza had the best stuff on their staff.  Garza, who threw a no-hitter in July 2010, had a bit of a down year last year, while posting a 4.42 FIP and 4.51 xFIP in over 200 IP, while giving up 1.23 HR/9, a career high.  However, not everything was bad, as he posted a 3.91 ERA, 2.77 BB/9 and left over 75% of runners on base, both career bests.  Unfortunately, his Line Drive and Ground Ball percents were his worst since his rookie year.  In addition, he gave up more fly balls than any year previously, while posting his lowest GB/FB rate.
If he had all these bad stats why is it good that the Cubs acquired him?  Simple.  Matt Garza will not be that bad this year.  How do we know this?  That is because his numbers will regress, or return the average.  What is the average?
Matt Garza's career average is 3.97 ERA, with a 4.26 FIP and an xFIP of 4.45.  We can expect Garza to not only get back to these, but dramatically improve these numbers.  You are thinking I am crazy, right?  We need to take into account the fact that he is going from the very, very good AL East to the not-so-good NL Central.   Reports say that we can expect about a .50 ERA differential, by just changing leagues.  That means that we can probably expect a pitcher's line of 3.50/3.80/3.90, which is very good, but not ace worthy.
The Cubs did not get an ace, however, they did get a very good #2 pitcher.  So let's look at what the Cubs gave up to get this number 2 starting pitcher.
Chris Archer SP – Chris Archer was the Cubs' number 1 prospect according to Baseball America.  However, Archer, a 23 year-old right hander, is not as highly regarded by executives throughout the league.  Archer has the potential to be an ace, however, that is a long-shot, to say the least.  Just last year, Archer was the Cubs' 15th rated prospect and has only had one year (this year) in which he exhibited okay control but still walked over 4.5/9.  According to several scouts, Archer is about as valuable as Robinson Chirinos.
Robinson Chirinos C – Chirinos was on the Cubs 40 man roster as the 4th catcher, so it made a lot of sense to get rid of him.  However, he was highly regarded as a very solid and cheap back-up catching option.
Hak Ju Lee SS – Hak Ju Lee is a 20 year old defensive wizard, who according to many scouts, can be a very solid defensive SS today.  The major concern comes with his bat and his ability to hit for power.  The speedy SS was projected to be the SS of the future, in which case Starlin Castro, the Cubs' current SS would be moved to 2B.
Brandon Guyer OF – Guyer was the Cubs' Minor League Player of the Year this past year.  He has improved in each of his previous years in the Cubs' system.  But, by getting rid of Guyer, the Cubs are sending two messages:  A) Matt Sczur is going to play baseball instead of football.  B) Brett Jackson is better.
Sam Fuld OF – Fuld is remembered for making an okay catch in 2007, in which he leaped to catch a ball against the ivy, while playing RF.  The Cubs certainly traded Fuld because he is out of options and is not very good at all.
Now that we have seen what the Cubs gave up, which at first glance seems like a lot, really is not as much as it seems at first, let's take a look at what the Cubs got in return, in addition to Matt Garza.
Fernando Perez OF – The Cubs get the 28 year old OFer who has played in 41 career MLB games, the last in 2009.  He is nothing special by any means, but has a chance to see playing time on the team as a 5th OFer, as Jim Hendry told him via telephone.  In addition to being hilarious, he is also an Ivy League graduate.  The best part of getting Perez is going to be see just how funny he and Ryan Dempster can be.
LHP Zach Rosscup SP – Rosscup was drafted in the 28th round of the 2009 MLB Amateur Draft.  This southpaw has put exceptional numbers in his stints in rookie ball and low-A ball.  Rosscup's performance will really decide who wins this deal.
After seeing all the pieces in this deal, I like it.  Jim Hendry has shown time and time again that he can make great trades.  With that being said, I am confident that this will be a good trade for the Cubs, as Hendry obviously knows what he is doing.  However, it could come back and kick the Cubs in the butt.  If Lee can hit for any power, if Archer can find any control, and if Guyer can be anything more than a 4th OFer, this could bite the Cubs.  However, that is part of the risk you take and those are a lot of "if's."
I encourage you to come to the Cubs forum and join us in talking about this trade!  Don't worry, I won't bite!
*Stats provided by FanGraphs.