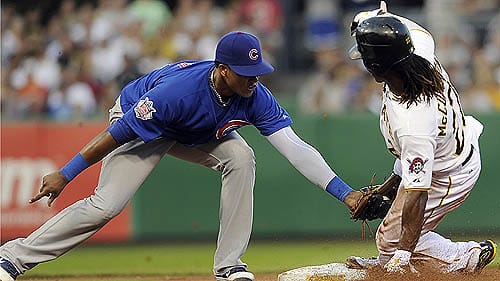 The Cubs probably would have preferred the game been rained out altogether.
Unfortunately for Edwin Jackson, who took his seventh loss on the year, Pittsburgh got to him early and got all they needed before the tarp came on.
By the time it did Andrew McCutchen had already made his marks on the scoreboard, batting in Starling Marte in the first and Travis Snider in the second. He also stole two proving pretty productive on the day. Snider had one of his own, knocking in Marte with a triple. Just like that, they had a four run lead on the Cubs early.
Chicago's momentum was taking a turn in the fourth when David Dejesus doubled to right off of Jeanmar Gomez, followed by a single from Starlin Castro to put men on the corners with no outs. Anthony Rizzo then put the ball on the ground causing a force at second but arriving safe at first and plating DeJesus. Pirates first basemen Garrett Jones committed an error allowing Rizzo to third and Nate Schieholtz to first. Cubs had another chance with men at the corners.
Then the rain picked up, and nearly two hours later they began again.
Only this time they were facing Vin Mazzaro, and they couldn't collect. They would tack on another in the seventh with a Ryan Sweeney single that would score Welington Castillo, but it wouldn't be enough to top what the Pirates had already put up.
On the positive the Cubs' bullpen went five scoreless, for once. Too little too late of an effort, though, and Pittsburgh took game three 4-2, and Mazzaro the win (3-0). While Chicago suffered their fourth straight loss, the Bucs would reach a 14-6 record in May thus far.
We can only hope for a better series as the Cubs travel to Cincinnati to battle the Reds for a three game set. Due up for game one: Scott Feldman (4-3, 2.19) vs. Bronson Arroyo (4-4, 3.28)