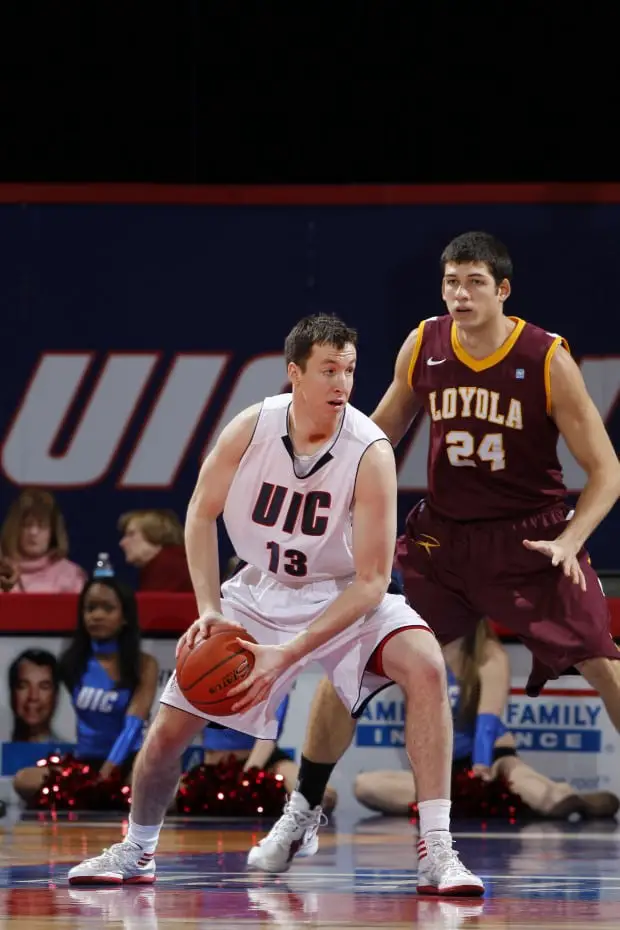 As UIC embarks on a new season they do so with a new group of leaders. Last year the Flames were led by Howard Moore's "Big Three" with guards Gary Talton and Daniel Barnes, with center Josh Crittle. With all three men averaging over 10 points per game last season they accounted for a third of the team's offense. They also played a lot of minutes as well with Crittle putting in 27 per game, while Talton and Barnes played over 30 per game.
Coach Moore's biggest challenge will be finding a way to at least consolidate that production if not to replicate it. Meeting that challenge head on won't be to difficult as Moore has experienced players to rely on. The following names could be the "new" big three for the Flames…… junior center Will Simonton, senior forward Hayden Humes and junior guard Marc Brown are now at the forefront for UIC.
Simonton played in all 34 games last year. He originally began last season as the starting power forward right next to Crittle. Midway through the season he was demoted to some degree to being Crittle's backup. The reason for this was because original backup center, Matt Gorski, was dismissed from the team for breaking an unspecified team rule. Despite this move the Virginia native still played roughly 20 minutes per game.
He proved himself to be a dependable post player that also has a decent jump shot. Now, the 6-10 junior will have to carry more responsibility. He will also have help next to him with Humes playing power forward. The Toledo transfer began last season as the starting small forward alongside Simonton and Crittle. He was also affected by the Gorski dismissal as he was moved to the power forward slot to allow Simonton to be the big man off the bench.
He also played in all 34 games last season and averaged 10 points and five rebounds a game in the process. The Valparaiso native is a very solid shooter off the perimeter as he shot for over 40-percent from both three-point and field goal range during the 2012-2013 season. With the Flames playing in a conference that prides itself on accurate shooting (Horizon League), expect Humes to get the ball early and often.
Finally there is Brown, the man who was the primary backup both Talton and Barnes last year. He played in 33 games while playing an average of 25 minutes. He only averaged five points and three rebounds per contest, but he proved himself to be a formidable offensive player. Now it's his turn to lead this team and put up bigger numbers. These young men may not be the flashiest players on the court, but they are fundamentally sound and have proven themselves worthy.
Follow me on Twitter @GabeSalgado82
For More Great Chicago Sports Content
Follow us on Twitter at @chicitysports23 for more great content. We appreciate you taking time to read our articles. To interact more with our community and keep up to date on the latest in Chicago sports news, JOIN OUR FREE FACEBOOK GROUP by CLICKING HERE