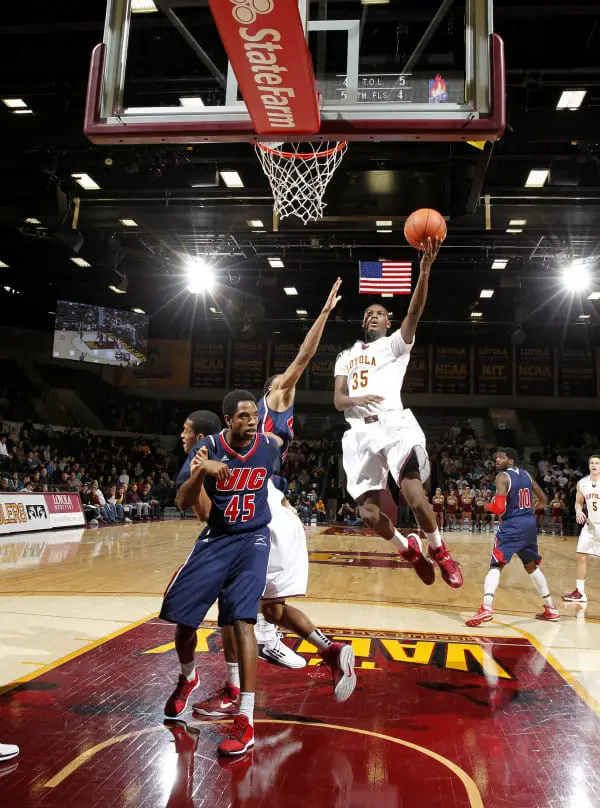 ROGERS PARK- The 4-2 Loyola Ramblers are off to their best season start in the Porter Moser era. The main reason for their early success is due to the quality of play by sophomore guard Milton Doyle. The Kansas transfer -and former standout at Marshall High School on the West Side- is LU's leading scorer (16.3 points per game), second leading rebounder (4.3 per game), plus he leads his team in assists (4.3) and steals (1.7).
But things have not come easy for the 21-year-old this year, the 6-foot-4 guard has been playing through pain all season. During preseason workouts in October, Doyle was diagnosed with a torn labrum in his right shoulder.
"(I felt the pain) right before the first official (preseason) practice" Doyle said after practice on Thursday, "that same week I went to get an  MRI and found out (the diagnosis) the next day."
Doyle said that after the pain started, he had trouble lifting and couldn't fully extended his arm. Once the tear was diagnosed he was given two options…. Go through rehab and play through the pain, or undergo surgery and miss the season. Doyle chose to go the rehab route instead.
"(After the diagnosis) my first initial thought was that I didn't want to miss the season" Doyle said. He added, "I knew it wasn't as bad as they (the doctors) made it seem. I knew how I felt and how my body felt,  I felt like I could just work on it and get better."
Nearly a month into the season, Doyle says that he "feels good" and hasn't felt too much pain. He also says Loyola's medical staff has him on a workout plan -which includes resistance bands and certain stretch exercises, along with treatment- that has allowed him to start all six games that the Ramblers have played so far.
"With the consistency of the treatment, I've been alright" said Doyle when asked if he had any setbacks with the injury. But Doyle is ready to move on from the injury talk as the team prepares for it's next game. On Saturday, Loyola will take the bus ride a few miles south to University Village.
It's there that they will continue their rivalry with the Illinois-Chicago Flames (Since Loyola's move to the Missouri Valley Conference last season, the UIC rivalry has been reduced to one game a year with the home team's alternating.). It's a game that Doyle is definitely looking forward too.
"(I'm) just expecting to come back from this last game (an 83-70 loss against Tulane on Wednesday), play harder than we did and come out with a win" Doyle said, "I think we didn't play physical enough (against Tulane)…..On defense we didn't play the way did the last two games (wins against Kent State and Texas-San Antonio in which Loyola held both teams to under 70 points)."
The Ramblers will definitely need a boost on defense and a solid game from Doyle if they want to win their third straight game against UIC. Follow me on Twitter @GabeSalgado82
For More Great Chicago Sports Content
Follow us on Twitter at @chicitysports23 for more great content. We appreciate you taking time to read our articles. To interact more with our community and keep up to date on the latest in Chicago sports news, JOIN OUR FREE FACEBOOK GROUP by CLICKING HERE