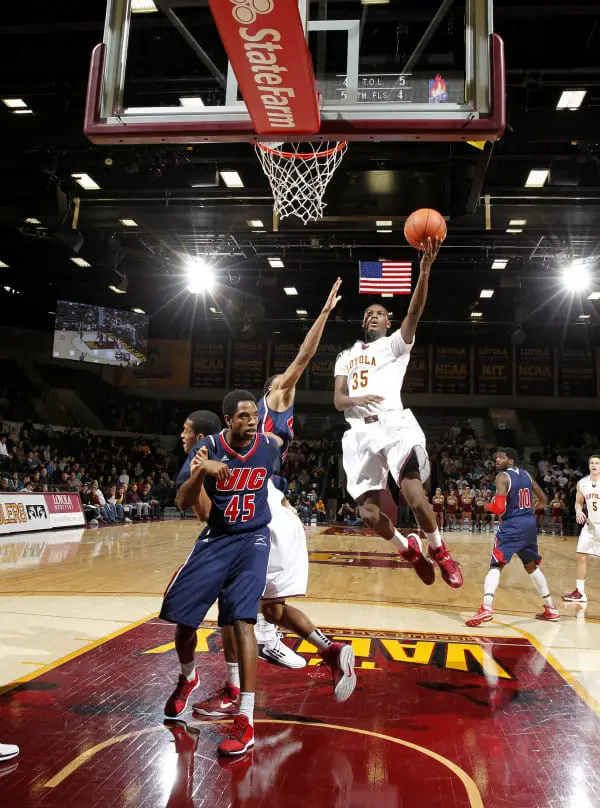 The Loyola Ramblers have always been a competitive team, at least in the first half. Their struggles in the second halves of games this season have been the Rambler's calling card. But on Wednesday night, Porter Moser's team was able to shed that label, at least for one night. Thanks to a monster performance from freshman guard Milton Doyle, Loyola-Chicago was able to defeat Drake 70-60.
The Ramblers are now 2-3 in the Missouri Valley Conference and 7-10 overall. They also improve to 6-2 at the Gentile Center in Rogers Park. Doyle has been quite the attraction since arriving on campus in the fall. Many times this season Doyle was the lone bright spot during his teams painful defeats. He recently surpassed junior forward Christian Thomas as the team's leading scorer. He now averages 14.6 points per game.
Against Drake, Doyle pitched in 28 points leading all scorers in that regard. 19 of those points came in the second half. After a 32-32 halftime draw, the Bulldogs gave themselves a sizeable lead early in the second half. Then with 8:44 left on the game clock, Loyola got some stops on defense and then went on a 21-9 run to finish the game. Aside from the scoring output by Doyle, he also shot 10-for-17 from field goal range, 4-of-6 from three-point land and gave his team the energy they needed to finally close out a game.
28 points is a season-high for the 20-year-old Doyle. This was also his fourth 20-point game of the season, his second game in which he made 10 or more field goals, and his seventh game in which his field goal percentage was .500 or better (.588 against Drake). In season which has seen more ups than downs, Doyle has been the one constant.
If he can keep dishing out performances like this it could help Loyola get back to the .500 mark. Loyola has not been to the postseason since 1986 -the longest postseason drought for any Chicago-area team- they may not get there this year, but perhaps Doyle could lead this program to greener pastures if he can stay healthy and continue to perform at an elite level over the next couple of years.
Doyle and Thomas provide Loyola with a nice one-two punch, all they need is a solid big man and a consistent perimeter player to back them up. Doyle will get another chance to light up the scoreboard on Saturday when they travel to Indiana to take on last place Evansville. Follow me on Twitter @GabeSalgado82
For More Great Chicago Sports Content
Follow us on Twitter at @chicitysports23 for more great content. We appreciate you taking time to read our articles. To interact more with our community and keep up to date on the latest in Chicago sports news, JOIN OUR FREE FACEBOOK GROUP by CLICKING HERE