The 2015 free agency period will be tough for the Chicago Bulls.  They have big needs and limited cap space to work with.
The most important thing for the Bulls is to retain Jimmy Butler; bringing him back to Chicago is a must if they want to stay competitive and if they do resign him at a max deal they will be over the cap limit and close to luxury tax territory with still at least three more holes to fill. The remaining players they sign will have to be from minimum salaries and perhaps a mid-level exception. Chicago can't chase any big name free agents this year unless they make a trade, so assuming they stand pat for now and keep there roster the way it is these are the free agents they should look to sign:
1. SF-Mike Dunleavy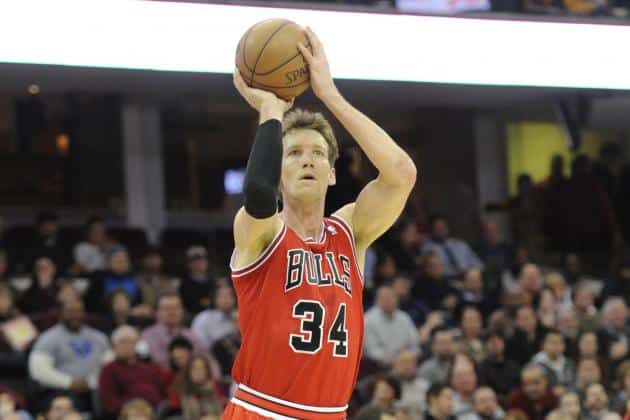 2014-2015 Stats:
9.4 Points Per Game/3.9 Rebounds/43% Field Goal/41% 3pt/ 11.6 PER/29.2 Minutes Per Game
Mike Dunleavy might not fill up the scoreboard every night but he is a very consistent player who makes the smart play every time he has the ball. He has a great basketball I.Q and can be trusted to not make mistakes.
Chicago played noticeably worse in the 19 games that Dunleavy missed last season which proved he is a positive contributor and not just a body on the floor. Not only is Dunleavy a smart player, he is also an exceptional shooter who can space the floor with his three point shooting. Last season when Mike Dunleavy was on the court for the Bulls, the team had a +6.6 Assist % and also a +1.8 offensive rating.
When Dunleavy was on the court for the Bulls, there was better ball movement and more points being scored. He also made a positive contribution on defense. During the season opponents' offensive rating was 1.9 points worse when Dunleavy was on the floor. Dunleavy has expressed his desire to stay in Chicago and should be one of the top priorities other than Jimmy Butler for the front office to bring back next year.
The Bulls could use the Early Bird exception to sign Dunleavy and still allow to go over the cap which they will surely do barring multiple trades. After one more year with Dunleavy as the starter I think young players such as Tony Snell and Doug McDermott will be more ready and capable of taking the starting role in the seasons to come or just play much bigger roles on the team. Signing Dunleavy will give Chicago the consistent play it needs and give the young guys another year or two to develop.
Runner Up: SF- Tayshaun Prince
Prince is a veteran small forward with championship experience the Bulls could possibly sign on a one year minimum deal to fill the void if Mike Dunleavy cannot be retained. Prince would play the same role as Dunleavy, make the smart play every time and hit open shots when available and also give 100% on defense. With no cap room for Chicago to work with, Prince would have to agree to a minimum deal but given an opportunity to win another ring, Prince could likely jump at that offer.
2. C- Jermaine O'Neal
2013-2014 Stats: 7.9 Points/ 5.5 Rebounds/ 50% Field Goal/ 0.9 Blocks/ 15.3 PER/ 20.1 Minutes
Many people maybe forgot Jermaine O'Neal was a basketball player, he sat out all of last season while entertaining the idea of singing with a contender and ultimately not playing at all. O'Neal may be old by NBA standards at 36 but he can still contribute in a limited role. The Bulls could use him for 15-18 minutes a game to give Joakim Noah time to rest and unlike last year's back up center Nazr Mohammed, O'Neal is more skilled offensively and will be able to contribute more to the team than Mohammed did in his couple years of being assigned to mop up duty with the Bulls.
O'Neal wont be a rim protector but at nearly seven feet tall he will be able to make it hard for opponents to score in the paint. He is more valuable on offense but all around Jermaine O'Neal would be a nice upgrade over Nazr Mohammed and O'Neal would likely take the veterans minimum to chase a title with the Bulls. Again, there are no big names to be had for Chicago due to cap space issues but there are players such as O'Neal they can snag for a minimum contract that can make a small but positive impact on the team.
Runner Up: C-Joel Anthony
Joel Anthony could be an option if the Bulls cannot sign Jermaine O'Neal. Anthony is not the most skilled big man and has never averaged more than 3.5 points per game in a season but he would be a cheap replacement for Nazr Mohammed. Anthony was a part of the Miami Heat team that won back to back titles so he has championship experience which shouldn't be overlooked. He would play more of a limited role than O'Neal and would probably produce about as much as Mohammed did for Chicago but with the limited cap space available to the Bulls they don't have many other options. At the most he could give starting center Joakim Noah around 10 minutes of rest a night while being a body on the floor and a positive presence in the locker room the way Nazr Mohammed was. His championship experience would probably be the best thing Joel Anthony could bring to the Bulls.
3. PG-Nate Robinson
2014-2015 Stats: 5.7 Points/ 2.3 Assists/ 35% Field Goal/10.6 PER/ 14.1 Minutes
I would love to see a reunion between Nate Robinson and the Chicago Bulls. Unfortunately last season he struggled mightily to make a positive contribution and wasn't very effective. Much of it could have been because he was playing most of the year for the dysfunctional Denver Nuggets but regardless of the reason his value on the open market has taken a hit. He seems to latch on to a different team every year with a one year contract and this year should be no different. The Bulls should look to sign Robinson to the veterans minimum to back up Derrick Rose.
Last time Robinson played for the Bulls in 2012-2013 he had to start 23 games and play extended minutes every night because of Rose's absence that year. With Rose back Robinson could play the reserve role which is where he is most effective and lead the 2nd team or come in whenever the team is in a scoring drought. He isn't the big and tall point guard the Bulls desperately need, but he is a dynamite scorer who can put up points quick. He is worth more than a minimum contract but that is most likely what he will be offered next year by most if not all teams interested in him and he would be a steal for the Bulls at that price.
Runner Up: PG-Mo Williams
Mo Williams was actually my top choice for back up point guard, but after having an exceptional year last season his price range might expand and could easily be too expensive for the Bulls to pursue. Last season while playing for the Minnesota Timberwolves and Charlotte Hornets he averaged 14.2 points and 6.2 assists per game while playing 29.1 minutes per game.
If somehow the Bulls could convince him to come to Chicago, they would have one of the top backup point guards in the NBA. He could play over 20 minutes a game easily and come in with the 2nd team to put points on the board. Given his high productivity levels Mo Williams could play as many minutes as needed and even provide occasional spot starts at the point guard if Derrick Rose had to take the night off for any reason.
His market value is probably in the $3-$8 million dollar a year range would be nearly out of reach for the Bulls unless they are willing to pay the luxury tax. They could offer Williams a mini mid level exception which would be under $4 million. There will most likely be more lucrative offers for Williams than what Chicago can offer, but Chicago offers a chance at a ring which not all teams can do. If Mo Williams shows any interest in signing with Chicago they should pursue him.
For More Great Chicago Sports Content
Follow us on Twitter at @chicitysports23 for more great content. We appreciate you taking time to read our articles. To interact more with our community and keep up to date on the latest in Chicago sports news, JOIN OUR FREE FACEBOOK GROUP by CLICKING HERE