Watching Jimmy Butler transform from a defensive ace to a two way star last year was remarkable to say the least. Many believed he had great potential, but nobody expected him to erupt into an offensive machine the way he did. Throughout the season there were many other bright spots on the team as well. The Bulls have several players on their roster that are overflowing with potential that could very well make a leap similar to Butler's. The next couple of years will be very interesting to watch how their young players grow and improve. Like the emergence of Butler last season, there is more than one player on this roster that could show major improvement this upcoming season.
Nikola Mirotic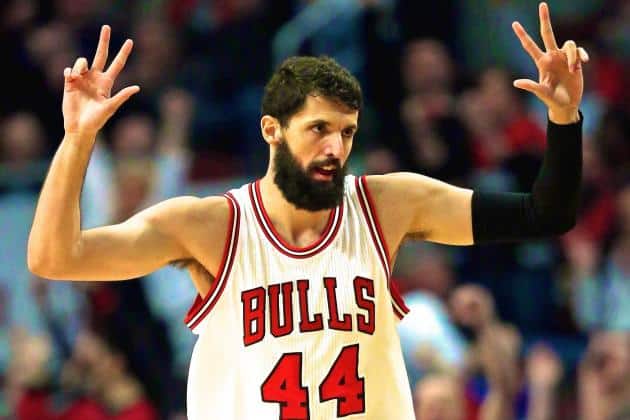 Highly regarded coming over from Spain's Real Madrid, Nikola Mirotic did not disappoint during his first year in Chicago. Mirotic played in all 82 games last season and finished the season with averages of 10.2 points, 4.9 rebounds, and 1.2 assists in 20.2 minutes per game. He finished 2nd in Rookie of the Year voting behind No.1 pick Andrew Wiggins. The expectations for Mirotic in year two will be high, but based on his successful rookie year he should flourish under a more offensive friendly system run by new head coach Fred Hoiberg. He is a potent offensive force; measuring in at 6'10 and 220 pounds, Mirotic is more athletic than the traditional power forward and can score in a variety of ways. His size and athleticism give him an advantage almost every time he has the ball.
The 2014-2015 NBA All-Rookie 1st team selection will most definitely see an expanded role next season and has the tools to be the Bull's #1 option off the bench and possibly earn a starting role in the future. Expect to see Niko dropping 20+ points on many occasions this season and further improving his game throughout the year. Last season Mirotic scored 20+ points 11 times. I expect him to easily pass that mark and likely double it. His shooting percentages were not great in his first year; finishing at 40% FG/31% 3pt, but that is almost expected of rookies coming into the league. Mirotic's percentages should raise across the board and he should start to really prove next year that he is nicknamed "Threekola" for good reason.
Knicks rookie Kristaps Porzingis, the 4th pick in this year's draft has been compared many times to the great power forward Dirk Nowitzki, I believe Nikola Mirotic has a much better shot at becoming the next Dirk and will be one of the Bull's best players in the next coming years. Of all the young, unpolished talent on this roster, Mirotic has the highest ceiling for success and will most surely fulfill it.
Tony Snell
In his first two years in the association, Tony Snell has yet to carve out a significant role with the Chicago Bulls. Despite this he has shown many flashes of potential, particularly at times last season. The 20th pick of the 2013 NBA Draft, Snell came into the league known as a good outside shooter. After two years he looks to have talent in more than just shooting. Snell proved last season that he is more than capable of holding down his man on defense, even playing great defense on Cleveland's LeBron James. At 6'7 with considerable athleticism, Snell is able to play as a big two guard or an average sized three. T. Snell only weighs 200 pounds, so he should look to put on 15-20 pounds if he wants to match the strength of elite forwards night in and night out but judging from last season he has the potential to be a lockdown defender like fellow teammate Jimmy Butler.
Not only is the potential evident on defense, but Snell can become a highly efficient offensive player too. Snell reached the 20 point mark multiple times last season, scoring 20+ four times total. When you factor in his somewhat limited playing time; In 72 appearances only averaging 19.6 minutes per contest, that is something Snell can definitely build off of. His shooting percentages improved across the board: His rookie year he averaged 38% FG/32% 3pt/75% FT. Last year he raised his averages to 43% FG/37% 3pt/ 80% FT. Not only did Snell shoot better in year two, he was also more aggressive and more confident on offense than in his rookie year. He shot the ball considerably better and at times he had the confidence to attack the basket instead of just putting up a shot. With the re-signing of Mike Dunleavy, second year Doug McDermott also looking to make a name for himself, and the possibility Mirotic seeing time at the small forward position, Snell will continue to fight for minutes but he should keep a spot in the rotation and perhaps shine as long as he improves in year three. Dunleavy projected to be the opening night starting small forward, but after undergoing back surgery he will be out eight to 1o weeks. At that rate Dunleavy is not likely to return until late November. With the starting three spot up for grabs, Snell is in prime position to prove he belongs in the starting line up for good.
Derrick Rose
A lot of people won't agree with this, but the Derrick Rose we saw last year is not the finished product of our star point guard. He technically has already "broken out", winning MVP in 2010, but at this point in his career after 3 major knee injuries, most people believe he is washed up, or at least not a star player anymore. I am not ready to give up on Rose just yet.
Last season was a mixed success for Rose. He played 63 games total, 51 regular season and 12 post season games. That alone is an improvement from playing only 10 games in the last two seasons. Rose wasn't a model of durability; missing 31 games, but he played the most games in a season since the 2010-2011 when he played 81 of 82 games. Injuries seem to be plaguing the NBA right now, so in response the schedules for the upcoming season have been tweaked to be more player friendly. That is great news for Rose, who would struggle when playing games back to back. According to Sekou Smith of NBA.com,
"The stretches of four games in five nights and back-to-backs have been reduced to all-time lows, with the four-in-fives to an average of less than one per team (a total of 27 for an average of 0.9 per team, with a maximum of 2 and down 61 percent from last season). The team average for back-to-back games has been trimmed from 19.3 per team last season to 17.8 this season."
Rose will benefit from this nicely. He should be less rusty and in better shape this time around and the improved schedule will help keep him fresh throughout the season.
People who doubt Rose can return to peak form should not forget Oklahoma City point guard Russell Westbrook had three surgeries on his right knee in an eight month span and came back to play like an MVP. Russell is a hyper athletic point guard like Rose who needs his knees to do what he does. Now every player is different but if Westbrook can come back from three surgeries on the same knee, that leaves optimism for Rose. In the past many players have suffered from a torn acl and come back including Al Jefferson, Jamal Crawford, and Baron Davis. Minnesota Vikings running back Adrian Peterson tore his acl and eight months later came back to rush for over 2,000 yards. Many athletes have overcome major knee injuries and Rose can too.
Last season Rose did not play bad, he played inconsistent. Even with his struggles Rose still played better than the average point guard. He averaged 17.7 points per game in 30 minutes and finished with a PER of 15.9. Those aren't MVP or even all star numbers but many players couldn't average nearly 18 a game during their best years let alone coming off major injuries. There were multiple times during last season where Rose flashed his old self, showing he still has bounce in his knees. The only problem is Rose was not able to show that side of himself every game. Frankly, with the roster Chicago has this season Rose does not need to play like that night in and night out. Early on in his career, Rose was the focal point and had to carry the team on his back. Now the team is stacked with quality players and Rose can let some of the scoring responsibilities fall on Jimmy Butler, Pau Gasol, Nikola Miritic, etc. With a better offensive mind coaching the squad the Bulls should not have offensive droughts the way they did last year which will take the pressure off Rose to carry the load by himself. Last seasons breakout star Jimmy Butler will be seeing a lot of attention from defenses this year which will also help Rose find openings to score. If he can stay healthy, Rose should perform very well this season.
It has been eight months since Rose's last knee injury. There is still doubt that he will stay healthy a full season but I believe this will be the year all the doubters will finally be proven wrong. This season I see Rose playing at a high level and showing the basketball world he is not going away.
For More Great Chicago Sports Content
Follow us on Twitter at @chicitysports23 for more great content. We appreciate you taking time to read our articles. To interact more with our community and keep up to date on the latest in Chicago sports news, JOIN OUR FREE FACEBOOK GROUP by CLICKING HERE