Reaction from the Bears' final seven picks in Rounds 4-7 of the NFL Draft
Fourth Round

Nick Kwiatkowski — inside linebacker
• The Bears opted to add more depth to their linebacking corps with the addition of Kwiatkowski. While I was still holding out for a corner (as you can see, I'd really like one) at this pick and therefore was a bit puzzled by this selection, I also realize that Ryan Pace is actually addressing a need here.
Yes, the Bears revamped their starting inside linebacker positions by signing Danny Trevathan and Jerrell Freeman, and these two are, barring injury, going to be the Week 1 starts at ILB for the Bears. That said, what's behind them? Christian Jones, who failed to make an impact as a starter last year, and two undrafted rookies, John Timu and Jonathan Anderson. If nothing else, Kwiatkowski infuses some talent into a unit that quietly could use some more of it and can perhaps contribute early on as a special teamer, given his strong tackling ability and his ability to sniff out the football.
Deion Bush and Deiondre' Hall—safety
• You knew the Bears weren't going to forget about the safety position altogether even if they didn't grab someone in the early rounds. This is a similar pattern to what they did last draft, finding Adrian Amos in the 5th round and plugging him in from Day 1 as a starter at safety. Aside from him, though, there are some serious question marks: Antrelle Rolle is 33 and couldn't stay healthy last season, and the other safeties on the roster—such as Harold Jones-Quartley, Chris Prusinski, Demontre Hurst, and Omar Bolden—project mainly as special teamers.
Both Bush and Hall have good speed as safety prospects (running in the 4.5 s range at their best) and are noted for being aggressive tacklers. Bush in particular is being talked about as an in-the-box safety that can provide support against the run, which would make him a nice fit as a strong safety potentially alongside Amos.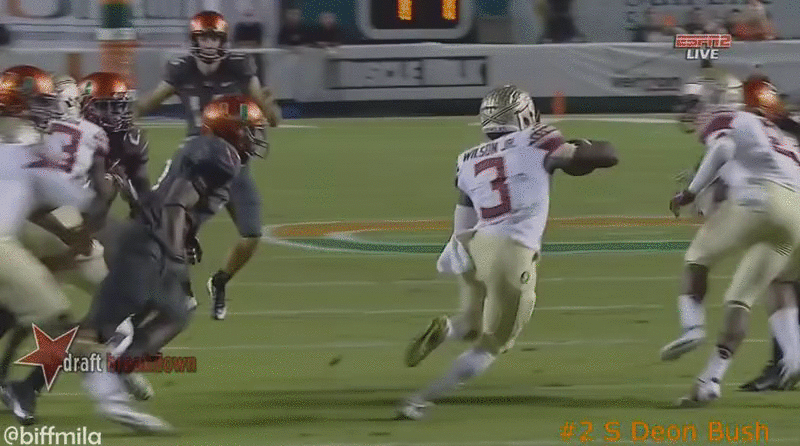 One issue raised for both players, though, is a lack of play recognition ability, which is something we'll have to count on the Bears' coaching staff to better instill in them.
Personally, I'm more intrigued by the Hall pick because of his versatility—he's played corner and safety, as well as a hybrid safety/linebacker position)—and the fact that he has a wingspan like a small plane, which allows him to make plays on balls that other people just can't.
Given the issues that the Bears secondary has with playmaking (tied for 2nd fewest INTs in the league with only 8 last year), he could be very interesting if he adds a little more weight and learns to put himself in position to make plays with better play diagnosis.
5th Round

Jordan Howard—running back
• Finally, one of my guys! I was a big fan of the tough-running Howard during junior season at Indiana, both because of the physical style with which he run and because of his toughness in battling through injury. He's a big, stocky runner (6'0", 230 pounds) and yet has nice vision and patience to find holes. He also protects the ball extremely well, which could make him an ideal candidate to help John Fox grind out yards and close out games. And you have to love his effort: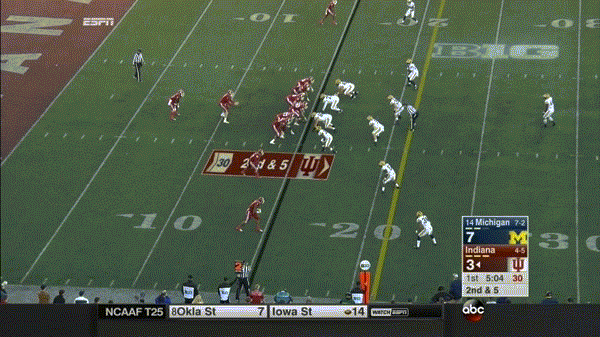 Though there are some concerns about his durability (he did miss four games last year), his pass protection, and the fact that he doesn't have great straight-line speed Howard is exactly the kind of complementary player that the Bears were looking for to complement Jeremy Langford's speed and open-field abilities.
This is obviously a classic example of teams finding running back value late in the draft, as has become common in the NFL recently.
6th Round

DeAndre Houston-Carson—safety
• Boy, the Bears really want to revamp the safety position. Houston-Carson was the third safety taken in their last four picks at this point, joining Deon Bush and Deiondre' Hall. Perhaps more like Hall, Houston-Carson has the versatility to play multiple defensive back positions, having significant experience at both corner and safety. And while he doesn't have the albatross-type wingspan of Hall, he has a nose for the football, scoring return touchdowns last year on an INT, PAT block, and fumble recovery last year.
And as expected when you draft someone in the 6th round, Houston-Carson has some outstanding special teams productivity. In addition to the return touchdowns, he registered nine blocked kicks in his career, showing that he has a knack for impacting games in multiple ways.
While he is undoubtedly going to compete with Amos, Bush, Hall, and Rolle (at least in theory) for snaps, the value he exhibits in special teams gives him an early edge to make the roster, allowing for the possibility that the Bears could eventually coach him into something more. No matter what happens, it seems the Bears are tired of the revolving door at safety and are hoping to solidify this oft-troubled position by loading up on young talent.
7th Round

Daniel Braverman—receiver
• Being aware of Eddie Royal's health issues last year and how much of a rapport Jay Cutler formed with Marc Mariani when the receiving corps was decimated by injuries, the Bears decided to go with another small-bodied slot receiver type in Western Michigan's Braverman.
My first thought was that the Bears were looking for their own Wes Welker/Julian Edelman-type slot guy, and he clearly exhibits the kind of crafty route running that could remind you of those players. Interestingly, he also has a little bit more speed than these players (4.47 40-yd dash) and compares very favorably with Brandon Stokley, who had a nice 15-year career in the league.
Ideally, Braverman would add a few pounds in order to deal with the kind of beating he'd have to take catching passes over the middle in the NFL, but in this move, the Bears have gained a young slot guy that just flat out knows how to get open and can work the middle of the field as a complement to big outside receivers Alshon Jeffery, Kevin White, and Marquess Wilson. Check out Braverman's game against Ohio State, and you can see that he has the ability to play against high level competition:
While safety clearly ruled the day for the Bears, they also managed to add depth and competition to key positions on offense and defense. All in all, though some of these picks were a bit unexpected, I really like what Ryan Pace did in his second draft as Bears GM, bringing in playmakers that clearly seem to fit with the workman-like, winning culture that John Fox is trying to create.
For More Great Chicago Sports Content
Follow us on Twitter at @chicitysports23 for more great content. We appreciate you taking time to read our articles. To interact more with our community and keep up to date on the latest in Chicago sports news, JOIN OUR FREE FACEBOOK GROUP by CLICKING HERE