Reaction from the Bears' selection of Kansas State's Cody Whitehair and Florida's Jonathan Bullard in 2nd and 3rd rounds of the draft:
It seems that no matter who's running the show for the Chicago Bears, they'll always find a way to keep us guessing.
Instead of going defensive back, tight end, or perhaps even defensive line with the 41st overall pick, the Bears traded down multiple times in Round 2 to regain the 4th round pick they gave up for Leonard Floyd yesterday and then some (they'll go into tomorrow with three 4th round, one 5th round, two 6th round, and one 7th round pick).
Then, to top off the intrigue, they got an offensive guard in Whitehair, one of the last things I expected they'd do given their glut of interior line players. But when I sit back and consider this pick, it's a really shrewd move by Ryan Pace on a number of levels.
For one, Whitehair was listed as the Bears' #1-rated guard (and was the top-rated 2015 guard prospect by Pro Football Focus), so it's not as though their desire for him comes from nowhere. And aside from guard, he played every line position except center in his last two seasons, which speaks to some really impressive versatility. Here he is as a left tackle with some textbook inside-outside pass pro:
And here he takes a linebacker for a ride down the field from the left guard spot; once he gets his hands on him, the game's over.
A consistent thing I noticed when watching his clips is how balanced and efficient he looks when getting ready to engage someone. It looks almost exactly the way coaches teach you to drive a sled or block someone holding a pad in practice. Impressive stuff…
There are some concerns, of course. Whitehair doesn't have the kind of arm length that teams typically like for an interior line spot, which can lead to defenders getting into his body and maneuvering him backward toward the quarterback. This happens here from the left tackle spot, though there's no sack.
Also, at just north of 300 pounds, he doesn't have elite size to deal with massive nose tackles and 3-techniques.
What he does have, though, are hands like gauntlets—not unlike current Bear Kyle Long—that have the ability to stop defenders cold once engaged. And unlike some of the tackle prospects we saw go early in the draft, Whitehair is praised as having great core strength and balance, which allows him to overcome his lack of arm length and raw size by generating power from his base to further control people once he latches on—that functional strength that scouts rave about.
The addition of such a player could address needs along the Bears offensive line in a few ways. Assuming that the Bears plan on using him inside primarily, Whitehair can provide stiff competition at the center position—realistically pushing Hroniss Grasu, Manny Ramirez, and Ted Larsen—and be a starter-in-waiting at guard early in his career.
This would certainly make sense if the Bears decide that Matt Slauson is too expensive to keep going forward. In fact, reports have stated that the Bears have been willing to trade Slauson for another pick, and given that news, don't sleep on this possibility tomorrow.
Slauson is 30 years old and a solid player when healthy, but if injuries/aging start catching up with him, the Bears appear to have his replacement in hand. Some speculated that the signing of Ted Larsen already addressed this scenario, but while Larsen would never be confused with an above-average guard, Whitehair very well could be. There's also the scenario in which Whitehair moves to left guard right away and Slauson slides to center if Grasu isn't up to speed yet, as Slauson did play center last year when injuries limited Will Montgomery and Grasu.
Another, perhaps more hypothetical possibility, is that the Bears are still be considering moving Kyle Long to left tackle, something Pace didn't deny when asked. In that case, adding Whitehair gives the Bears options for how to re-structure the line, whether he figures as a potential replacement for Long at right guard or as a future partner for Long on the left side of the line.
Obviously, none of this speculation means anything until Whitehair sets foot on a professional field, but given the future possibilities and the depth it currently adds to some trouble spots on the line, I have to say that I really like this pick as unexpected as it was.
On the other hand, I have been waiting for the defensive end pick for two days now, and the Bears look to have nabbed a solid one in Bullard in Round 3.
Scouts view him as more of a run stuffer than pass rushing guru (though he did just get 6.5 sacks last year), but Bullard has one very basic trait that could allow him to transcend labels: while he is not the most spectacular athlete at his position, he explodes off the ball with reckless abandon every single play and simply overwhelms people with his nonstop effort: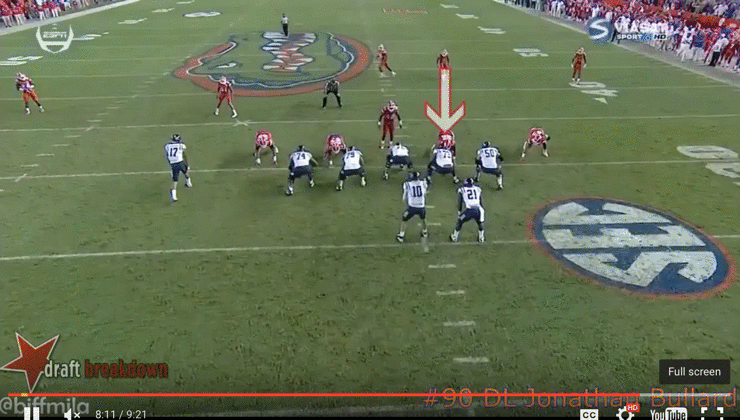 You'll be hard pressed to catch Bullard playing any other way than what's shown above. This has been noted to get him into trouble at times, as his aggressiveness leads him to over-pursue and lose contain, giving up cutback lanes. Or in this case, he blasts upfield, but doesn't locate the ball as Alabama's Derrick Henry runs right past him:
He's also slightly undersized for being an interior lineman in a 3-4 defense, weighing in in the 280s. And though he picked up his fair share of sacks during his Florida career, these were more a product of his indomitable effort than any variety of pass-rushing moves in his arsenal.
As with Floyd, it appears that Bullard's snaps will be limited to situations best suited to his strengths for now: we'll likely see him as a two-down defensive end used to disrupt the run while getting him off the field in sub-package situation. That said, I'm completely confident the Bears can help him learn to maintain gap discipline, add some finesse moves for rushing, and help him put some extra muscle on his frame.
Again, while Bullard wasn't the most well-known name you could think of, I think Ryan Pace nailed this one.
With these two picks to bolster their offensive and defensive lines, the Bears are showing us that they want players that can dictate the game in the trenches, and both Whitehair and Bullard fit in wonderfully with John Fox and the coaching staff's philosophy. I, for one, look forward to watching both players compete for significant roles from Day 1 of training camp.
For More Great Chicago Sports Content
Follow us on Twitter at @chicitysports23 for more great content. We appreciate you taking time to read our articles. To interact more with our community and keep up to date on the latest in Chicago sports news, JOIN OUR FREE FACEBOOK GROUP by CLICKING HERE