Braxton Jones was somewhat of a pleasant surprise in year one of the new regime. The Chicago Bears asked their fifth-round selection in last year's draft to start in Week 1 against the San Francisco 49ers stout pass rush. He recently opened up on how second-year quarterback Justin Fields saved his and his teammate's butts a few times in 2022.
In general manager Ryan Pace and head coach Matt Nagy's last season in 2021, the Bears gave up a league-high 58 sacks. New general manager Ryan Poles and head coach Matt Eberflus wanted to overhaul the offensive line to protect Fields better in his second NFL season.
The offensive line got skinnier. Poles brought in free agents and draft picks he believed would upgrade the 2021 offensive line. The result. Not so good. In fact, no improvement was made in their sack total.
The Bears, like in 2021, gave up 58 sacks in 2022. Fortunately for their pride, three teams gave up more sacks, including the Denver Broncos, who led the league in sacks with 63.
Justin Fields saved Braxton Jones last season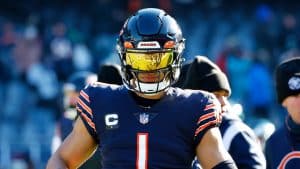 According to an interview of Jones with Matt Lombardo of Heavy, Jones thinks the Bears' sack total could have been higher last season if not for Fields' willingness to give up on the line's protection early on plays. Jones pointed the 61-yard touchdown scramble against the Miami Dolphins as a play where Fields made Jones look like a savior, even when he screwed up his assignment:
"There were a couple of plays that I remember," Jones told Heavy. "Against Miami,  Justin had a [61-yard] rushing touchdown. But, I was getting edged a little bit, and him getting out of the pocket and running for the touchdown, it made it look like I had actually pancaked the guy. But, actually, I was getting edged and Justin saved me and ran for the touchdown."
Jones admitted that there were times when Fields' eagerness to run out of a collapsing pocket ended up costing Fields a sack, as he'd run into an edge defender that made a move Jones wasn't expecting. Those plays were less than Fields being the hero:
"But, more times than not, Justin is helping the offensive line get out of those type of situations where maybe protection breaks down. He's been great. It's so fun watching him just start rolling down the field. There are multiple times when I'm trying to chase him, I can't catch him at all, but I'm trying and cheering him on doing his thing."
The Chicago Bears need to see improvement in pass protection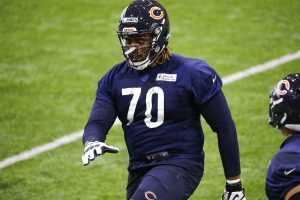 Many fans and analysts cried about Fields giving up on the pocket too early last season, especially as the stats show Fields produced about a third of his total yards as a quarterback on the ground. Everyone knows that isn't sustainable. But even the offensive line knows that he had to last season.
Jones should improve in his second season with the Bears. He earned a 70.5 overall grade for his pass-blocking performance as a rookie and 75.4 overall. Jones was credited with giving up just seven sacks in his 542 snaps as a pass protector.
Jones' improvement as the Bears left tackle would go a long way for the offense in 2023, as other spots will be suspect at the start of the season. The Bears will ask another rookie, tenth-overall pick Darnell Wright, to play at right tackle opposite Jones in Week 1 against the Green Bay Packers.
Free agent acquisition Nate Davis is more of a run blocker at right guard than a pass protector. Gone is Sam Mustipher at center, thankfully. Cody Whitehair should be an improvement there.
It's time for the Bears offensive line to save Fields. It's their only hope of having a passing game in Chicago.
For More Chicago Sports:
Follow me on Twitter at @JordanSig, and follow us @ChiCitySports23. You can also reach out to Jordan Sigler via email at jordanmsigler@gmail.com. To read more of our articles and keep up to date on the latest in ALL of Chicago sports, click here! Chicago Bears, Chicago Bulls, Chicago Cubs, Chicago White Sox, Chicago Blackhawks.
For More Great Chicago Sports Content
Follow us on Twitter at @chicitysports23 for more great content. We appreciate you taking time to read our articles. To interact more with our community and keep up to date on the latest in Chicago sports news, JOIN OUR FREE FACEBOOK GROUP by CLICKING HERE