Chicago Bears quarterback Justin Fields made a proclamation about how many passing yards he'd reach for the 2023 season. Bears fans speculated as to whether the third-year quarterback could achieve his benchmark.
The Bears have never had a 4,000-yard passer for a single season in their history. They've never had a quarterback throw 30 touchdowns in a single season, either. Those blemishes are an embarrassment for the Bears, as every other team in the league has had a quarterback accomplish that.
Fields is getting a lot of praise around the league for his running talent. Fields thinks he's one of the top five best quarterbacks to ever run the ball in the NFL. While that's an important part of his game, Fields must improve at passing. It's a passing league, and Fields was drafted to push the ball down the field through the air.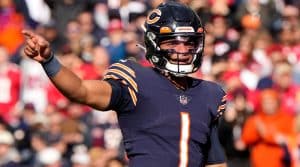 Fields was a guest on CBS Sports All Things Covered recently. Fields was asked if he'd break the Bears' passing record and get to 4,000 yards in a single season. Fields assured the public he would:
"I will. Plan on doing it this year, too," Fields said.
The @ChicagoBears have NEVER had a passer throw for 4,000 yards in a single season.

Justin Fields says that is going to change… THIS season.@atcoveredpod pic.twitter.com/89zAFmxEdF

— NFL on CBS 🏈 (@NFLonCBS) July 20, 2023
The Bears single-season leader in passing yards is Erik Kramer. Kramer broke the record in 1995 when the value of a running back was much higher than it is today. (Kramer also holds the record for the most passing touchdowns in a single season with 29 for the 1995 season.)
Fields threw for 2,242 yards last season, that's his most passing yards in a single season. That puts Fields behind Bears quarterbacks like Dave Krieg, Billy Wade, Rudy Bukich, and Vance Evans for the most passing yards in a single season.
Chicago Bears fans react to Justin Fields' promise
Bears fans reacted to Fields' lofty hopes for the season. Here are the best takes of Fields saying he'll pass for over 4,000 yards.
Here's why I think this is good. "I plan on" puts out confidence, but keeps it as a goal. No guarantees, not talking bravado, just staying a little humble. "I'll get to it, don't fret." That's our QB. https://t.co/JpAwgTzixD

— Sam Householder (@SamHouseholder) July 20, 2023
This gon be a good bookmark https://t.co/8kk2teMxzE

— Caden (@IssaLoop) July 20, 2023
Most blatant jinx ever I'll never win man https://t.co/HzhQ00e9lv

— M!les (@wavvymiles) July 20, 2023
Colin coward somewhere https://t.co/nSJmBcRcbJ pic.twitter.com/c3kMyF8fXJ

— Joel Braunold (@braunold) July 20, 2023
I honestly can't wait to see this offense this season especially with the moves they made hell they even got rid of their owner sunt him to New Jersey should throw for 5,000 https://t.co/oi9waBwV5y

— CSM365 (@ClutchSM365) July 20, 2023
let's aim for 3k first https://t.co/dT0eCWR2dd

— Kev (@2KEVlN) July 20, 2023
Yeah he's breaking that easily with 1000 rushing yards https://t.co/iFuYDR85mW

— ? (@WhoIsDoodie) July 20, 2023
I'm so happy I could 😭 https://t.co/6NRij8O4Rw

— Ghostface McCaskey (@GhstfceMcCaskey) July 20, 2023
For More Chicago Sports:
Follow me on Twitter at @JordanSig, and follow us @ChiCitySports23. You can also reach out to Jordan Sigler via email at jordanmsigler@gmail.com. To read more of our articles and keep up to date on the latest in ALL of Chicago sports, click here! Chicago Bears, Chicago Bulls, Chicago Cubs, Chicago White Sox, Chicago Blackhawks.
For More Great Chicago Sports Content
Follow us on Twitter at @chicitysports23 for more great content. We appreciate you taking time to read our articles. To interact more with our community and keep up to date on the latest in Chicago sports news, JOIN OUR FREE FACEBOOK GROUP by CLICKING HERE