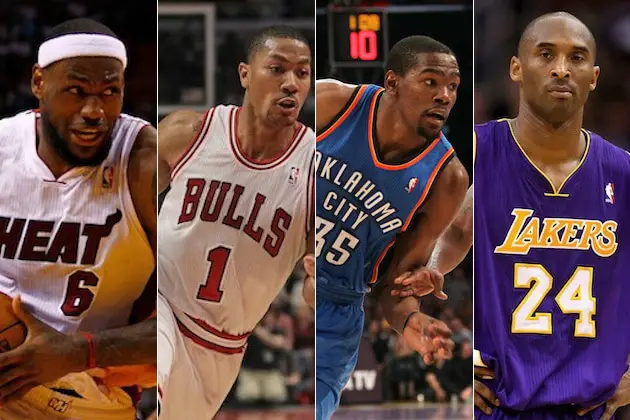 CLICK HERE FOR PART I OF THIS POST.
As mentioned in Part I, Wolf had already made his draft strategy transparent in the cab, but my approach considered several other variables based on the profitability of games. As implied earlier by Nillzgal's financial contributions, I modestly (shamelessly?) admit my wallet isn't deep enough to attend every game despite my enthusiasm as a Bulls fan. I try to sell most of my tickets, which shockingly haven't been discounted during Reinsdorf's offseason of fiscal responsibility.
This year, the so-called "profitability variables" encompassed a wider range than usual. The ideal draft picks featured the following qualities in order of importance:
"Super Teams" & Star Players – An even bigger draw compared to previous seasons given the decreased marketability of the Bulls without their MVP. Obviously, fans are much more inclined to buy tickets to Kobe & the Lakers or LeBron & the Heat over Aaron Afflalo and the Orlando Magic.
Rose's Return – The aforementioned premium that has been placed on the possible games where Rose may actually play, beginning as early as February (?)
Weekend Games – Always a much easier sell when the buyer doesn't have any responsibilities in Corporate America the next day.
Western Conference Teams – The logic  is that basketball junkies would value a Minnesota or Dallas game higher than an eastern conference team that appears at the United Center twice during the year. A new caveat to this "economic theory" for 2012/13 is the effect of last year's lockout-shortened season. Many western conference teams didn't make their annual trip to Chicago last year due to the condensed schedule, which presumably increases their value this year …maybe?
7:09PM – Based on the factors above, and as expected by media & draft experts, I select the Lakers game on January 21st with the number one overall pick. The pick breaks the Heat's two year streak as the top draft choice. Some may question why I didn't opt for the defending champions, but the acquisition of Dwight Howard coupled with Kobe Bryant's first trip to Chicago in two years made the Lakers the clear-cut favorite. Of course, this also left open the slight possibility that Wolf would only take one of the Miami games with picks two and three…
7:11PM – Until he predictably selects the Heat games back to back – smart(est) play, despite the lack of creativity. I immediately counter at the four spot with the team they defeated in last year's Finals, the Oklahoma City Thunder. Kevin Durant and friends should only appreciate in value as the season approaches.
7:14PM – In an early surprise of the night, Wolf selects the New York Knicks at five while sarcastically shouting "Linsanity Baby!" … except the long pause before Wolf's laughter implies he may have completely forgotten the Asian phenomenon relocating to Houston during the offseason. Commissioner Dar & I awkwardly exchange blank stares until Wolf interrupts us by swearing he knew what he was doing.  I'm still convinced the alcohol first made its presence felt with that selection.
7:16PM – I personally would've taken Blake Griffin, Chris Paul, and the Los Angeles Clippers in Wolf's position (even without Nillzgal's recommendation), so I do so with the sixth pick. Aside from the inevitable highlights from Lob City, what Bulls fan wouldn't pay top dollar to heckle Vinny Del Negro live?
7:18PM – With the 7th pick, Wolf continues to neglect diversifying his portfolio by choosing the Knicks again, this time without any Jeremy Lin references. In no way am I trying to understate the appeal of the Knicks (ok, maybe a little) because these games have historically been a hot commodity, but I prefer a little variety in my draft assets. Conversely, the argument can be made that Wolf has positioned himself to sell a game and attend a game for both the Heat & Knicks.
7:19PM – The first round (i.e. the first 9 picks) concludes with each Brooklyn Nets game selected in succession. I declare myself the winner in this Battle for Brooklyn considering I called dibbs on the Saturday game in March with higher D.Rose potential.
7:21PM – The waitress delivers our food and shots of hard liquor, which gives us an opportunity to call a recess in the draft. The mood lightens and the conversation ranges from infidelity to breast feeding (what?). Inevitably, the discussion shifts back to the Bulls and how we'd like Jerry Reinsdorf to handle our personal finances and not our basketball team.
8:02PM– The next 2 hours feature the remaining 4 rounds interjected only to accommodate alternating shots of tequila and whiskey after every 9 picks. The alcohol stimulates the competitive nature of the draft as each selection is received with harsh criticism from the opposition. More notable taunts include "I can read you like a book" (Nillz) and "That game wasn't even on my 2nd page of choices" (Wolf).
During each of his turns, Wolf consistently exhausts the 2 minute time limit per draft selection, almost abusing the privilege. His indecisiveness eerily mirrors John Lucas III running the offense: an inactivity or lack of purpose until the shot clock's waning seconds when a last ditch effort attempts to convert and salvage the inefficient possession. At one point, Wolf undeniably exceeded the time limit but incurred no penalty from the Commissioner after a brief deliberation. The restraint demonstrated by the Commissioner only reinforced my theory/paranoia that he and Wolf colluded during their tandem bathroom break earlier in the evening.
The draft shakes out in the following order with my comments & observations documented afterwards:
| | | | |
| --- | --- | --- | --- |
| Pick | Team | Opponent   | Date   |
| 10 | Nillz | Minnesota Timberwolves | Saturday, November 10, 2012 |
| 11 | Wolf | Dallas Mavericks | Wednesday, November 28, 2012 |
| 12 | Nillz | New Orleans Hornets | Saturday, November 03, 2012 |
| 13 | Wolf | San Antonio Spurs | Monday, February 11, 2013 |
| 14 | Nillz | Sacramento Kings | Wednesday, October 31, 2012 |
| 15 | Wolf | Indiana Pacers | Saturday, March 23, 2013 |
| 16 | Nillz | Denver Nuggets | Monday, March 18, 2013 |
| 17 | Wolf | Portland Trailblazers | Thursday, March 21, 2013 |
| 18 | Nillz | Memphis Grizzlies | Saturday, January 19, 2013 |
| 19 | Wolf | Utah Jazz | Friday, March 08, 2013 |
| 20 | Nillz | Phoenix Suns | Saturday, January 12, 2013 |
| 21 | Wolf | Philadelphia Sixers | Saturday, December 01, 2012 |
| 22 | Nillz | Philadelphia Sixers | Thursday, February 28, 2013 |
| 23 | Wolf | Houston Rockets | Tuesday, December 25, 2012 |
| 24 | Nillz | Cleveland Cavaliers | Tuesday, February 26, 2013 |
| 25 | Wolf | Orland Magic | Friday, April 05, 2013 |
| 26 | Nillz | Golden State Warriors | Friday, January 25, 2013 |
| 27 | Wolf | Boston Celtics | Monday, November 12, 2012 |
| 28 | Nillz | Boston Celtics | Tuesday, December 18, 2012 |
| 29 | Wolf | Washington Wizards | Saturday, December 29, 2012 |
| 30 | Nillz | Detroit Pistons | Sunday, March 31, 2013 |
| 31 | Wolf | Washington Wizards | Wednesday, April 17, 2013 |
| 32 | Nillz | Atlanta Hawks | Monday, January 14, 2013 |
| 33 | Wolf | Charlotte Bobcats | Monday, December 31, 2012 |
| 34 | Nillz | Toronto Raptors | Tuesday, April 09, 2013 |
| 35 | Wolf | Cleveland Cavaliers | Monday, January 07, 2013 |
| 36 | Nillz | Indiana Pacers | Tuesday, December 04, 2012 |
| 37 | Wolf | Milwaukee Bucks | Wednesday, January 09, 2013 |
| 38 | Nillz | Charlotte Bobcats | Monday, January 28, 2013 |
| 39 | Wolf | Milwaukee Bucks | Monday, November 26, 2012 |
| 40 | Nillz | Detroit Pistons | Wednesday, January 23, 2013 |
| 41 | Wolf | Oklahoma City Thunder* | Tuesday, October 23, 2012 |
| 42 | Nillz | Memphis Grizzlies* | Tuesday, October 09, 2012 |
| 43 | Wolf | Minnesota Timberwolves* | Friday, October 19, 2012 |
| 44 | Nillz | Milwaukee Bucks* | Tuesday, October 16, 2012 |
| 45 | Wolf | Orlando Magic | Tuesday, November 06, 2012 |
           *Denotes preseason game
 Wolf mocked my New Orleans pick at 12, but you can't discount the 2012 number one overall NBA draft pick & Olympic gold medalist, "The Brow" returning to his hometown on a Saturday night.
A potential steal of the draft may have been the first regular season home game on October 31st vs. Sacramento. Opening night has traditionally been a top 5 game in prior years, but fell all the way to 14 without Rose in the lineup. Wolf even reluctantly praised the selection upon its announcement. Then again, it is the Kings.
Along those lines, another wildcard game goes to Wolf's selection of the Rockets on December 25th. The lone Houston game of the season has plenty appeal with their roster addition of Jeremy Lin, and the return of Omer Asik. This would also be Chicago's first Christmas day game in 15 years. However, Wolf & I were both hesitant to bite knowing our availability and the game's resale value may be highly limited on the holiday.
The Orlando Magic at 25 was arguably the most controversial selection of the night, which even prompted me to ask Wolf if he realized Dwight Howard was traded. Wolf attempted to justify the pick by citing the high D.Rose potential in April. It's a reasonable argument for a game that may also have playoff seeding implications. However, the second Orlando game in November did become the first regular season contest in our draft's history to be selected last – a spot usually reserved for a preseason affair.
You might wonder why both Boston games remained on the board until pick 27. You can credit the delay to a bit of gamesmanship. Similar to the Sixers, Wolf and I held out on the Celtics as long as possible knowing the other would automatically take the other game with the next pick. Both games early in the season with no D.Rose potential also limited its value.
The most epic stretch of futility occurred during picks 29 through 34. Wolf doubled up on the Wizards, and then topped it off by celebrating New Year's Eve with Michael Jordan's Bobcats. From a basketball standpoint, I can't think of a more depressing way to bring in 2013 than with the worst team in the NBA (Although this game could be dubbed as "The Mitch Special" in acknowledgement of his infatuation over former Bulls' "legends" Ben Gordon and Tyrus Thomas). Aside from the Bobcats' incompetence, it's difficult to imagine a decent performance from either team knowing the players will be focused on the post-game champagne and campaign. I'd like to think I fared better during this portion of the draft with Detroit, Atlanta, and Toronto. Allow me to convince the casual Bulls fan that these 3 games give them the opportunity to enjoy a Sunday Funday with Greg Monroe, re-familiarize their taste buds with some original Hot Sauce, and rekindle their underdog fascination with Carlton Banks.
Based on the designated "profitability variables," a summary of draft statistics is outlined below for regular season games only:
| | | | |
| --- | --- | --- | --- |
| GAME TYPES | NILLZ | WOLF | COMMENTS |
| "Super Teams" | 5 | 6 | Versus MIA, OKC, LAL, LAC, BKN, NYK, or BOS. |
| Rose's Return | 6 | 9 | Assuming Rose returns no earlier than February 1st. |
| Weekend | 6 | 7 | Games on either a Friday or Saturday night (excluding Holidays) |
| Western Conference | 10 | 5 | Games against a Western Conference opponent |
10:04PM – In the end, Wolf & I walk  stumble away from the draft both surprisingly satisfied with the results and scoffing at the other's self-proclaimed victory. We both believe we achieved our individual draft goals, and I even managed to avoid the doghouse by fulfilling the Nillzgal's  requests. With the season 2 months away, it's just a matter of time before one of us is proven to be the drunken idiot.
UPDATE: I've already sold 9 out of my first 11 draft picks, but it looks like the drunken idiot was still me.
The Mitch & Nillz Bulls Show: Follow, Like, Subscribe.
For More Great Chicago Sports Content
Follow us on Twitter at @chicitysports23 for more great content. We appreciate you taking time to read our articles. To interact more with our community and keep up to date on the latest in Chicago sports news, JOIN OUR FREE FACEBOOK GROUP by CLICKING HERE