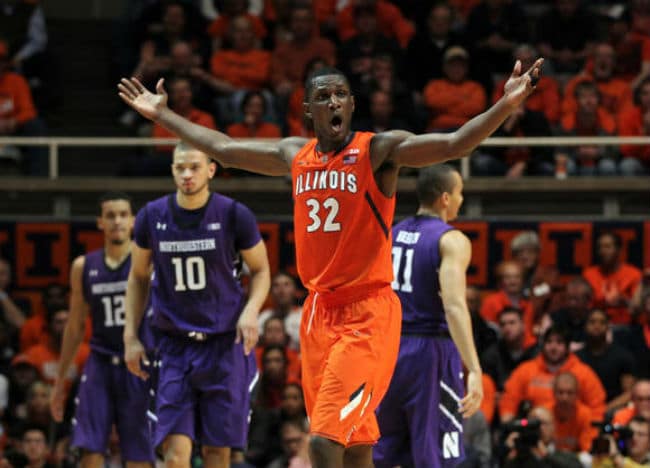 Illinois was in desperate need of a statement game to validate their No. 23 ranking after suffering a 95-70 drubbing at Wisconsin earlier in the week.
Driving a couple of hours over to Evanston to face the 7-9 Northwestern Wildcats, the Illini were expected to do just that—but once again, the Illini didn't live up to their expectations.
After trailing by ten earlier in the second half, Illinois freshman Kendrick Nunn made a corner three pointer to tie the game up at 34 a piece with 7:05 left in the game.
Northwestern sophomore Tre Demps answered Nunn's three pointer, making three straight three-pointers of his own to give to give the Wildcats a 43-36 lead with 3:32 left in the contest.
Down nine with under two minutes left, the Fighting Illini made a fiery comeback.
After Illinois stole the inbounds, senior Joseph Bertrand absorbed contact and finished a bucket with a whistle—unfortunately for the Illini, the whistle went the other way as Bertrand was called for a charge.
The play could've cut it to a 45-43 game with 56 seconds left.
The Wildcats almost seemed determined to let the Illini back in the game one way or another.
Moments later Illinois forced another turn over after they double-teamed Northwestern senior Drew Crawford.
Averaging a team-high 15.7 points per game entering the contest, Crawford struggled all night, finishing with 13 points on 2-8 shooting.
Transfer junior Rayvonte Rice missed a layup and Jon Ekey and Nnanna Egwu failed to finish their tip in attempts.
"You can't miss layups and tip dunks, you gotta convert some of those," Illinois coach John Groce said. "We didn't convert nearly enough of those. Offensively we gotta be better. We gotta step up and make some plays."
Illinois would amazingly get another chance to cut into their deficient after Northwestern managed to turn the ball on the next play. This time Rice drained a three pointer to bring the Illini within two with 15 seconds left.
It was too little too late for Illinois as Crawford put the icing on the cake draining both of his free throws to make it a 47-43 Northwestern lead. The Wildcats would hold off the Illini, 49-43.
"We let one get away," Egwu said. "We came out slow and couldn't make shots. Give them credit, they play defense, they guard us for 40 minutes. We just couldn't get a groove and make one really big run."
The win gave Northwestern their first Big Ten win of the season after losing their first three conference games by an average of 25.3 points.
The Wildcats shot 37.2% from the field, 7-21 from downtown, and 10-17 at the line.
They were without their starting point guard Dave Sobolewski, who missed the game with a concussion.
The Illini couldn't hit a shot, missing 33 of their first 40 shots from the field. Illinois also started 0-11 from downtown.
"We gotta have everybody out there playing their role and aggressiveness and assertiveness about them," Groce said. "I just didn't think that we had that. But give them credit."
Illinois was held scoreless for four and half minutes in the first half.
In one sequence, Kendrick Nunn missed a layup and Ekey missed a tip in at point blank range.
On the next possession, Rice missed a layup and Ekey once again missed the tip in dunk.
Sequences like this were all too common for the Illini.
"I think it's mental," Egwu said. "We just gotta stay aggressive, we can't get passive and not wanna take any shots because they're not falling in."
Entering the game leading the team in scoring, Rice and Bertrand combined for only 12 points on 4-22 shooting.
It's been a tough week for Illinois, but junior guard Tracy Abrams, who finished with a team-high 13 points and five assists, remains confident.
"Adversity is gonna come," Abrams said. "It's just all about your response. I think we'll be straight come Wednesday."
For More Great Chicago Sports Content
Follow us on Twitter at @chicitysports23 for more great content. We appreciate you taking time to read our articles. To interact more with our community and keep up to date on the latest in Chicago sports news, JOIN OUR FREE FACEBOOK GROUP by CLICKING HERE