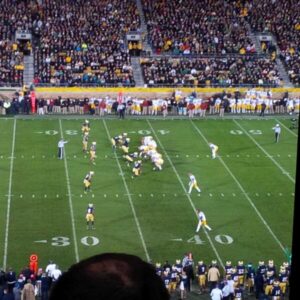 Notre Dame's defense lines up against USC's offense in the first quarter.
SOUTH BEND, IN- Notre Dame started the game with an opening drive that lasted 12 plays and took them 71 yards down to the Southern California 1-yard line. After being kept away from the end zone for the next three plays, Fighting Irish head coach Brian Kelly decided to go for it on 4th and goal. Irish junior running back Cam McDaniel would get tackled for a three yard loss to turn the ball over on downs.
The Trojans would then take the Irish defense 96 yards and capped off a 13 play drive with a 1-yard touchdown run by senior running back Silas Redd to take an early 7-0 lead. The Irish would battle back however in the form of Tommy Rees achieving a milestone. He finished a 10 play, 77-yard drive with a 7-yard touchdown pass to his tight end, junior Troy Niklas.
This would tie the game at seven just as the first quarter clock expired. It was on that touchdown pass that Rees became only the fifth Notre Dame quarterback to pass for 6,000 yards in a career. He is the first Irish signal caller since Brady Quinn to reach this plateau. After the game Coach Kelly spoke about Rees' accomplishment…
"It says a lot about the kid and his perserverence" Kelly said about the milestone. He added, "He's just a tough kid and he's gonna battle."
In the second quarter, the Irish defense gave up a ton of yards to USC but only allowed a field goal. Tommy Rees threw his second touchdown pass of the game with 1:13 left before the half as he found his star wide receiver senior T.J Jones in the back of the end zone for an 11-yard score. The Irish led 14-10 at halftime.
When the second half began, Notre Dame freshman linebacker Jaylon Smith grabbed the first interception of his young career (It was off of USC quarterback Cody Kessler's first throw of the second half). Unfortunately, the Golden Domers offense would go three and out. When the Irish got the ball back two possessions later, Rees would be sacked by USC linebacker Lamar Dawson. He went down and it took a few minutes for him to get up. He was eventually taken to the locker room and would not return.
According to Coach Kelly he suffered a neck strain… "He strained his neck" Kelly said, "He's pretty sore, but his head is fine and he's talking to us. He'll be re-evaluated within the next 24-48 hours." Rees completed 14-of-21 passes for 166 yards and two touchdowns before he was hurt.
In came Andrew Hendrix, the senior backup quarterback is normally used on running plays. When Rees went down, he was thrusted into the offense. Unfortunately, the senior did not fare well in the national spotlight. He went 0-for-4 with a fumble that almost cost the Irish dearly. He was also sacked 3 1/2 times, and he only ran the ball six times for five yards.
"You guys watched it, I watched it, but he's gotta play better" Kelly said about Hendrix's performance. When asked if third stringer Malik Zaire should have entered the game, Kelly avoided the question. "I don't wanna get into those type of hypotheticals" was his response.
With Hendrix unable to get the offense moving the Irish wouldn't score a point for the rest of the game. Well praise Touchdown Jesus for the Fighting Irish defense. Junior defensive end Stephen Tuitt had two game-changing sacks on Kessler in the second half, he also had a pass deflection. Senior nose tackle Louis Nix also got into the act by contributing a nice fourth quarter pass break up, a tackle for loss and two tackles. Senior linebacker Carlo Calabrese led all Irish defenders with eight tackles.
"We had a pass rush when we needed it" Coach Kelly Said about his defensive line. In regards to Tuitt, Kelly said "He got the game ball, they (USC's offensive line) couldn't handle him today." Kelly's defense as a whole held their ground and pushed Notre Dame to victory the rest of the way. They held the Trojans to zero third down conversions in the second half, USC only converted 2-of-13 on the night. Also assisting the Irish was an astounding 11 penalties that Southern Cal committed for a game-high 95 yards.
"Obviously the penalties hurt tonight" USC head coach Ed Orgergon said at his post-game press conference, "We didn't do what we like to do at a high level" he concluded.
Despite USC outgaining the Irish 330-295, Notre Dame made stops when they needed too. The Trojans made only two trips to the red zone in the second half, but costly penalties would move them backwards. Notre Dame also made key third and fourth down stops on defense when it mattered most. The only other scoring attempt came with 4:16 left in the game. "So Cal" kicker Andre Heidari attempted a 46 yarder that went wide right.
This is a huge win for the Irish as they have now broken USC's five game winning streak at Notre Dame Stadium. They have now won two in-a-row against the Trojans, the first time they've won consecutive games in this series since the Bob Davie era (1999-2001). Brian Kelly is now 3-1 against the Men of Troy.
"I think it was (a) real big (victory)" T. J. Jones said, "It sets the tone for upcoming classes and classes that are already here now that Notre Dame is able to rival USC" he added, "It's not going to be a triumph for USC beating Notre Dame eight times in-a-row anymore."
The latter part of what Jones said remains to be seen. But for now, the Notre Dame faithful have plenty to celebrate. The Irish are now 5-2 as they head to Air Force next week. They return home on November 2nd for their annual game with Navy. USC on the other hand now drops to 4-3 and continues to lose ground in the PAC-12 Conference.
They return to the Los Angeles Coliseum next week to take on a Utah team that's won two of it's last three. Ed Orgeron's future in the City of Angels is now in serious doubt.
Here is the box score from tonight's game. Follow me on Twitter @GabeSalgado82
For More Great Chicago Sports Content
Follow us on Twitter at @chicitysports23 for more great content. We appreciate you taking time to read our articles. To interact more with our community and keep up to date on the latest in Chicago sports news, JOIN OUR FREE FACEBOOK GROUP by CLICKING HERE