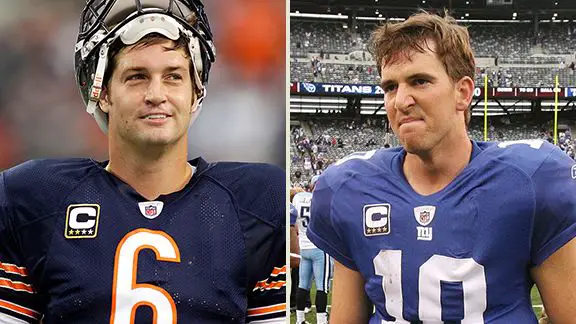 Even though Bear fans had to wait an extra 1-2 days to watch our team take the field, playing on Monday Night football was nice. The Bears lost 41-13. Starting units stayed on the field for most of the 1st half. Urlacher and Peppers came out early but, Cutler and the 1st team offense stayed in until the end of the 1st half. Overall it was a poor showing for the Bears but, Cutler played solid and fans are happy they got to watch him play more then 1 series. Here are some observations from the game…
Julius Peppers created consistent pressure on the edge. Pass rushing presence was more than felt by Eli Manning.
Jay Cutler's footwork and mechanics seem to be vastly improved. Seems to be navigating the pocket more comfortably and evading the rush. Was really good to see him play more then 1 series. Jay's most impressive play was stepping up in the pocket and hitting Hester on a 37 yard rope down the right sideline.
Matt Forte showed the NFL why the Bears front office needs to pay this man his money already! Forte took a screen pass to the right side of the field 42 yards after reversing field and creating a very exciting play.
Brian Iwuh was impressive playing for Lance Briggs. Caused WR Mario Manningham to drop a big 1st down conversion in the red zone.
Most big runs by Giants RBs by Jacobs and Bradshaw were a product of poor tackling. Major Wright missed an open field tackle on Jacobs' 18 yard TD run.
Bears 1st team offense stalled in the red zone after a 37 yard completion to Hester and a 42 yard screen pass to Matt Forte. A drop by Hester and a slip by Hester on a throw to the flats killed the drive. Bears settled for a Robbie Gould FG.
Took Johnny Knox a couple of kick returns to get past the first wave of defenders. Knox rattles off a 45 yard kick return after brushing off an arm tackle and turning on the burners.
Marion Barber's first play of the game, 10 yard completion on a double screen pass.
Gabe Carimi held his own against Justin Tuck. After impressive play blocking Tuck, commentators shower him with love, then false starts. Jon Gruden comments "Gabe Carimi will Cream'Ye" to which hundreds of thousands of people collectively face palmed.
Overall the offensive line played much better. Cutler played the entire 1st half and was only sacked once. The play in question where he was sacked, he could have easily thrown the ball away as he left the pocket. The only play that sticks out in my mind illustrating poor OL play was an abysmal pull on a counter by guard Lance Louis which got Forte tackled for a loss.
Bears ran a wildcat formation with Earl Bennett at QB, Chester Taylor at RB, Bennett handed off to Chester Taylor for a 7 yard gain. Despite a hold, it was the longest run by Taylor of the entire pre-season.
Kick off coverage was absolutely poor. Allowed Devin Thomas to snag at least 40 yards per return.
Rookie punter Spencer Lanning had a punt blocked. Rookie Dom DeCicco made mistake in the B gap, allowed 6th round pick Greg Jones to go un-touched for an easy block. This play could have cost DeCicco a roster spot.
Corey Graham had a touchdown caught over him by Dominic Hixon. This is why Graham is a special teams player.
WR's overall play could be described as poor. First team, second team, all of them. 7 first half drops (2 for Williams, 3 Bennett, 2 Hester (and an unforced trip up when he was wide open for a TD). Sanzenbacher's mental lapse to end the first half where he didn't get out of bounds fast enough (would have allowed for a run, timeout, and a 45-50 yard FG rather than a 50+ yarder). Fans especially frustrated with Roy Williams who was targeted twice, with 1 very catchable ball that was dropped for a big 1st down.
Marion Barber succeeded in BOTH halfs. He moved the sticks in the first half, and gouged the Giants in the 3rd quarter in both the rushing game and on swing passes out the backfield.
Despite winning the game soundly, Giants suffered the more devastating loss when starting CB Terrell Thomas tore his ACL. Thomas is out for the season, adding to the secondary injury woes for New York.
The Giants back-ups played way better than the Bears back-ups.
Most notable play by a back-up was a nice catch by Onrea Jones where the ball was behind him and he made a circus grab to pull it in. Jones also caught a nice TD from Hanie near the goalline but, only got 1 foot in bounds and was ruled out.
Only touchdown for the Bears came on a goalline plunge by Khalil Bell.
MOST IMPORTANT OBSERVATION: Coach Lovie Smith reports 0 injuries.
For More Great Chicago Sports Content
Follow us on Twitter at @chicitysports23 for more great content. We appreciate you taking time to read our articles. To interact more with our community and keep up to date on the latest in Chicago sports news, JOIN OUR FREE FACEBOOK GROUP by CLICKING HERE