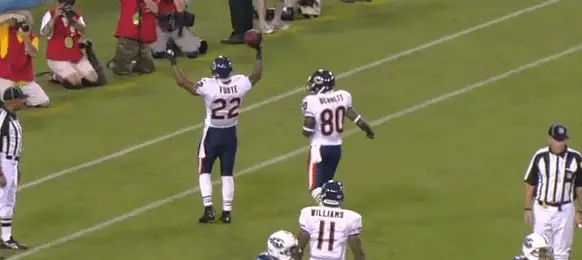 After taking a schlacking from the Giants on Monday Night Football, the Bears bounced back strong. The Bears had a very strong offensive and defense showing. Most of the starters on both teams came out after 1 possession in the 2nd half. There was a lot of good football to be watched from this game. The Titans won 14-13 however the final score doesn't tell the story of the game.
The Chicago Bears starters held the upper hand over the Titans starters for the entire first half. The offense looked especially good as Cutler, Forte, and Bennett had great outings. Forte especially, the Titans had no answer for him as he carved up their defense for whatever he wanted. Defensively the starters were without Anthony Adams and Lance Briggs. Despite missing 2 big keys to the defense, the Bears starting defense only gave up 7 points.
Here are our observations that we jotted down during the game…Don't forget to let us know what YOU thought in the comments section below.
1st play from Scrimmage, Cutler took a shot on a play from a Titans DE but, completed a 17 yard competion to Roy Williams. The next play Roy Williams drops a pass and tipped it to a defender for an easy interception. Johnny Knox snickers to himself on the sideline.
RG Lance Louis leads Matt Forte for a great 11 yard run on a pull. Bear fans astonished that LG Chris Williams wasn't pushed back into the handoff as he has been on many previous counter plays in the pre-season.
Earl Bennett has shown to be the most consistent WR with sure hands. Picks up a great first down catch on a 3rd and 8. 2 plays later, Bears find themselves at 3rd and 10 and Cutler finds fan favorite Dane Sanzenbacher for the first down. Cutler's movement in the pocket stands out more and more with each game he plays. Looks like a different QB this season
Eddie George : "Forte is running with a whole new energy this year. Much more physical and running with some serious passion."
Defensively, the Bears forced two 3-and-outs in the 1st quarter. Titans have yet to pick up a 1st down after two possessions.
Bears offensive line playing nearly perfect football. Matt Forte is picking up 8-10 yards a pop. Most impressive is the big pick-ups via the draw, a play the Bears didn't utilize much last season. Titans' announcers claim Bears have imposed their will on the Titans defense and are running at will at the conclusion of the 1st quarter.
Marion Barber left the game with a calf injury.
Bears 2nd trip to the redzone results in a missed 29 yard field goal. It was off the left upright.
Titans drive down the field and get stuck with a 4th and 5. Titans roll the dice and Charles Tillman breaks the pass up easily. Tillman does push-ups on the field afterwards for not intercepting it.
Interesting play, Cutler finds Johnny Knox for a 1st down on a 12-15 yard comeback. Titans CB Cortland Finnegan blitzes and Matt Forte slams him down with ease. Very impressive pass blocking by Forte.
Cutler has an errant throw to Sanzenbacher on a 3rd down play. If Dane was 9 ft taller, it would have been a completion.
Gould nails his 2nd FG attempt from 45 yards out. He missed a chip-shot earlier in the game.
Brian Urlacher and Nick Roach maul Titans RB Harper in the back-field for a loss of 4 yards. Bears defensive line is playing very solid tonight getting penetration in the back field allowing the linebackers to blast through the gaps.
Knox gets tripped up on a kick return and loses the ball. Luckily he is able to recover his footing and recover the fumble. Titans squander a huge opportunity by not recovering the ball.
Notable statistics at halftime, Cutler 13/20 170 yds INT (Tipped by Roy Williams) Forte 15 car 67 yds 1 TD, Bennett 5 catches 69 yds.
Matt Hassellbeck is completing many passes to Brian Iwuh's side. With Lance Briggs back in the line-up, I wouldn't expect to see even half of those to be complete.
After a Bears 3-and-out, Chris Conte makes a great open field tackle after a Bears punt. Conte showing some promise on the special teams unit.
Hester redeems himself after dropping an easy slant by picking up a big first down on a corner route. Hester dropped an easy catch earlier in the game as well.
Later on the drive, directed by Caleb Hanie, Earl Bennett comes up big with a catch. The Bears just converted on a 3rd and 18. Very impressive blocking by the line, great throw, great catch. All around great play by the Bears.
Caleb Hanie follows a perfect pass up with a lame duck interception directly to Tommie Campbell who returned it 88 yards for a touchdown. After directing a great drive, Hanie re-assures Bear fans that he is indeed still a back-up.
RB Kahlil Bell is showing a strong ability to get yards after first contact. He's shedding the idea of him being a finesse back with each game. I know it's pre-season but Bell is showing Bear fans why he's on the team.
Sanzenbacher gets a wide open pass thrown to him by Hanie and drops it. Bear fans collectively sigh, as Sanzenbacher is easily the biggest fan favorite of the UDFA's.
On a 3rd down pass, heavy blitz, Hanie drops the ball off to TE Desmond Clark and the 13 year veteran gets cracked in his knee and falls very awkwardly. Clark is carted off the field with what's believed to be a MCL Sprain.
Gould nails a 52 yard FG with plenty of room to spare. Both of his first FG's (1 for 2 on those attempts) had a good amount of curve on them but his 3rd attempt was 100% down the middle.
Amobi Okoye sacks Jack Locker on a 3rd pass play. Great containment by Okoye as Locker was going to leave the pocket.
Bears special teams comes up with a block on a punt, the ball bounces right back to the punter Chad Cunningham and he runs for a first down. The cackling hyenas in the booth found it very funny as the rest of the audience did. I almost vomited at the sound of the announcers laughing.
DE Mario Addison crashes down the line on a boot leg run by Jake Locker, allowing Locker to pick up an easy first down. The very next play Amobi Okoye drops the RB in the backfield after getting great penetration.
Score is 14-13 and the Bears get the ball at the 20 yard line with 1:20 left to play. The drive resulted in a turnover on downs.
For More Great Chicago Sports Content
Follow us on Twitter at @chicitysports23 for more great content. We appreciate you taking time to read our articles. To interact more with our community and keep up to date on the latest in Chicago sports news, JOIN OUR FREE FACEBOOK GROUP by CLICKING HERE