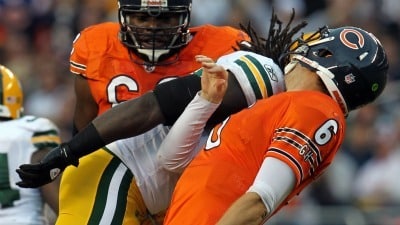 Green Bay Packers LB Erik Walden isn't happy with his tab from the NFL. Walden was fined $15,000 for his hit on Bears QB Jay Cutler. The Green Bay Press-Gazette is reporting he was fined for his 4th quarter hit on Jay Cutler, which drew a roughing the passer penalty.
Walden will likely appeal the fine but, one thing working against him is that a flag was thrown. Last week Eric Weddel and Antonio Garay of the Chargers were fined for hits that didn't draw penalties. Brings up an interesting question, should players only be fined for hits which result in flags thrown by the referee? Or should the league oversee all hits and make a decision of their own? Let us know in the comments what you think.
The play in question came in the 4th quarter on a classic high-low hit. Clay Mathews went low, and Erik Walden went high. Walden made contact with Cutler's head area and this is why he's being fined by the league. The hit resulted in a roughing the passer penalty and 15 yards for the Bears.
"I didn't lead with my head, I didn't lunge," Walden said, according to the report. "Clay was at the bottom, so I tilted to give (Cutler) a little hit with my shoulder. I was jumping over him but I didn't land on him or send him to the ground, and I didn't lead with my head. And I didn't launch myself into him, so I don't know."
Should Walden have been fined?
For More Great Chicago Sports Content
Follow us on Twitter at @chicitysports23 for more great content. We appreciate you taking time to read our articles. To interact more with our community and keep up to date on the latest in Chicago sports news, JOIN OUR FREE FACEBOOK GROUP by CLICKING HERE