Pequod's pizza is a must try. And frankly, I'm not sure why it isn't talked about more often. I've actually never heard of the place until recently, it's almost like this deep dark secret that no one wants to talk about because they want to keep all the delicious pizza to themselves. But thankfully Edgar, my boyfriend's co-worker, likes to share and recommended this place.
As soon as we were free we headed over there for a date night. We arrived a little after 7 p.m. and got seated immediately, which was awesome. Even if it looks packed upon entering don't let that discourage you, they have an upstairs with another room full of tables.
The outside of Pequod's had me hooked from the start because they have a huge Blackhawks logo painted on the front window and even more hawks memorabilia inside. They are considered an official Blackhawks bar and I only wish I would've known about this place sooner to catch a few games there. As you might've guessed, Pequod's also doubles as a sports bar and always has games on TV.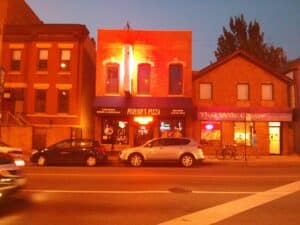 They offer a bunch of different appetizers, soups, salads and sandwiches, even thin crust pizza sold by the slice. But we wanted deep dish. They call it deep dish on the menu, but I see it as more of a pan-style pizza. Either way, still really good pizza. I can't vouch for any other food item, but if it's as good as their deep dish then you won't be disappointed.
We ordered a medium deep dish pizza with meatballs as our topping of choice. The medium pizza comes with 6 slices, and one of the two regrets I had at this place was not ordering the large so we'd have more leftovers. We only waited about 35 minutes for our pizza which I thought was pretty good, considering how hungry I was.
The pizza was delicious. They didn't exactly skimp on the meatballs, but they were really flavorful and good that I wish they put a few more on top. My second regret was not ordering extra cheese as our second topping. The one fault I saw with this pizza was that they didn't add enough cheese.
Their pizzas are baked in cast iron pans, which over time have been blackened from various seasonings. This sets Pequod's apart from other restaurants because it leaves behind a glorious ring of chewy burnt caramelized cheese. A ring so good it almost made me eat my second piece backwards. Almost.
The base of the crust was pretty buttery but surprisingly it wasn't overwhelming. The crust had a crunchy bottom and was chewy on the inside which made for a really nice texture. On that first bite everything blends really well together, you get the buttery flakiness from the crust, the caramelized cheese and the savory meatball for a nearly perfect bite.
That being said, I think Pequod's would benefit from offering specialty pizzas. As it stands, the menu simply offers a variety of ingredients to only make customized pizzas. They have 2 locations, Lincoln Park (where we went) and Morton Grove. And for convenience they also deliver if the whole sports bar atmosphere isn't your thing.
For More Great Chicago Sports Content
Follow us on Twitter at @chicitysports23 for more great content. We appreciate you taking time to read our articles. To interact more with our community and keep up to date on the latest in Chicago sports news, JOIN OUR FREE FACEBOOK GROUP by CLICKING HERE