There are thirty-nine more days until pitchers and catchers report to Camelback Ranch. Baseball will be back, and we can all emerge from the disappointment of the Bears collapse. The new season will provide hope that the White Sox can step up and win a championship to relieve the pains of the Roseless Bulls, the locked out 'Hawks, and the lovable losers on the North Side. However, before the Sox can get their feet off the ground, there are still some question marks across the diamond and the starting rotation. It is imperative that the Sox coaching and player development staff use Spring Training to identify impact players who can help the big league roster and to sort out the best lineup from what they have been given.
Starting out the competition will be utility infielder Jeff Keppinger versus incumbent third baseman Brent Morel. Keppinger was signed this past offseason to a 3 year, $12 million deal in order to be the team's starting third baseman, and he is presumed to be the favorite as of right now. Despite, the signing of Keppinger, Morel is still young and has time on his side. In 2009, Future Sox's scouting report on Morel projected him to be an average third baseman, and if he can do that he will win the job handedly. Morel's defensive abilities combined with his decent power could easily net himseveral twenty home run/eighty RBI seasons, but he needs to put it all together first. Last year was not pretty, but we start over again every year, fresh starts, so that players can try again. Here's to Morel finding his way back to where he is expected to perform, but until then, based on last year's performance, Keppinger has the third base job locked up.
Another war to be waged in the Arizona desert will be for the backup starting catcher job. With the departure of AJ Pierzynski, it is now safe to safe to say that Tyler Flowers will be the starting catcher, but who the backup will be is a whole different beast. Currently the White Sox 40-man roster lists three catchers, Flowers, Hector Gimenez, and Josh Phegley. Phegley is ranked as the 11th prospect in the White Sox farm system, and is my personal favorite to win the job. Phegley is twenty-four years old and has only had four years of minor league experience as opposed to Gimenez who has had a ten-year minor league career with four different organizations, including the White Sox. If he was anything special, I feel like he would have shown it somewhere before his age thirty season.
Despite my feelings toward Gimenez I can also see why the White Sox would like Phegley to remain in AAA for one more season. Phegley regressed a little last year, though his average spiked about fifteen points, his on-base percentage dropped, which indicates impatience at the plate. The Sox are already stacked with impatient free swingers (see Alexei Ramirez, Dayan Viciedo, and Gordon Beckham), what the Sox need is someone who can control the strike zone, and take walks. Another year in the minors would allow Phegley to identify bad pitches and try to take more walks instead of taking himself out of at-bats. In addition, Phegley has blood disorder, ITP, which lowers the body's platelet count. Side effects are increased risk of bleeding and Purpura, which are disgusting red or purple skin discolorations caused by bleeding under the skin. Another year in the minors would be beneficial to see how well Phegley can continue his playing career in spite of having the blood disorder.
The final battle that will be interesting to watch unfold is that of the fifth starter. The White Sox rotation this upcoming season will consist of John Danks, Jake Peavy, Chris Sale, Gavin Floyd, and Jose Quintana or Hector Santiago. Though trade rumors continue to surround Gavin Floyd we will assume the Sox break camp with him. Hector Santiago was an unknown last year when spring training came around, but he broke camp with the Sox and ended up winning the closer job for the first week of the season (before eventually losing it to Addison Reed). Santiago wasn't exactly a stellar reliever, but he was good enough for about half of the season. The Sox then decided that Santiago would be best fit as a starter and sent him down to Charlotte to stretch out. He came back and made a start against Cleveland on October 1st, and pitched a gem; only allowing one hit over seven frames. The case for Santiago is a little shaky though based on his losing of the closer job, and him also only making one start against one of the worst teams in the AL Central.
Jose Quintana's story is quite similar, an unknown, he didn't even break camp with the Sox. Quintana was toiling away in AA when the Sox came calling. John Danks had just been placed on the disabled list and the White Sox needed a spot start. On May 25, against the who-would-have-guessed-it Cleveland Indians Quintana took the bump for six innings, allowing two runs, walking three, and striking out four. This would cement Quintana's place in the White Sox rotation, and he would go on to make twenty-three more starts for the Pale Hose, winning six and losing six.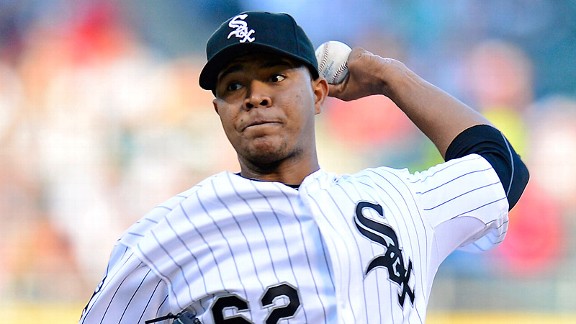 In my opinion, this competition will be close, both pitchers are very similar in stuff, but when in doubt, experience is always the tie-breaker. All in all, this Spring Training should be no different than others. Battles will be fought, positions will be won, and the Sox will be absolutely terrible compared to the Cubs in Spring Training play, prompting Cubs fans to tease us until the regular season begins and everything goes back to normal. Will the battles won in Spring Training help us overcome the Everest that has become the Tigers? I hope so. But the only way to find out is in seventy-five days when Chris Sale takes the bump at US Cellular Field against the James Shields and the new look Royals.
Like what you read? Don't? Come discuss this article and other White Sox related news in the ChiCitySports White Sox forum: https://www.chicitysports.com/forum/forumdisplay.php/8-Chicago-White-Sox-Forum
For More Great Chicago Sports Content
Follow us on Twitter at @chicitysports23 for more great content. We appreciate you taking time to read our articles. To interact more with our community and keep up to date on the latest in Chicago sports news, JOIN OUR FREE FACEBOOK GROUP by CLICKING HERE