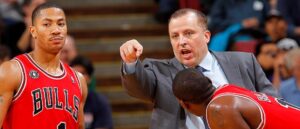 You can't trade for It, can't draft It, can't sign It for $20 million a year, you can't teach It and you can't time It with a stop watch.  It is not always the most talented. It, is either there or It isn't.  It is the most important word in all of sports because you have to have It to win.  Of course, It is chemistry and the 2010-11 Chicago Bulls have IT like no other team I've ever seen.
The master of It when it comes to the Bulls is biochemist and rookie coach Tom Thibodeau who has synthesized his roster to a near perfect reaction.  He's concocted It with only one All-Star as compared to six combined from the other two Eastern contenders in Miami and Boston.  Of course, It becomes easier when your lone star player is Derrick Rose.  If Jonathon Toews is Captain Serious and Jay Cutler is Captain Oblivious than Derrick Rose is Captain It.  Rose has It in the purest form possible of internal fortitude and combined with his natural talent has him playing at a level for a pure point guard that will go down as one of the best in NBA history.
As the Bulls close in on a one of the top two seeds in the East and one of the best records in the NBA, Rose is now a lock for MVP.  As good as he was his first two seasons, you would have been accused of being a major Chicago homer if you would've told anybody that Rose would be in the MVP discussion before the season.  As well, you would've been branded as quite delusional to even suggest the Bulls would be a potential 60 win team completely healthy, let alone the games the starters have missed due to injury.     
51 wins and counting with 60 a real possibility for a team whose core (Rose, Deng, Boozer, Noah – has played together less than a 1/3rd of the season).  Luol Deng gets the Stealth Award for flying so far under the radar that the Israeli Army would not detect him.  Not that long ago, the organization was trying to give Deng away to anybody that would take him in a salary dump.  Without a legitimate 35-minute a night starting shooting guard, Deng, has now become the perfect complement to Rose on the wing.
But back to It.  In an era, where players routinely take nights off mentally and physically, where egos get in the way, where guys stop showing up once they get the big pay day, coaches get tuned out, where so many headlines are made off the court; this young, humble, aggressive and "all for one" Bulls team is difficult to take your eyes off of for all the right reasons.  To see the starters (all but Deng) all standing on the bench and rooting for the bench as they were blowing Atlanta's first unit off the court in the 2nd Quarter of Tuesday Night's game was truly special.  Maybe because it's March or maybe because some of these guys are so young, but the Bulls give you the feeling you get when watching an energetic underdog making a run in the NCAA Tournament.  
This Bulls team is just fun to watch and we're likely to watching them well into June.  "Why not us? Why not now?" is becoming the motto of these Bulls. The rest of the NBA may soon find out that there may not be an answer to those questions.   
By: A Chosen Bullet
For More Great Chicago Sports Content
Follow us on Twitter at @chicitysports23 for more great content. We appreciate you taking time to read our articles. To interact more with our community and keep up to date on the latest in Chicago sports news, JOIN OUR FREE FACEBOOK GROUP by CLICKING HERE