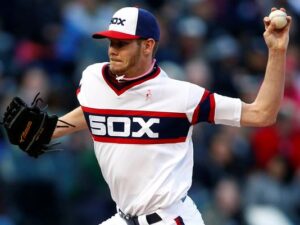 In another series that the White Sox really needed to pick up, they fell short. The White Sox continue to sit in the cellar of the AL Central and don't look to be going anywhere fast. Game one which featured Barry Enright and Dylan Axelrod was a slugfest. The Sox started off the offense quickly, scoring five runs off Enright, causing Scoscia to lift him in only the fourth inning. Dylan Axelrod didn't do much better, but was able to eat more innings, pitching six innings and giving up six runs, five earned. The offense was a little better than normal that day, as they registered seven hits and five runs, but the hits with runners in scoring position is still abysmal. As the Sox only went two for eight in the game.
For Saturday's game, I was actually on hand for the game. It was Paul Konerko bobblehead day and the White Sox faithful were out in force. However, the same can't be said for the South Sider's offense. Although, the Sox hit three for five with runners in scoring position, they only had two runs to show for it. In addition, the Sox gave up yet another unearned run, which was unfortunate considering how well Colombian, Jose Quintana, pitched. But, then again, Angels starter, Jerome Williams, pitched just as well and earned the Angels the win because his team did not commit any errors. Honestly, this was a game the Sox should have probably won, but both teams were so bad, it probably didn't matter.
On Mother's Day, the Sox attendance fell back down to earth, but Chris Sale was elevated. I was also in attendance at this game with my mother, but that is not the point. Sale pitched a whale of a game and seemed intent on taking this game by himself if the Pale Hose wouldn't give him any run support. Fortunately, Alexei Ramirez took the charge offensively, and helped Sale and the Sox get the runs necessary to win the game. Ramirez, who had stole two bases earlier in the game, had a clutch single to bring home Tyler Greene and Flowers to give the Sox a two-run lead, and outfielder Alex Rios piled on by hitting a triple and and driving home Ramirez from first. Sale, who had a perfect game through six and a third, continued the rest of the game, and collected a one hit, shutout. The first shutout of his career. And finally, the Sox took a game in the series.
The White Sox will now head to Minneapolis, Minnesota to take on the Minnesota Twins and my school, the University of Minnesota. Since, it is finals week and I have to head back up, I will be attending Tuesday and potentially Wednesday's game so I can see my Sox try to upstage the Twins for the fourth place spot in the AL Central.
For More Great Chicago Sports Content
Follow us on Twitter at @chicitysports23 for more great content. We appreciate you taking time to read our articles. To interact more with our community and keep up to date on the latest in Chicago sports news, JOIN OUR FREE FACEBOOK GROUP by CLICKING HERE