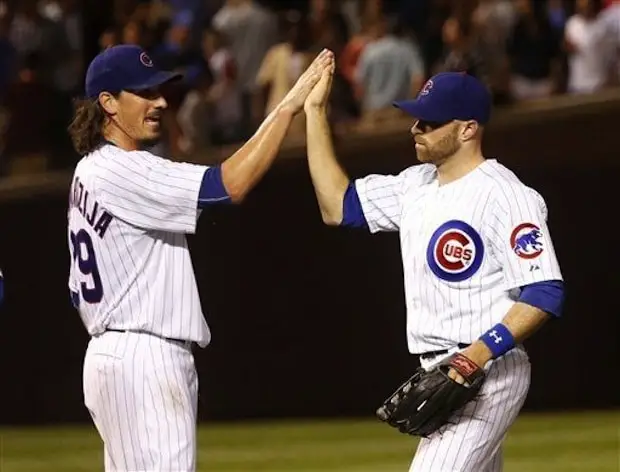 If only every game played out as perfectly as Monday night's did. The Cubs put on quite a show in the series opener against Jordan Zimmermann and the Washington Nationals. Nate Schierholtz, Donnie Murphy and Dioner Navarro swung away while Jeff Samardzija pitched his second complete game of the season.
Schierholtz began with a bang in the 1st when he knocked one out to right to plate Junior Lake and Navarro. He gave the Cubs a 3-0 lead early and he was just getting warmed up.
In the third Schierholtz would score Lake again, this time with a double. Murphy played copy-cat by blasting one in the 4th, and believe it or not he, too, was just heating up.
Lake hit yet another double in the 5th,  his third on the night. Darwin Barney would then take a free base and, batting lefty, Navarro pulled one into the bleachers in right. That topped off 8 runs worth of damage and was enough to put an end to Zimmermann's misery. Although he gave up just seven hits, they were all pretty harmful.
While the Cubs were handing Samardzija all of the run support he could ever dream of, he didn't need it. Despite some early contact from the Nationals, he pitched efficiently and remained in control. The only blemish on his outing was during the 7th, when Wilson Ramos took Samardzija's splitter and crushed it to left. Aside from that, Washington was quiet.
Yet, Chicago was not. At the bottom of that inning and with Navarro at first, Schierholtz took one deep to right off of Fernando Abad for his second homerun (18) and 6th RBI on the night. Murphy would again follow suit against Ian Krol in the 8th to complete his pair of homeruns.
Not only did the Cubs get it done on offense, but Samardzija went all nine. His 105-pitch performance yielded just 1 run on 6 hits, while striking out 5 without issuing a walk. The pen took a day off while he and a few other Cubs notables did some serious work.
Although newly-traded David DeJesus was not in the starting lineup, he did pinch hit and pop out in the 8th. Despite only belonging to the Cubs organization for just over a year and a half, the Wrigleyville Faithful gave him a standing ovation, which may or may not have softened the blow. The Cubs weren't only missing DeJesus but Anthony Rizzo as well, although he was out due to migraine symptoms and illness.
The Cubs hope for his return tomorrow and also to play another just like this. Dan Haren (7-11, 4.79) will face Chris Rusin (2-2, 3.06) for a 7:05pm start.
For More Great Chicago Sports Content
Follow us on Twitter at @chicitysports23 for more great content. We appreciate you taking time to read our articles. To interact more with our community and keep up to date on the latest in Chicago sports news, JOIN OUR FREE FACEBOOK GROUP by CLICKING HERE