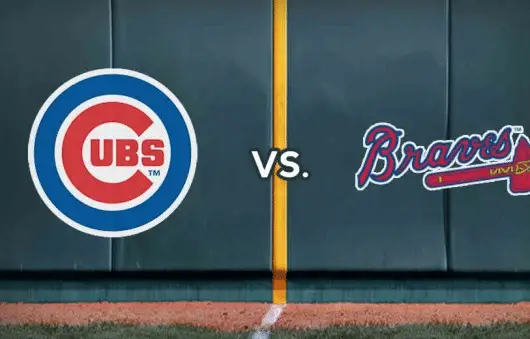 The first weekend of baseball for the Cubs will feature a trip to Atlanta, where the Cubs will go against the new look Braves. The Cubs are coming off a series win against the Pirates in Pittsburgh, while the Braves have taken the first two against the Phillies, and the two will meet tonight for Game 3.
Records: Cubs 2-1, Braves 2-0
Game 1- Friday, April 5th, 6:30 CST: CHC: Scott Feldman (0-0 0.00 ERA) vs. ATL: Mike Minor (0-0 0.00 ERA)
Game 2- Saturday, April 6th, 6:10 CST: CHC: Carlos Villanueva (0-0 0.00 ERA) vs. ATL: Julio Teheran (0-0 0.00 ERA)
Game 3- Sunday, April 7th, 12:35 CST: CHC: Jeff Samardzija (1-0 0.00 ERA) vs. ATL: Tim Hudson (0-0 6.23 ERA)
Who's Hot-Cubs: Ace Jeff Samardzija was stellar for the Cubs on Opening Day, fanning nine in eight scoreless innings. Kyuji Fujikawa was great as well for the Cubs on the mound when called upon. Nate Schierholtz had a good first series at the plate, and along with Starlin Castro, was the only player that made noise hitting the ball for the Cubs in Pittsburgh.
Who's Cold-Cubs: Carlos Marmol had a terrible series and got very lucky today. He is on a very short leash as closer and if he struggles in Atlanta, Kyuji Fujikawa could find himself as the closer by the time the Cubs return to Wrigley. David DeJesus and Brent Lillibridge have not hit well so far this season for the Cubs.
Who's Hot-Braves: Freddie Freeman has been phenomenal so far, hitting .714 and driving in 6 runs through his first two games. Newly acquired Justin Upton has hit a home run in each of his first two games. Former Cub Paul Maholm didn't allow a run in his first start of the season.
Who's Cold-Braves: Although the Braves won, Tim Hudson struggled in his first start against Philadelphia, allowing three runs in 4.1 innings. The other Upton, B.J., has yet to get a hit in eight at bats so far for the Braves.
For More Great Chicago Sports Content
Follow us on Twitter at @chicitysports23 for more great content. We appreciate you taking time to read our articles. To interact more with our community and keep up to date on the latest in Chicago sports news, JOIN OUR FREE FACEBOOK GROUP by CLICKING HERE