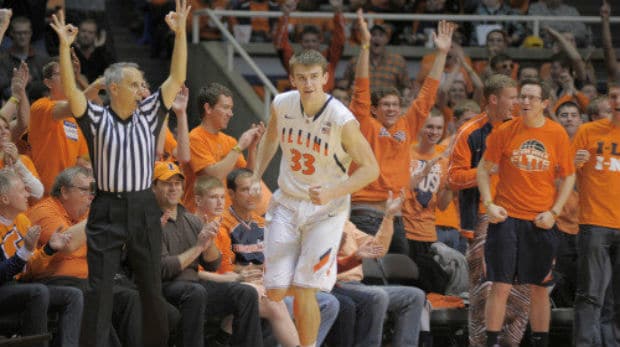 It's probably a good thing Bradley University is only an hour and a half away from Champaign. Tornados and thunderstorms struck across surrounding Illinois areas all afternoon. Even the Chicago Bears game was delayed, with the State Farm Center watching on the big board as Bear's kicker Robbie Gould nailed the overtime game winner. The Braves probably wished the weather cancelled this one. After only shooting 3-14 from downtown in the first half, Illinois started the second half on fire from deep. The Illini hit their first four field goals in the second half, all coming from behind the three point line. The three point attack proved too much for the Braves, as the Illini won 81-55.
Junior Tracy Abrams and senior Joseph Bertrand hit back to back three's followed up by three pointers from Abrams and Jon Ekey, who hit his fourth three-pointer of the game, to put Illinois up 46-23 to start the second half.
"One of the things I think when you first start to get together as a team is getting them to make that extra pass and move the ball, and our guys have really done it," Illinois coach John Groce said. "I can usually count on one hand and a half how many bad shots we take in a game since we've started playing exhibition games, that's pretty rare with a lot of new faces."
One of the new faces for the Illini is Illinois State transfer Jon Ekey.
If Illinois fans didn't know Ekey after his 15 rebound performance against Valparaiso, they'll probably remember him after this one.
Ekey had the hot hand against Bradley, who he faced three straight years in the Missouri Valley Conference.
Ekey hit five three pointers on the night, with his fifth coming from the right corner.
He showed off versatility, finishing a lob pass from freshman Jaylon Tate with a lay-in to give Illinois a 55-31 lead with 12:35 left in the game.
"It was just one of those days," Ekey said. "You were just feeling good early in the game and guys were just unselfish and kept finding me."
Ekey finished with a team-high 19 points shooting 7-10 and added 7 boards.
Just a few games into the season, Drake transfer guard Rayvonte Rice has shown the ability to finish a powerful slam to get the fans on their feet each and every game—this one was no different.
In the second half, after Rice stole the ball, he ran the floor with Tate on a two-on-one fast break and finished a powerful alley-oop slam.
Bertrand found him later in the second, flying from the weak side for another powerful alley-oop dunk to put Illinois up 69-45 with five minutes left.
Abrams attributes the highlight plays to the team's unselfishness.
"Play together, share the ball, we did a great job at that tonight," Abrams said. "Making guys better, making the extra pass, that's great for us, hopefully we can keep it going."
Rice finished with 13 points, 7 rebounds and 5 assists.
Rice's play excited the fans, but not the opponents.
As the Illinois lead began to grow early in the game, so did the tempers. Rice took a hard foul from freshman big man Xzavier Taylor, who appeared to grab Rice's neck as he went up with a shot. Rice and Taylor exchanged some words after the play and were both docked with technical fouls.
Ekey hit his second three pointer of the game to put the Illini up 16-8 on a 7-0 run with 10:38 left in the half.
Freshman power forward Austin Colbert caught the ball open under the basket and finished the dunk extend it to a 10-0 run.
The Braves were held scoreless for nearly six minutes in the first half, with senior Tyshon Pickett scoring a layup to finally end the drought.
Pickett was the lone bright spot for the Braves, finishing with a game-high 21 points and 6 rebounds.
Illinois continued to pour it on, with Ekey hitting his third three pointer of the first half and skying for a putback slam to finish off a 15-2 run to go up 24-10 with five minutes left in the half.
Bradley shot 28% and didn't attempt a free throw in the first half. Illinois led 34-19 heading into the locker room.
The Illini also had a 49-25 rebound advantage, including 19-9 on the offensive class, much in part to junior center Nnanna Egwu, who finished with four offensive rebounds.
Bradley coach Geno Ford said Egwu "changed the whole game" by disrupting shots and defending the interior, finishing with a game-high 3 blocks.
"I think he's one of the best defensive fives that I've coached in nineteen years," Groce said. "He's just so versatile he can do so many different things, you don't see guys his size and that weight move with that type of mobility like he does."
Ford also said Illinois played tougher than his team, which is something Groce was humbled to hear from an opposing coach.
"Tough and smart certainly beats soft and stupid," Groce said. "Over nineteen years I've seen a little bit of all four of those qualities, tonight I thought we were pretty tough and I thought we had some intelligence and purpose behind what we were doing."
For More Great Chicago Sports Content
Follow us on Twitter at @chicitysports23 for more great content. We appreciate you taking time to read our articles. To interact more with our community and keep up to date on the latest in Chicago sports news, JOIN OUR FREE FACEBOOK GROUP by CLICKING HERE