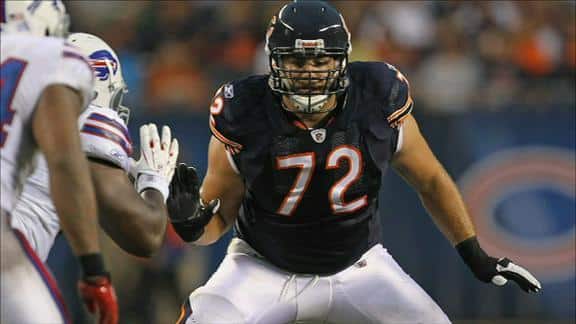 According to a source familiar with the situation, Bears first round pick Gabe Carimi has a dislocated right knee.
Carimi suffered the injury right before halftime of Sunday's 30-13 loss to the Saints. Carimi didn't see anymore action that day as he was replaced by Frank Omiyale.
The loss of Carimi set off a cataclysm for Jay Cutler as he went on to be sacked several times with ease. The Bears now feature a depleted offensive line going into the Week 3 match-up against the Packers. The Bears will be without Gabe Carimi for sure, and possibly Lance Louis as well.
Going against one of the top defenses in the NFL without 2 starters, on an already average offensive line could spell disaster for Chicago. Last season Clay Mathews had 13.5 sacks and after 2 games Mathews only has 1.0 sack. If Mike Tice and the Bears should brace for impact because Mathews very well could go off for several sacks.
This week will be instrumental in seeing how good of a coach Mike Tice is. Will he be able to prevent Jay Cutler from having his literally removed from his body? We shall see.
Carimi is expected to miss several weeks with his injury, possibly much longer.
Let us know in the comments how you think the Bears will do without Carimi and Louis.