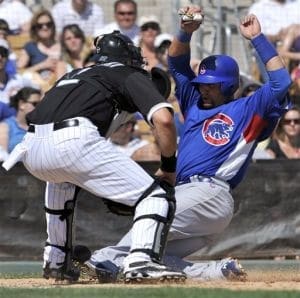 The battle for the ultra stupid "Cross Town Cup" begins at The Cell on Monday. The Sox will look to continue their recent success, as they have won 7 of the last 10 meetings. The All-time series stands at 41 wins for the Sox and 37 for the Cubs.
Pitchers Gavin Floyd, Mark Buehrle and Edwin Jackson will go for the Sox. Buehrle is the career leader in interleague wins.
The Cubs will counter with Carlos Zambrano, Matt Garza and Doug Davis. Carlos Zambrano has provided the most recent fireworks of late as he had he pouting episode last year which lead to him being placed on the Anger Management list.
Sox vs. Cubs
On the Bump for the Cubs in the first of 3 on the south side is Carlos Zambrano. Zambrano is 5-4 on the year and is coming off a loss in which he went 6 innings surrendering 5 ER. In his career vs. the Sox he has gone 5-4 with a 4.97 ERA. The Sox will counter with Gavin Floyd. Gavin has gone 6-6 this year with a 3.94 ERA and is 1-1 in his last 3 starts with a 4.79 ERA, covering 20.2 innings.
Former Twin Matt Garza goes for the Cubs in the middle game. Garza is 3-6 this year with a 4.14 ERA he has struck out 78 over his 71.2 innings this season. Over his last 3 games the righty is 1-2 with a 5.63 ERA striking out 10 over 16 innings. In his career he is 1-2 against the Sox with a 6.87 ERA, coving 4 games walking 13 and striking out 18 in 18.1 innings. Manning the bump for the Sox is Mark Buehrle who is 6-5 on the season and was the hard luck loser in his last start going 7 innings surrendering one run. He is 5-4 with a 4.20 ERA vs the Northsiders.
The series finale features Doug Davis vs Edwin Jackson. Jackson is 4-6 on the season with a 4.47 ERA and was a loser in his last start and against the Cubs he is 0-2 with an 8.44 ERA. Davis is 1-5 this year with a 4.95 ERA and has gone 1-3 with a 5.00 ERA in his career vs. the Sox. Although it could be Peavy, "Without discussing it with Ozzie and Kenny, it looks like he's (Peavy) lined up for the last game against the Cubs,'' Cooper said.
For More Great Chicago Sports Content
Follow us on Twitter at @chicitysports23 for more great content. We appreciate you taking time to read our articles. To interact more with our community and keep up to date on the latest in Chicago sports news, JOIN OUR FREE FACEBOOK GROUP by CLICKING HERE