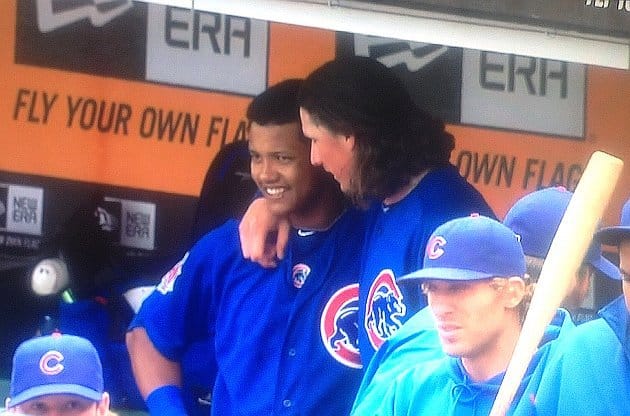 Immediately after it happened baseball observers were heard chastising Starlin Castro over his latest stinker of a play. On Monday, Castro committed a critical mental error when he forgot (or didn't know) how many outs there were and failed to attempt a double-play. The San Francisco Giants' announcers reacted as if Castro had defecated all over a Willie Mays jersey and the internet, including Chicago media scribes, gave Castro plenty of crap, too.
After the game, Cubs Manager Dale Sveum expressed his growing frustration with Castro by issuing an ultimatum to the 22 year old. "It's the last straw," Sveum said. "If he wants to play, he better start getting his head in the game. Period."
Castro reacted like a kid caught going through his sister's underwear drawer. He said he was embarrassed, it shouldn't happen and it was unacceptable.  It's more-or-less the same thing he said last Friday after a Little League-type base running error. And it echoes what he he said last season when he inexplicably had his back turned to a pitch and appeared to be vacationing on Waikiki Beach instead of patrolling shortstop at Wrigley Field.
Despite Castro's mental lapses he clearly has the physical tools to be considered an extraordinary talent. Even the observers who wanted Sveum to embarrass Castro and yank him from the game after his latest goof admit that Castro has superstar potential.  He's already one of only 24 players in major league history to hit .300 and knock 400 hits before turning 23 years old. Defensively, he's like most young shortstops – error prone. He committed a major-league-high 29 errors last season after committing 27 in his rookie season. But, a guy named Robin Yount booted 44 balls in his rookie year and he ended up in the Hall of Fame. So scouts aren't too worried about his defense because most agree that Castro has Ozzie Smith range and athleticism to go with his Cal Ripkin arm and glove.
But, does Castro have what those greats had between their ears – baseball smarts and laser-like focus? What's happened with Castro is certainly concerning. It's difficult to recall any ballplayer having as many noticeable gaffes as Castro has committed in his young career and with the Cubs new leadership promising a culture of professionalism on the North Side how much more will they tolerate?
Perhaps, Theo Epstein and company should look into sending Castro to a doctor because he's displaying characteristics of Attention Deficit Disorder. There are 8 million adults in America with ADD and very few of them know it. Symptoms for these individuals include having trouble paying attention, finishing tasks, or following directions. Those are attributes you might find on the back of Castro's baseball card.
Baseball management (all sports, for that matter) has always been is quick to deal with players' mistakes by issuing ultimatums, taking away playing time or unloading the problem to some other team. But, if the Cubs team is really going to move into the 21st century they might consider dealing with Castro's behavior with more understanding and getting to the root of what's causing their budding star to wilt during games.
Castro is two years away from being in a position to demand mega-millions and in the tradition of one-time owner William Wrigley there's already talk that the Tom Ricketts owned Cubs might trade him before a big paycheck is due him. A week ago, USA Today reported that Castro was not untouchable and could be traded for two outstanding prospects. Cubs management immediately refuted the report.  Whatever the Cubs do with Castro – bench him or play him; sign him or trade him – they'd do the young man a big favor by having him examined to see if
he is capable of keeping track of how many outs there are without the need of some professional help or medication.
For More Great Chicago Sports Content
Follow us on Twitter at @chicitysports23 for more great content. We appreciate you taking time to read our articles. To interact more with our community and keep up to date on the latest in Chicago sports news, JOIN OUR FREE FACEBOOK GROUP by CLICKING HERE