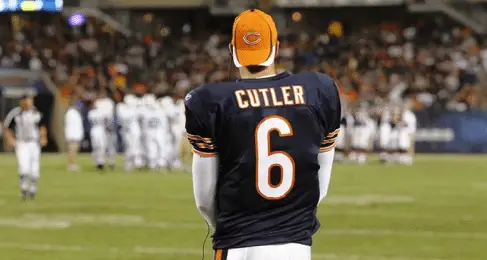 LAKE FOREST, Ill. — Chicago Bears coach Lovie Smith declined to divulge the players the team plans to hold out for Thursday's preseason finale at Soldier Field against the Cleveland Browns

Still, it appears the Bears' choices will be obvious, given the injury situation, in addition to the importance of some of the key vets, and the fact the club already knows full well what they can do.

"We're going to hold a few players out," Smith said after Wednesday's practice. "But we'll have a good group we'll put on the football field. We have an idea of what the 53-man roster will look like. But [this is] one last look for the players."

Quarterback Jay Cutler and running back Matt Forte will likely be held out of action against the Browns. Offensive coordinator Mike Martz didn't provide a clear answer about Cutler's possible participation, but indicated he spoke to Smith about keeping the quarterback on the sidelines for the finale.

"You know, we thought about that," Martz said. "[Cutler is] probably not [playing]. He's right now playing very, very well. His last two games were exceptional, so I'm pleased with where he is. The line has really made terrific progress. So we're happy. If we felt like we needed the work, certainly we would do that. But at this point, I don't see the need, and I've talked to Lovie about that."

Practice absences from Wednesday likely provide another picture of who the club plans to hold out against the Browns. Defensive tackle Anthony Adams (calf), defensive end Corey Wootton(knee), tight ends Desmond Clark (knee) and Kellen Davis (back), running back Marion Barber(calf) and linebacker Lance Briggs (knee) sat out of Wednesday's session, while Sam Hurd (ankle) appears to have participated in somewhat of a limited capacity.
Hurd has been seen catching passes from a JUGS machine after the last two practice sessions.

Playing time for the starting offensive line, meanwhile, hasn't yet been determined. Although the unit played well in its last two outings, it could probably use some work before the Sept. 11 regular-season opener against Atlanta.

On the defense, expect stalwarts such as linebacker Brian Urlacher and Julius Peppers to play very few snaps if any.

"We don't know yet," defensive coordinator Rod Marinelli said when asked specifically about Urlacher and Peppers. "We'll talk to Lovie tonight. But if they do [play], it will be very, very little."

SOURCE: ESPN CHICAGO, Michael C. Wright covers the Bears for ESPNChicago.com and ESPN 1000.
For More Great Chicago Sports Content
Follow us on Twitter at @chicitysports23 for more great content. We appreciate you taking time to read our articles. To interact more with our community and keep up to date on the latest in Chicago sports news, JOIN OUR FREE FACEBOOK GROUP by CLICKING HERE