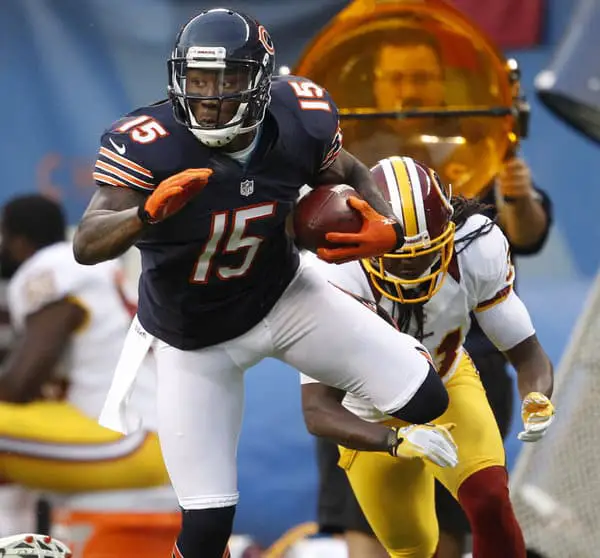 Successful Off-Season; Bears Offense Gets Stronger
Our Chicago Bears begin their quest for a Superbowl in just 2 days, just two days. I can hardly wait and I am sure most of Chicago feels the same way. A new season doesn't just bring a 0-0 record but it also brings optimism. This year, the Bears come into the season with a lot less concerns as normal, some of the past team issues have been addressed and have now become strengths.
Addition Of Brandon Marshall
Brandon Marshall is a player who seems to find the spotlight at all time, where the light he finds himself in is negative or positive. Nobody is questioning the guy's talent. It is off the charts. Now look at his best seasons, they are all with the Broncos and they are all with Jay Cutler throwing the ball.
Marshall withered a bit from relevance the past few years in Miami thanks to terrible quarterback play, but now he is back with his good friend and partner in crime, Jay Cutler. Between 2006 and 2009 the duo played together and Marshall amassed 327 catches and 25 touchdowns. Having anything close to that production in Chicago will be a huge boost for an offense that always seems to live and die by Matt Forte. See Cutler and Marshall highlights here.
Matt Forte's Contract
Matt Forte has spent the last 4 years racking up over 6,000 total yard rushing and receiving, a number which is among the highest in the NFL over the past four years. What is most puzzling about this number is that the Bears organization has been able to track it on paper after each game and still refuse to reward the running back. Although wisdom says otherwise to pay running backs huge money, nobody on the roster deserves it more than Forte who was seemingly the only guy who did anything on offense.
After using the franchise tag this off-season and really angering Forte, management came to their senses and signed him to a 4 year, 32 million dollar deal. The big money and multiple years made both sides happy. Now Forte's mind is completely on the field instead of in the checkbook for the first time in years. Look out for big things from #22 this season.
Jay Cutler's Health
Clearly Cutler has been the target of much scrutiny over the past few seasons, especially after he left a playoff game with a knee injury that left him able to walk around but not able to play? Chicago prides itself on toughness so the move from Cutler was not highly appreciated, especially when he was seen walking around down a beach just days after the Bears' playoff elimination. Now Cutler comes into this season at 100% and ready for a huge season. His knee and hand are healed and now is the time for him to assert himself as a dominant and winning QB in the windy city
Although not every problem is solved in Chicago, some major concerns have been alleviated. Whether it is taking care of your star, or reuniting a dynamic duo, the Bears should finally have an offense that can scare the opponent. Being able to score points reliably will go a long way this season, especially while the Bears fix the problems on the defensive side of the ball.
About the Author: Becky Wilcox is an online blogger who normally writes on personal finance and business. She can be find around the web normally writing about topics like finding low interest credit cards or researching the best credit card reviews. In addition to a finance writer, Becky is a big sports fan and can be sound writing on football, hockey, and baseball from time to time.
For More Great Chicago Sports Content
Follow us on Twitter at @chicitysports23 for more great content. We appreciate you taking time to read our articles. To interact more with our community and keep up to date on the latest in Chicago sports news, JOIN OUR FREE FACEBOOK GROUP by CLICKING HERE