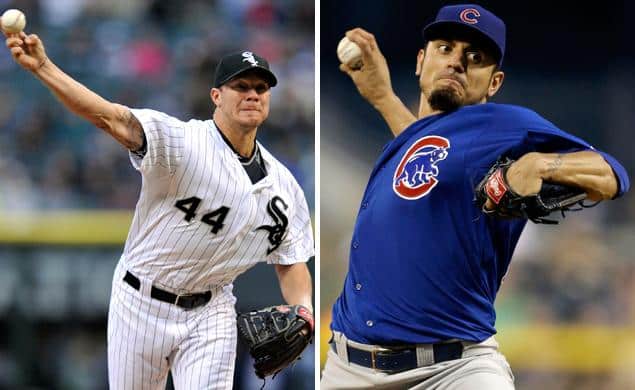 Last week, I received an email from a friend who wanted to know what I thought of the Peavy deal:
"I'm trying to figure out if the Peavy deal was fair, or if we just (screwed up) by giving him away for a bunch of guys with unproven potential."
As I began to type out an answer, I kept stopping as I thought of more and more variables that played into this particular situation. Eventually, I just wrote back "The answer to your question is complex." I'd have to think about it and come back later. I'd already done plenty of my own thinking about the Matt Garza trade, and used many of the same concepts to evaluate the Peavy deal. Eventually, I realized that I was essentially writing an article, and I decided to polish it up, take out the snarky comments aimed at White Sox fans, and publish it. Bada Bing, Bada Boom.
The idea of a "fair" deal at the trade deadline is a fluid concept; opinions and valuations of players by teams change constantly. From the perspective of the White Sox, they 1) have committed to gutting and rebuilding the major league team, 2) have an aging pitcher with a laundry list of injury issues (Detached latissimus dorsi??? That sounds miserable) who is far removed from his dominant days back in San Diego, 3) owe that pitcher about $5M this season and $14.5M next year, and potentially (however unlikely) $15M in 2015, when he will be 34, if he pitches 400 innings in 2013-2014 combined including 190 innings in 2014.
Basically, the White Sox would be throwing away that money at the end of the contract if he either starts to really struggle or gets injured again. Even if he inexplicably returns to his Cy Young form, I couldn't see his price tag increasing significantly, as next summer he would only be under contract for another few months (more on this later). The aforementioned return to dominance is also a dream scenario, as he has been statistically been trending in the wrong direction for a few years now. Yes, his 2012 campaign was impressive enough to earn him a 4.4 WAR (fangraphs version), but comparing his numbers from the '04 to '08 seasons versus '09 through yesterday's start in Boston, he has shown regression in a few categories over each five-year stretch ('04 – '08 / '09 – '13): 2.95 ERA / 3.98 ERA, 968.2 IP / 626.1 IP, 150 GS / 97 GS, 9.4 K/9 / 8.3 K/9. I will say, in his defense, that he has never had an xFIP higher than 3.99, and has posted at least 2.5 WAR in all but one season since 2004 (not counting his in-progress number of 1.3 from this season).
I say "throwing away" money because the front office management realizes they have little chance of truly competing until 2015 or 2016 at the earliest, if they stick to their rebuilding plan. Thinking among major league front office management is that you have no reason to keep an expensive veteran on the team during a rebuilding process if you can acquire cheap, young talent in return that could potentially help you in a few years after the rebuilding is complete. Yes, the White Sox could miraculously compete next season and find themselves in need of a Peavy-type starter, but the chances of this happening are so small that the potential upside of beginning the rebuilding process and avoiding getting nothing in return for Peavy outweigh the odds of making a playoff run in 2014. The average fan might find this disheartening or downright depressing, but it is ultimately the most rational way to view the current situation.
Now the market comes into play. In the eyes of White Sox fans, they see a stud veteran in Peavy who can go out there and give you seven solid innings and be the guy who carries you to a playoff birth. Unfortunately for those people, other teams take a realistic point of view and realize the things I said above about his age, injury history, and career arc are undeniably true. White Sox management realize they could be on the hook for a below average starter in a year, but at this point in time, Peavy retains some value. This is especially true because he was viewed industry-wide as the best starting pitcher option on the market. Usually, the market establishes itself somewhere around a week or two before the deadline. This year, some teams did not determine if they were buyers or sellers until a day or two before the deadline. At that point, you can look around and realize that "the Phillies aren't selling, so Cliff Lee isn't availabe. I guess we should settle for Jake Peavy." If Cliff Lee was available, maybe the Red Sox break the bank for him and suddenly the White Sox lose a trade partner as the Red Sox fill their needs with Lee. One less potential trade partner means less demand in the market. I am no economics major, but I think less demand means a lower price.
Matt Garza had already been moved by the Cubs, and no one really wanted to get Bud Norris from the Astros (I'm still not sure why the Orioles felt so compelled), so that left the buyers looking at Jake Peavy as the lone prize. Buyers can talk themselves into a deal for many reasons, among which are "our competitors are getting better" or "this year is our window for contention," etc., etc. The Red Sox see the Orioles and Rays making improvements (getting Feldman from the Cubs, getting David Price back off the DL, respectively) and the Yankees as never really being out of contention, so they felt pressure to make a deal in their extremely competitive division.
So that breaks down the market and motivation for both parties in the deal. White Sox wanted a salary dump and a few "lottery ticket" prospects for a rebuilding project (over the alternative of letting Peavy go via free agency with nothing in return in a little over a year or risking getting less for him next summer), and the Red Sox wanted a veteran starter to facilitate their playoff push. The market and motivation for Matt Garza and the Cubs were a little easier to figure out, as his free agency this winter was fast approaching and the Cubs are clearly sellers this year. There appears to be an amicable rapport between the Cubs and Rangers front offices, and Texas was once again a buyer. Also, by actively selling Garza early in the trade season, the Cubs were able to control their market and bring more potential buyers to the table.
The next issue is the "fairness" of the transaction, looking at the players involved. Teams tend to value major leaguers in deadline trades based on age, injury history, track record, need, and their contract. If a player is set to be a free agent in the winter, a team will be more wary about trading for him, if they know he could end up leaving in two months. This kind of player is called a "rental player" and teams don't generally want to sacrifice any significant minor league talent for a rental. The new CBA also affects this part of the trade, as rental players no longer bring back a compensatory draft pick in the following year's draft. Under the last CBA, if the Red Sox traded for a rental player and said player left after the season, they knew they would at least get a pick somewhere in the realm of 35th to 55th overall in the following summer's draft. Now, this pick is not simply handed to you on a silver platter. A qualifying offer of about $13M/year over at least one year must be made in order to receive a pick. Of course, the player could accept the deal, and you might be stuck with an expensive veteran you don't want. Hmmm, sounds like the situation the White Sox were in this year.
Therefore, if a player is signed for another year or two beyond the current season, he can command more value in a potential trade. Peavy's contract is set up so that he is signed through next year, and if his player option vests, he can choose to get $15M in 2015. Even if this vesting option is extremely unlikely, it has to be mentioned. Either way, the Red Sox "control him" for some extra time compared to rental. For this same reason, the Cubs desperately tried to trade Garza before last year's deadline, only to see him leave a game versus the Cardinals early with an injury. This destroyed any chance for a deal in 2012, and left the Cubs with a rental player asset in 2013. Unfortunately, I was at that particular game in St. Louis, and when Garza was pulled from the game early I believed it to be the result of a trade. When I found out he was injured, I became the beer vendor's favorite customer.
A classic example of a rental player is Carlos Beltran, whom the Astros acquired from the Royals in 2004 at the deadline for just a few months, before ultimately losing to the Cardinals in the NLCS. He signed with the Mets that offseason, and then he was traded again to the Giants in 2011 at the deadline for Zach Wheeler, who is set to lead the Mets' rotation along with Matt Harvey for years to come. The Giants failed to make the 2011 playoffs in between their two World Series titles in 2010 and 2012. Sometimes rentals can be expensive in the longterm. As much as a team can scout minor leaguers and calculate their potential return on investment, it is still kind of a crapshoot.
I was particularly excited about the package the Cubs were able to get for Garza because he is a rental player, so he shouldn't have warranted that much value in a deal. The Rangers may have shown some desperation, after falling just short in the playoffs in recent years. By getting Mike Olt, Justin Grimm, and C.J. Edwards, the Cubs continued to add to their pitching depth, as well as bringing on board a former top prospect and potential third baseman of the future. Olt was the 22nd ranked prospect coming into 2013 by both BaseballAmerica.com and MLB.com, but has not performed well so far this season, striking out 109 times in 325 plate appearances. He is hitting a miserable 4 – 43 at AAA Iowa for the Cubs since the trade (It's a small sample size. Stay calm. STAY CALM). Before you start yelling about how Kris Bryant is the third baseman of the future, he could very well end up in the outfield. Maybe the 24-year-old Olt will turn it around. Don't forget about Josh Vitters!!!
C.J. Edwards is the most exciting piece of this deal for me, as he is only 21 years old and holds career numbers of 11.7 K/9, 3.58 SO/BB, 0.938 WHIP and 1.63 ERA across four levels in the Rangers and Cubs organizations the last two seasons. Jed Hoyer said in an interview with Buster Olney that Edwards was the main piece in the deal for the Cubs, after they asked about major league ready pitching talent from Texas and were subsequently told it was unavailable. I'm thinking they were after Martin Perez, who is showing signs of life after a rough start as a professional. Granted, Edwards has only seen action up to High-A ball, but it feels nice to have an intriguing pitching prospect, even if it will be a few years before he contributes at the big league level.
The Red Sox gave up Jose Iglesias to the Tigers, and the Tigers sent Avisail Garcia to the White Sox in the Peavy deal. The White Sox received OF Avisail Garcia, plus three prospects from the Red Sox, including 20-year-old RHP Francelis Montas, RHP J.B. Wendelken, and IF Cleuluis Rondon. Boston also received RHP Brayan Villarreal from Detroit.
Taking a closer look, the Red Sox were definitely selling high on Iglesias. He has never been a strong hitter and has been extremely lucky over the course of this season (.374 BABIP). He was hitting .400 through July 6, and has since been like 13-72 dropping his average to .330. I predict that it will be below .300 before the season is over. He is, however, arguably the best defensive shortstop in the game. The Tigers could use an upgrade on defense, and have enough hitting with Cabrera and Fielder to compensate. The Tigers also fear a looming suspension for their current SS, Jhonny Peralta, who is reportedly tied in with the Biogenesis steroid scandal. The 31-year-old Peralta is also not getting any younger, and the youthful Iglesias could be their shortstop of the future.
The Tigers did have to sacrifice much in giving up Garcia, who was not ranked in the top 100 prospects this preseason by ESPN's Keith Law. Garcia was the Tiger's tenth best prospect heading into 2012, before he started seeing some time in the big leagues. He is a good defensive OF with a strong arm and power potential at the plate. He gets Miguel Cabrera comparisons, but mostly due to their Venezuelan heritage and similar facial features. The others the White Sox got from the Red Sox are the real lottery tickets, as they are young and unpolished, but if developed properly could be major leaguers down the road. Montas can apparently light up a radar gun with triple digits, so maybe he will be slamming the door as the White Sox closer of the future. It doesn't hurt to be optimistic.
Ultimately, I think the White Sox did well in the deal, as they sold high on Peavy (or as high as they were going to be able to in the next year or so) and got back one decent prospect and a few potential contributors. The other thing one has to consider is the associated cost. MLB players get the minimum (around $600,000) for at least two-three years before they hit arbitration for three-four years, where they can negotiate raises and settle differences with an arbiter. These are typically a few million dollar annual salaries at most, unless they are a once-in-a-generation franchise player. Players like Buster Posey and Clayton Kershaw would have set records for arbitration had they not signed extensions, and they still only earn $3M and $7.5M in 2013, about 20% and 50%  of Peavy's 2014 salary. These types of players are also not free agents until the arbitration years are done, so the team is said to "control" them during this time. Their teams are saving millions over the course of the years they control the players, a situation the White Sox can enjoy now with Garcia. These savings can be used to sign a high profile free agent to fill in the roster.
Cubs front office management has been trying to shed salary ever since Jim Hendry left the picture, and the Garza deal is a continuation of that process. The Cubs now officially have only Starlin Castro, Anthony Rizzo, Edwin Jackson, and Jorge Soler under contract after 2014 (I refuse to include Cuban defector Gerardo Concepcion in this group, after he sported a 7.39 ERA in 2012, was placed on waivers, and has only faced eight batters in 2013. He is not a part of the future that Theo is building).  With the youth movement ready to take over Wrigley in a few years, the books should be freed up and ready to take on some high profile free agents. So far, so good.
At the end of the day, the CBA, player valuations, contracts and prospects all combine to form a highly complex trade market. The Cubs and White Sox are both in the midst of a rebuilding project to varying degrees, and took advantage of their starting pitching assets this year. I hope both the North and South Siders consider themselves buyers in the market sooner than later. Whenever that happens, you can't fault them for exchanging aging, expensive pitchers for young, cheap talent this year.
For More Great Chicago Sports Content
Follow us on Twitter at @chicitysports23 for more great content. We appreciate you taking time to read our articles. To interact more with our community and keep up to date on the latest in Chicago sports news, JOIN OUR FREE FACEBOOK GROUP by CLICKING HERE