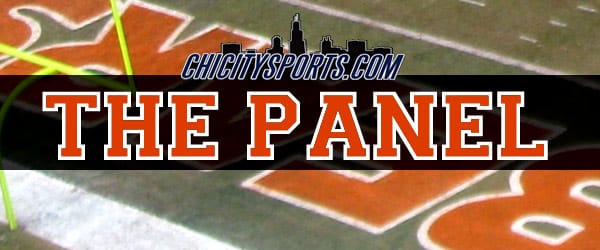 Welcome to the inaugural edition of the Chicago Bears Panel for ChiCitySports.com.  This first installment will answer questions about the upcoming season, Jay Cutler, and potential draft busts.
The Panel consists of ChiCitySports Staff members. All fans and experts who follow the Bears religiously.
USCChiFan            —         Rick Mollway           —         Adam Dyson          —            Chris Snow
Do you think the Bears have a better chance for the playoffs with an 8 game schedule or a traditional schedule?
USC: A traditional schedule. An 8 game schedule helps no one, and the Bears need all the time they can get with all the different starters on the O-Line for next season.
RM: Traditional. The more games that the Bears play, the better the chance that they get to the playoffs. Teams that started the season off 4-4 have made the playoffs in the past, in an eight game season that might not be the case. Let's just hope this lockout ends before the eight game schedule becomes a reality.
AD: Without a doubt, a traditional schedule.  With a revolving offensive line and a 1st round prospect in Carimi, we're going to need time to gel in order to realize our full potential.  A shortened schedule favors the Packers and Lions more, in my opinion, than it does the Bears.
CS: With older players, shorter schedules should favor the Bears aging defense. This might be a blessing in disguise for guys like Urlacher and Peppers, after solid performances last year. What still worries me, is that we would be playing at our house, in the cold, more often than most of the league. Some players love the cold, but it's hard to just acclimatize for any human being without the gradual changes. It works both ways for our opponents, but it's not the same for teams in Florida or in domed venues. If we can keep the injuries low, we'll weather the storm, so to speak. Aside from weather, we would have to establish that chemistry in our receiving game, the same chemistry that we have been waiting on since acquiring Cutler and dealing with Mike Martz's philosophy. Can we benefit from the extended offseason on offense? From the looks of it, key players are in the gym and on the field training. So we'll see.
Should we give Cutler some slack and hope for the best, or are you sold that he has peaked and his contract is now a burden on the Bears?
USC: Cut him some slack!  Last season was his first season in Mike Martz's offense, which is known to be very complex and take years to perfect. The O-Line is improving with the drafting of Carimi which should help wherever he plays. The Bears receiving core is mediocre at best, and once Jay gets that #1 receiver the Bears greatly need, he'll flourish.
RM: Jay Cutler is the best quarterback the Bears have ever had. Any individual who thinks that his contract is a burden needs to get their head checked. The guy has all the talent in the world to be an elite quarterback. He just needs to make better decisions when throwing the ball. His footwork needs improvement too but he can't really improve that until he's not running for his life. Also, anyone questioning his toughness needs to have their head checked too. The guy was sacked 50+ times last year and he got back up every time and continued to play with the exception of the NFC Championship and the Giants game, where his brain was nearly knocked out of his skull. Also, I could care less about his body language…He was a huge factor in putting the Bears in a position to go to the Super Bowl so it's hard for me to complain. Jay Cutler is the best thing that's ever happened to the Chicago Bears at the quarterback position.
AD: Anybody that believes Jay Cutler's contract is a burden on this team isn't truly rooting for the Bears.  Cutler had to learn a tough offensive playbook last season, and had to do it with a terrible offensive line, a young running back who is still learning, and no go-to wide receiver.  He clearly played an entire quarter on a torn knee ligament in the NFC Championship game last season, and the Bears still nearly won.  He can't do it alone, and we'll need one or two players on offense to step up and have really nice years, but I see a bright future with one Jay Cutler.
CS: Cutler is paid to perform. If his teammates can rally around him, and praise him for being a tough guy, then I can't help but expect them to be right. Knee injuries are a bitch. We see quarterbacks in this league throw career years, then fall off the face of this earth with far better wideouts. I'm hoping for the best, but I think we are going to be disappointed if we allow Jay to be that gunslinger guy in an offense that should improve on the ground game. If Cutler isn't 100% and we don't have Forte ready to put the team on his back, forget about it, we might as well start the QB search early.
Will we essentially see draft busts across the league thanks to the lockout and lack of coach-team-player prep time?
USC: I think so. A lot of rookies don't even have a playbook right now and with the lockout getting closer and closer to training camp, the rookies will have very little to learn the playbook, get acclimated with the team, and earn a starting job. Although I see most teams starting veterans with the rookies so unprepared for this season.
RM: I don't think we'll see any more busts than the norm. I think the learning process will take longer because so much time has been lost due to the lockout. If there's no training camp then the first month of the season, assuming that teams play a 16 game schedule, is basically going to be training camp for everyone. There will be more pressure on the rookies because they're coming in trying to adjust to a new system and the NFL in general. Veteran players who are now playing under a new head coach also lose too because they have to adjust to a new system as well.
If you're the Carolina Panthers and there's no training camp and you've got a ton of money invested in Cam Newton, the best thing for their new head coach, Ron Rivera, to do is to keep Newton benched for the whole season. It's not worth the risk to throw him out there and possibly ruin him because he's not familiar with the playbook and the NFL in general. It's already questionable whether or not Newton can be a successful quarterback at the pro level anyway so he needs to be fully coached and prepared.
AD: No, I don't believe so.  Partly because I think 95% of rookies need a year or two to get acclamated to the NFL, and party because I'm not sure we'll still be in a lockout when training camps come around. The big thing for rookies, as always, is staying healthy until the season starts.  I don't believe we'll see a great jump in draft busts, but on a semi-related note I will laugh out loud if Christian Ponder is the opening-weekend starter for the Minnesota Vikings.
CS: When we drafted Benson, I was optimistic. But then he held out. That was detrimental to his development early on. But what makes a lockout different from a hold-out is the player who is in it for money wont have that same option. Benson turned out okay for the Bengals, and that wasn't the Bear's fault.
Lockouts and strikes hurt rookies, but it would be hard to label any of them as a bust after having a good excuse for a poor first season. If anything, I really hope the veterans are taking these guys under their wings early, and getting them into their own independent conditioning program. Playing in the NFL is no joke, and any of the cocky, fresh faced players are going to have a mega dose of reality, far greater than a traditional season.
Recap
We've got a great group of posters here at ChiCitySports, and the four writers involved in this panel are regular contributors to the site.  Feel free to view the forum and sign up here if you'd like to leave your comments, or maybe grow into a CCS writer yourself!

For More Great Chicago Sports Content
Follow us on Twitter at @chicitysports23 for more great content. We appreciate you taking time to read our articles. To interact more with our community and keep up to date on the latest in Chicago sports news, JOIN OUR FREE FACEBOOK GROUP by CLICKING HERE