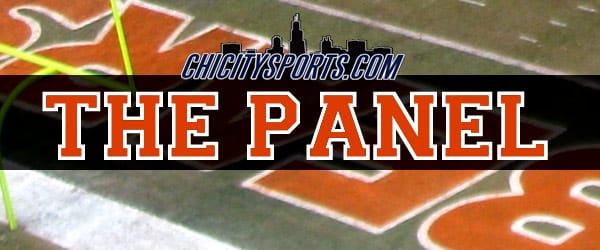 Welcome to the second edition of the Chicago Bears Panel for ChiCitySports.com.  This installment will include our thoughts on potential breakout seasons for offensive players, comparing the NFC North's 2010 season's to their potential 2011 seasons, as well as ranking Matt Forte among NFL running backs.
The Panel consists of ChiCitySports Staff members. All fans and experts who follow the Bears religiously.
Rick Mollway        –            Adam Dyson            –            USCChiFan              –          Zack Pearson
Name an offensive player you expect to have a breakout season, and why.
RM: It's difficult to say right now because we haven't hit free agency yet. We don't know what kind of players the Bears plan on adding to the mix. A player that you already have today that you might consider less valuable might become much more valuable with addition of a free agent. But just to make an early wild guess, I'd have to say Jay Cutler. I think he's going to come out of the gate with a chip on his shoulder because of all the nonsense he was put through after the NFC Championship game. With the addition of Gabe Carimi via the draft and another free agent acquisition or two on the offensive line, it will be a much improved unit. Therefore, Cutler will have some more time to make plays and not have to run for his life. If Matt Forte can get back to the playing level of his rookie year, I think that will take some of the load off of Cutler's shoulders and make him better too. Not to mention, adding a number one wide receiver would very much benefit Cutler.
AD:  If we are going to succeed in 2011, we are going to need to rely even more heavily on RB Matt Forte.  Forte has shown signs in the past of being the dynamic play-maker we've coveted for years, and he's played very well his first few seasons in the NFL.  However we cannot be the classic Mike Martz offense that drops back 45+ times a game.  We simply do not have the offensive line that allows that, though I believe we will be better this upcoming season than in seasons past.  Forte is going to have to be more efficient running the ball, but I believe he may be near the top of the league in receptions out of the backfield in the upcoming season.  If Forte can stay healthy, we may be hearing comparisons to Marshall Faulk that hold some weight.
USC:  I'm gonna say Earl Bennett. He IMO was underutilized on offense last season and he is a perfect slot receiver for Mike Martz's offense. He's the Bears best route runner, he's got great quickness, he has solid hands, and he's great at getting YAC (yards after contact).
ZP:  When I look at the Bears offense, I see a lot of weapons if used correctly. One of those weapons is wide receiver Johnny Knox. Knox has blazing fast speed, decent hands but sometimes lacks the ability to make the huge play. With Cutler's arm strength Knox should have the chances to make the plays. It's up to him to make them.
How do you see the Bears and the rest of the division (Packers, Vikings and Lions) fairing in comparison to their 2010 seasons?
RM:  The scary thing about Green Bay is that they had so many injuries last year and they still managed to win the Super Bowl. All of those guys that they lost last year are coming back healthy this year and that makes Green Bay pretty dangerous. Anything can happen in football so I'm not going to give anyone the NFC North title just yet but I think the Bears can compete for this division again. For the offense, this will be the second year in the Mike Martz system so you'd like to think that the loose end problems that some of the guys were having last year will be cleaned up. As for the defense, they're another year older but I don't think the skill sets of guys like Urlacher, Briggs and Peppers will be diminished by any means. The secondary still needs help, they have got to get a guy opposite of Tillman. I think many others would agree with me that Tim Jennings is not the long term answer. With Detroit, a lot of media people are drinking their kool-aid right now. For this team to be successful, I think Matthew Stafford needs to stay healthy for an entire season…something he has yet to do going into his third year in the NFL. Shaun Hill didn't do a bad job of filling in for Stafford last year but Hill doesn't have the potential that Stafford has. So overall, I'm a bit skeptical about the Lions but there's no doubt they improved this offseason. Their defensive line should be ridiculous with Suh and Fairley. As far as Minnesota goes, their defense ranked in the middle of the pack last season but I think they'll rebound this year. Guys like Jared Allen and Ray Edwards are still great players and Chad Greenway was a beast in 2010. The offense might be an issue. You still have Adrian Peterson and Percy Harvin but Sidney Rice is a free agent, who will hopefully sign with the Bears, and they'll more than likely have a rookie in Christian Ponder starting at the quarterback position. I've heard people say the Vikings are going to be a four or five win team, which could happen but if Ponder can just manage the offense and the defense can get back to their 2009 level, don't be surprised if Minnesota is a 10 win team.
AD:  The obvious order to place these teams in is Packers, Bears, Lions and Vikings.  The Packers are the reigning super bowl champions, and they'll have even more fire-power this season with a slew of healthy players coming back.  The Bears have loads of talent, and will need another strong season from their defense in order to compete with the Packers all season long.  The Lions are definitely on the rise, and I believe they will be a 2012 playoff team.  This season I wouldn't be surprised to see them 9-7.  They've got to keep that quarterback healthy, though.  The Vikings…well…I'm not sold on their talent level.  Individually, they've got some incredible athletes in Peterson, Jared Allen, et al. However I'm not sure they have a clear direction they're going in.  If the Vikings finished 4-12, I wouldn't be surprised.
USC:  I see the Lions staying in 3rd place, but getting the 6th seed in the Playoffs. They showed a lot of improvement last season and if Matt Stafford can stay healthy they can win 10 games. Their D-line is one of the best in football and it will be a nightmare for O-line men and QBs all season. I hate to say this, but I see the Packers winning the division with the Bears coming in 2nd and getting the 5th seed in the Playoffs. The NFC North will be a competitive division next season.
ZP:  The NFC North is going to be a tough division for the Bears to win. It also won't be a cake walk for any team. The defending Super Bowl Champion Green Bay Packers will be the front runners to win it all. They will return key players from injuries last season, to boost the overall talent on their team. I'm going to pick the Packers to win the division with an 11-5 record.
The Bears won the NFC North last season and made it all the way to the NFC Championship game. It's tough to see them repeating that this season, but anything can happen. There are holes in the offensive line and secondary that the team must address. An aging defense give the Bears window of opportunity to win it all a max of another two seasons. I'll say the Bears finish second in the division at 9-7.
The Detroit Lions could be the most improved team in the NFC thanks to the NFL draft. They boosted their defense with Nick Fairley, and added depth to another positions.  If Matthew Stafford can stay healthy, the Lions have a chance to shock a few teams. I'll give the Lions one more year before I say they are contenders, but this season they finish 8-8.
The Minnesota Vikings are a train wreck in progress. After playing in the NFC Championship game two years ago, the team took a big risk on Brett Favre. That risk didn't pay off and the Vikings took Christian Ponder with a reach pick in the first round of the NFL Draft this season. They still have talent on both sides of the ball with players like Adrian Peterson and Jared Allen. There just isn't enough to compete in this division. The Vikings finish last with a 5-11 record.
Where do you rank Matt Forte among starting running backs in the NFL and why do you rank him there?
RM: Probably in the lower part of the top 15. I still think he's a pretty good runningback. When he first came up in 2008, the offensive line was still somewhat serviceable. He was able to find holes and he had a great rookie campaign. He was injured all throughout 2009 so it's hard to blame him for the drop-off he had compared to the season before. Last year, the offensive line was just horrible as I've said many times. Forte still ran for 1,000 yards but I think he would have been a much bigger factor if there had been more room for him to run. Once the o-line is improved, I think that's when we'll be able to better judge him.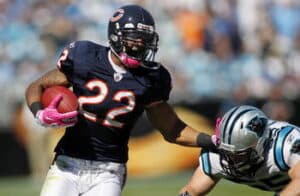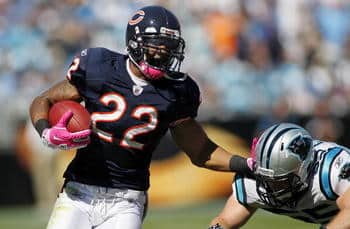 AD:  Instead of making a blanket statement about NFL running backs, I put them in tiers.  Tier one includes Adrian Peterson, Michael Turner, Chris Johnson and Maurice Jones-Drew.  Tier 2 includes Rashard Mendenall, Adrian Foster, and Jamaal Charles.  Forte is in the third tier, along with names like Peyton Hillis, Ray Rice, Steven Jackson and LeSean McCoy.   I believe Forte has a chance to move into the 2nd tier this season, when you factor in his experience and an improved offensive line.  He'll have to again be near the top of the league in receptions out of the backfield, but I believe he could move up to top 5-6 by season's end.
USC:  I rank him 9th. He's one of the best dual threat RBs in the league, but I can't say that he's better than Rashard Mendenhall or Frank Gore who I have ranked 7th and 8th respectively. There's so many talented backs in the league that I can't rank him any higher for now.
ZP:  I'd rank Matt Forte in the top 10 running backs in the NFL today. He's a very underrated player that is key to the Bears success. Not only running the ball, but Forte is a play maker in the receiving game as well.
If you look back at the successful season the Bears had last year, Forte was a key part to that. He was running behind a weak offensive line all season but still managed to produce. I'd love to see him run behind a good offensive line and see what numbers he puts up.
Recap
We've got a great group of posters here at ChiCitySports, and the four writers involved in this panel are regular contributors to the site.  Feel free to view the forum and sign up here if you'd like to leave your comments, or maybe grow into a CCS writer yourself!
For More Great Chicago Sports Content
Follow us on Twitter at @chicitysports23 for more great content. We appreciate you taking time to read our articles. To interact more with our community and keep up to date on the latest in Chicago sports news, JOIN OUR FREE FACEBOOK GROUP by CLICKING HERE