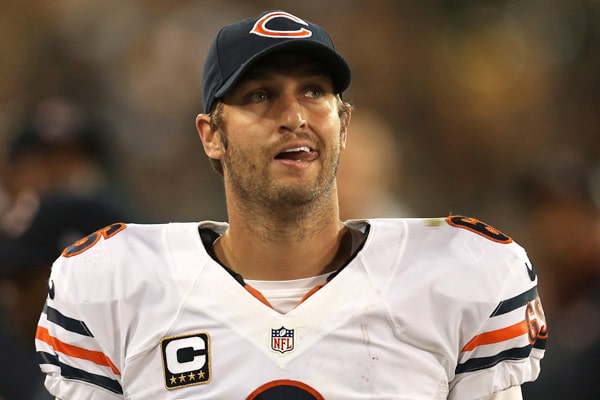 With Jay Cutler on the injured list again, along with Josh McCown playing at the ripe old (from a football standpoint) age of 34 and with Jordan Palmer still unproven in the NFL, the Bears need to start thinking past the immediate future of their quarterback position. General manager Phil Emery and his staff need to start thinking for 2015 and beyond when it comes to signal callers. The Bears have only been to the playoffs once under Jay Cutler, but granted it's not entirely his fault.
With Lovie Smith and his staff no longer around to shoulder the blame however, it becomes easier to point out Cutler's faults. Plus, his injury history with the Bears is well documented. And at this point the 2014 franchise tag looks more realistic than the $100 million extension he's hoping for. Not to mention the fact that Jay will be 31 in April.
McCown may be having the best season of his career under Marc Trestman. But at 34 one must ask how much longer he can keep up with the rigors of training and commitment required to play in the NFL. After all, Brian Urlacher retired at 35. Plus, McCown's entire career has shown that he hasn't always been consistent or dependable.
Jordan Palmer is only on the Bears roster in case McCown goes down (God forbid). Palmer has only thrown 15 pass attempts in his six year career, he isn't the long-term solution either. Neither is Trent Edwards (who played with the Bears in preseason) or Jerrod Johnson (he was briefly on the Bears practice squad in September). The only option is to find the arm of the future in the 2014 NFL Draft.
When the draft rolls around there will be plenty of arms to choose from (that was not the case with this years draft). Louisville's Teddy Bridgewater, Clemson's Tajh Boyd, Alabama's A.J. McCarron, Fresno State's Derek Carr and Michigan's Devin Gardner are just some of the many names that will be on the board next spring (Of course not all of them will be available when the Bears get to pick but it's nice to dream).
Eventually, the Bears will have to rebuild and start from scratch again. The quarterback position is the centerpiece of any rebuilding franchise. The Bears need to starting thinking ahead instead of just day-to-day. Follow me on Twitter @GabeSalgado82
For More Great Chicago Sports Content
Follow us on Twitter at @chicitysports23 for more great content. We appreciate you taking time to read our articles. To interact more with our community and keep up to date on the latest in Chicago sports news, JOIN OUR FREE FACEBOOK GROUP by CLICKING HERE