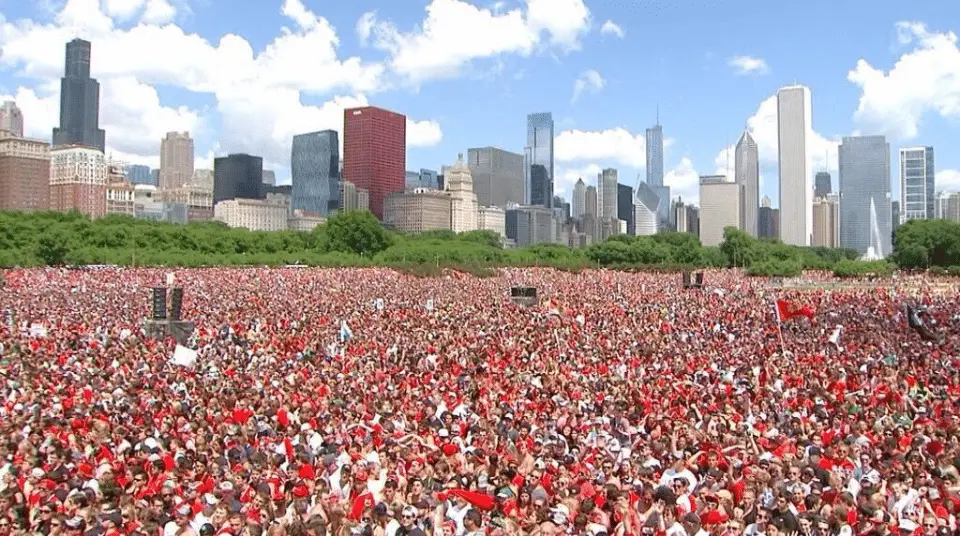 Monday, June 24, 2013. Boston, Massachusetts. 17 seconds that defined a season, brought the world's greatest fan base from the lowest of lows to the highest of highs, and sent a city into a state of pure ecstasy.
Unfortunately, I was not in Chicago on that fateful night. Stuck in Tampa Bay for work training with no other Hawks fans in sight, I was forced to watch Game 6 sitting alone in a hotel bar, with nothing but my Toews jersey to keep me company. When it was all said and done, I was covered in champagne and could not stop smiling. The smell of cheap alcohol washed off with a long, hot shower the next morning, but the happiness could not be wiped off my face.
I spent most of the next day trying to soak in everything that had happened the night before. Twitter became an incredible collection of photos, videos, and fan reaction that inspired a series of muffled giggles from me. Work training be damned; this was my day. Too often had I spent off seasons trying to figure out what went wrong. Now I had the chance to revel in everything that went right.
After a few cups of coffee, aspirin, and hours of looking down at my phone and grinning like an idiot, I realized that it was all too much to process. At that moment, I decided to collect some of my favorite pieces of the media explosion and save them for another day. Well, today is that day.
Let's first rewind a bit further, to the Western Conference Semifinals. I am ashamed to admit it, but I began writing a piece entitled "A Eulogy for Chicago Sports" after the Red Wings took a 3 – 1 series lead. After enduring three consecutive heartbreaking playoff exits for the Bulls, a series of underwhelming performances from the oft-injured Bears (how does a 10-6 team not make the playoffs when a Tim-Tebow-led 8-8 team can win a playoffs game?!?! God dammit), and continuing to search for a light at the end of the tunnel for my beloved Cubbies, I had seen enough. It couldn't end like this, again.
They took Game Five. Then, on Memorial Day, they took a dramatic Game Six that inspired this tweet from me (I was so emotionally drained I didn't remember sending it out until the next day). And all of a sudden, I felt my guard being let down. After nine straight Cubs playoffs losses (doesn't seem possible, but it's true), that is not something that comes easily for me. I felt… hopeful. As Kevin Millar once said, "Game Seven, anything can happen."
It was one of the more stressful sports viewing experiences of my life, and before I knew it, overtime was upon us. The real kicker of overtime playoff hockey is the abrupt, unexpected finality of the game winning goal. Even during a walk-off homerun, there are a few seconds between the crack of the bat and the visual of incensed spectators jumping for the ball as it lands in the bleachers for the average fan to begin to process the event. Not in hockey. One second it's a tie game, the next, it's either jubilation or despair. Pit two fierce rivals against one another, sprinkle in a Game Seven with a dash of Playoffs, and suddenly you have a heart-stopping scene.
When Seabrook brought the loose puck into the zone, wound up for a shot, and netted the series clincher, I don't know if I (A) blacked out from anxiety/high blood pressure/not blinking or breathing for five minutes or if (B) my insane amount of love for Chicago sports just physically propelled me out of my seat on the couch, but I found myself outside of my apartment. Yelling. In the middle of nowhere, Tennessee, just another twenty-something Chicagoan transplant making a ruckus on a Wednesday night. Nothing to see here. I gathered myself, went back inside, and tried to lower the amount of adrenaline in my system before I received a police wellness check.
Something about that series comeback culminating in the Game Seven win gave me the feeling that there were bigger forces at work. Sometimes destiny, or fate, or whatever you want to call it makes an appearance when all hope seems to be lost. Whatever the feeling was, I knew the Kings didn't stand a chance in the Conference Finals. I can't explain it. I didn't care if they were defending their Championship. Suddenly all I could think about was the 24-game points streak, and how this team seemed to gel like no other I'd watched in the last 15 years. Low and behold, five games later, the Hawks were back in the Finals.
During the Conference Finals, however, I watched the Bruins dismantle the No. 1 seed in the East, the Penguins. This was terrifying for a few reasons: (1) The Bruins were basically built as a more talented version of the Red Wings team that brought the Hawks to the brink of elimination, (2) the Penguins were no joke, as they had scored more goals (165) during the regular season than any other team and had nearly won the Presidents' Trophy, and (3) Boston also appeared to be a team of destiny. The Boston Marathon bombings had ignited something inside of that city, and it blossomed in the Red Sox and Bruins. I feared a run out of their hockey team similar to the Yankees in 2001, when they stormed to an American League pennant after witnessing 9/11 in their own backyard, before falling just short of a 4th World Series title in as many years.
After the Bruins completed their utterly dominant sweep of Pittsburgh, in which they only allowed TWO GOALS during the entirety of the series, I realized another terrifying fact: they had come back from a three goal deficit in Game Seven of their first round series. And then won in overtime. They crushed the hopes and dreams of an entire Canadian city. They were really getting into the whole "leave other fan bases broken and hopeless" thing. Was destiny at work?
Their first round comeback allowed for the creation and release of one of the more depressing sports-related YouTube videos in recent memory. It even inspired a piece on Grantland with which too many of us Chicago faithful can relate. Needless to say, I was feeling a wide, confusing range of emotions heading into the Finals. Hopefulness, fear, excitement, anxiousness, and maybe a little confidence (even if I would have NEVER admitted it to myself) were all part of the equation.
Game One. Three overtimes. Are you f*cking kidding me? Do you think I have any emotional energy left at this point? Not only did the Western Semis come down to a decisive, winner-take-all overtime, but the series clincher against the Kings went into double overtime. This made five overtimes in two games. Lord have mercy.
I said after Andrew Shaw tipped in the winner that the Game One victory was by far the most important of the playoffs (besides, obviously, winning Game Seven versus Detroit to advance in the first place) because it went deeper than a simple shift of momentum. Both teams and cities had been through a roller coaster over the past few months. Neither had an easy journey through the playoffs, and with two very evenly matched teams, any win you can steal becomes infinitely more important for the ultimate outcome of the series.
Three overtimes is an entire second game. The players looked more exhausted than I'd ever seen, and the competition suddenly became not about execution and stamina, but simply about guttiness (is that a word? I don't care) and sacrificing everything you had left physically and mentally for the team. You know what I said earlier about overtime hockey's winning shot having a certain abrupt, unexpected finality? Well magnify that 1,000 times and place it on a national stage with hockey's greatest prize on the line, and you have a semblance of what the third OT felt like. I cannot begin to imagine what was going through the hearts and minds of the heroes on the ice.
Before we go on, I should explain that I have a knack for repressing sports memories that make me sad/depressed/hate myself for who I root for ("No, sir, I don't believe the Cubs made the playoffs in 2003. Try to make me remember, and you will end up on the front page of the paper tomorrow"), but somehow I remember bits and pieces of Games Two and Three. I remember thinking the Cup was in the bag with a potential Game Two win. Seriously, could you see anyone coming back from a 2 – 0 deficit that included four overtimes and 3,461 collective heart attacks? But no, the Hockey Gods wanted an even series heading to Boston. Game Three was Boston's all the way.
Game Four. Has there ever been a more back and forth, 'anything you can do I can do better' match since Michael Jordan faced off against Mia Hamm? A short-handed goal; a power play goal. A sniper and a backhander with finesse. A rebound; a fancier rebound. Another sniper; another power play goal. Overtime felt inevitable. Luckily for the Hawks, Seabrook had the hot hand and sent the series back to Chicago, all tied at two games apiece. Momentum didn't even feel like a factor at this point; both teams knew they were capable of beating the other team in any city, in any situation. Whichever squad would take full advantage of their scoring opportunities had an excellent shot at the Cup.
Game Five. Saturday night in Chicago. The UC was in full "we are going to sing the Anthem so loud you won't know which way is up" mode (check out my other favorite rendition of Jim Cornelison's here). In a first period full of scoring opportunities, the Hawks finally struck first at 17:27. Just take care of business at home, boys. Kane scored again in the 2nd, and there was no more action until the Bruins cut the Hakws lead to a single goal 3:40 into the 3rd. Or course. There are no easy victories. Thirty-six and a half minutes later, the Hawks sealed the win with an empty-netter, gaining a 3 – 2 series advantage and securing a date on Monday in Boston.
So there I was, alone in a hotel bar in Tampa, trying to calm my nerves with a steak quesadilla and a crappy IPA from a local brewery. It wasn't working. I was at a casino bar in Puerto Rico the last time the Hawks were in this situation. It felt eerily similar, but with less of an aura of self-hatred and addiction.
I couldn't even tell you how the score came to be 1 – 1 by the time it was midway through the third. I was feeling an awful kind of anxiety. The kind that doctors say takes years off your life. I knew in the back of my mind that whoever scored the next goal would probably win the game. That's why, when the Bruins finally did so with seven minutes and change left to go, I let all the bad memories come flooding back. The Bears Super Bowl loss. The Cubs embarrassing themselves in the playoffs four times in 15 years. The God damned Miami Heat knocking the Bulls out of the playoffs twice in the last three years. Somehow, this had to be different. I was at the edge, but I held on. I kept watching. There was a reason this team had scored a point in every game during the entire first half of the regular season: they kept fighting.
The scoring chances kept coming. So did the hard hits, the excellent defense. Instead of packing it in and looking toward Game Seven at home, the Hawks were hell-bent on getting that puck into the net. What happened next was the simply the greatest 17 seconds in Chicago sports history.
Along the same lines as the Western Semis Game Seven experience, when I found myself outside, I was suddenly now running around the bar, throwing my hat in the air and hugging anyone who looked like they wouldn't punch me afterwards. Toews to Bickell. Through the defenseman's legs, then through the goalie's five-hole. If I had to describe the look on Bickell's face as he skated backwards towards the glass after his goal, preparing to embrace his teammates in celebration, I'd say it was a combination of Joakim Noah when he plays either Kevin Garnett or the Heat, and what I imagine a prehistoric, psychotic caveman might have looked like after killing his foe.
I was still generously offering hugs and high fives to my new friends, preparing for the impending overtime, when I heard the play-by-play announcer's voice drum up to an excited "SOMETHING BIG MIGHT HAPPEN" pitch. I turned around just in time to see Dave Bolland knock in a shot rebounding off the iron.
…
Things that happened next in some order: I embraced everyone I saw. I yelled until my throat hurt. I yelled some more. I watched as Toews won the subsequent face-off, ultimately killing 20 of the 59 remaining seconds off the clock. I saw the puck slowly work its way out of the zone towards safety, and I saw the final five seconds tick off the clock. I'm not saying this particular final minute is better than a certain victory over some certain Communists, er, Soviets in 1980, but damn did it feel good. I ordered the cheapest champagne the bar offered. I sprayed it all over the bar. I called my mom. I watched my Blackhawks lift Lord Stanley's Cup.
I've long said that I will go to ridiculous, irresponsible lengths to ensure that I will be in Wrigleyville when the Cubs win it all, and I sure was mad I wasn't there for this celebration. Or this one. Or this one. Or this one.
In the days that followed, some incredible posts on the internet would randomly light up my day. Whether it was NHL.com providing some fantastic pictures of the Game Six celebrations, or a GIF of Coach Q dancing, or Deadspin providing video of how each Stanley Cup goal sounded in the arena or how the end of Game Six sounded in Finnish, I was constantly on cloud nine. The Blackhawks were champions. One of the most dominant seasons in league history was complete. The core of the team had two Cups in four seasons. No one could take these things away.
The best was yet to come. The victory parade on Friday almost shut down the city completely, if the celebration Monday night after the win hadn't done a good enough job already. We found out that not only is Corey Crawford an expert at stopping a puck, but he has a way with words as well. One of my favorite videos came out well after the season was over, combining all of the great moments into a ten-minute clip for the Blackhawks convention.
I once wrote, "deep down we all hope that one day we can watch that penultimate dog pile on the mound at Wrigley after the Cubbies win it all." While texting a Cubs fan friend of mine who recently moved to Wrigleyville about the celebration after the win, he simply said "I cannot imagine what it will be like when the Cubs win." Me neither. But I know, with apologies to my future wife (wedding day, birth of children, etc.), that it will be the best day of my life.
That might be the scariest part about all of this. If I am being completely honest with myself, the Hawks hold the fourth spot on Ed Edens' Personal Chicago Sports Die-Hard Fandom Power Rankings behind the (1) Cubs (2) Bulls and (3) Bears. I know in my heart of hearts that I was too young to fully appreciate what Michael Jordan did on the court, and I cannot truthfully consider myself a hockey fan until about 2008. Do not get me wrong, the Hawks Stanley Cup victory was absolutely a top-five sports moment in my life. It just makes me think about the excitement the future has in store.
We are lucky enough to have witnessed two great hockey teams run the table and bring home the best trophy in sports, all in a span of four seasons. For those of you who, like me, are still waiting for that one elusive championship, it's coming.
In 2002, after the Patriots won the Super Bowl and ended their championship drought, Bill Simmons wrote a piece for ESPN's Page 2 that I look back on when I need to remember why I care so damn much. He said, "I mean, have you ever felt totally dumbfounded by something? Have you ever felt totally overwhelmed? I'm telling you, keep the faith, keep believing, keep supporting your team — there's a slight chance that it might be worth it someday. Just trust me."
Thank you, Chicago Blackhawks, for helping me keep the faith. For making me believe that a team I care so deeply about can claw its way back from the brink of death, through countless heart-wrenching overtimes, to ultimately be able to call itself Champion of the World.
If a certain other championship feels anything like the Hawks victory, I'll keep the faith forever.
For More Great Chicago Sports Content
Follow us on Twitter at @chicitysports23 for more great content. We appreciate you taking time to read our articles. To interact more with our community and keep up to date on the latest in Chicago sports news, JOIN OUR FREE FACEBOOK GROUP by CLICKING HERE