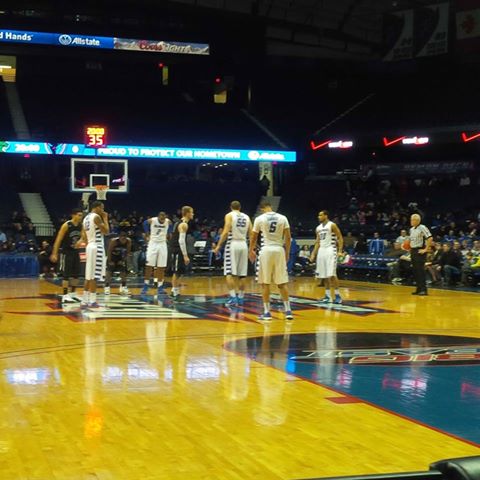 The DePaul Blue Demons have been quietly improving over the last week or so. Their inside game is getting better, their backcourt is solid from top to bottom, and they are slowly starting to get better on defense. Yesterday's victory over Chicago State accomplished two things….. For starters; they have won two games in-a-row, something they haven't done since November 19th. They also moved to 12-0 all-time against their crosstown rivals the Cougars.
They are now 6-4 on the season and their prospects for finishing the non-conference schedule with nine victories -like they did last season- are looking very positive. One reason why the Blue Demons have gotten it together is because of their defense. They have only allowed 70 points in each of these last two games.
Another reason has been the stellar play of freshman guard Billy Garrett Jr. Earlier today, the Morgan Park product was named Big East Rookie of the Week after scoring a total of 31 points, grabbing nine rebounds, and handing out five assists against both Florida Atlantic and Chicago State. He has also shot 3-of-7 from three-point range, 10-of-18 from the field and has made his mark since entering the lineup last week.
DePaul's top seniors -guard Brandon Young and forward Cleveland Melvin– have scored in double figures in this two-game stretch. Melvin was named to the Big East Honor Roll for his play last week. Against FAU, Melvin scored 19 points, nailed six rebounds and dished out two assists.
Against CSU, the Baltimore native had 18 points, 11 rebounds and four blocked shots. Having big men Sandi Marcius and Tommy Hamilton IV next to Melvin has allowed him to become more involved in the offense then he was in years past. DePaul will round out their non-conference schedule over these next few games.
They welcome Houston Baptist to the Allstate Arena on Wednesday night, followed by road trips to Illinois State (Dec. 22) and Northwestern (Dec. 27). They begin Big East play against Georgetown on New Year's Eve. Having Garrett in the lineup has given head coach Oliver Purnell more speed on the court.
Melvin and Young (who were already good), have looked even better with the added depth in the front court. Marcius and Hamilton have made it difficult for teams to have success in the paint, while the depth on the bench has given the Demons plenty of pieces to work with.
If they continue to play highly and consistently night in and night out, we could a return to the postseason for DePaul. Follow me on Twitter @GabeSalgado82
For More Great Chicago Sports Content
Follow us on Twitter at @chicitysports23 for more great content. We appreciate you taking time to read our articles. To interact more with our community and keep up to date on the latest in Chicago sports news, JOIN OUR FREE FACEBOOK GROUP by CLICKING HERE