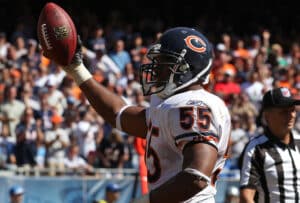 In the midst of mandatory roster cuts, team evaluation and the upcoming season speculation, a distraction had to make its way into the spotlight.
Lance Briggs, a starting ROLB for the Monsters of the Midway since 2003, has recently asked to be paid or traded. A simple solution to most turns into a fiasco for Bears fanatics.
The six-time Pro Bowler was just signed to a six-year contract worth $36 million in March of 2008. Despite publicly criticizing the entire organization of the Bears and labeling himself a free agent, Jerry Angelo resigned him.
Now, Briggs is set to earn $3 million in salary this year. He wants his $6 million salary of next year to be moved to this year, under the assumption he is underpaid.
Most Bears fans would agree that this is a childish, unethical move on the part of Briggs. He has three years left on his current contract, and is already age 31. Personally, this move makes zero sense.
If Lance Briggs doesn't want to be a Chicago Bear, then so be it. Move on. There's no doubt that Briggs is an intricate part of Chicago's run-stopping defense and a valuable aspect of their Cover 2 scheme, but an organization of the Bears' caliber doesn't deserve distractions nor disrespect.
Former Seattle Seahawks' linebacker, Lofa Tatupu, is still a free agent. While it's known that Tatupu is injury-prone, there's no doubt that a career resurrection in Chicago could be likely. Tatupu is a 6-0, 250 pound tackle machine that has an enormous amount of potential.
There's a great chance that Tatupu could thrive in Rod Marinelli's defense. He's a younger linebacker than Briggs at age 28, and could replace Briggs without missing a step. Moreover, Chicago can focus on football and cease the worry of money and public distractions. Unless, of course, your last name is Forte.
For More Great Chicago Sports Content
Follow us on Twitter at @chicitysports23 for more great content. We appreciate you taking time to read our articles. To interact more with our community and keep up to date on the latest in Chicago sports news, JOIN OUR FREE FACEBOOK GROUP by CLICKING HERE