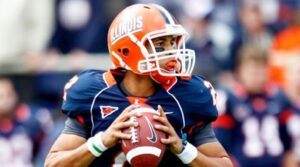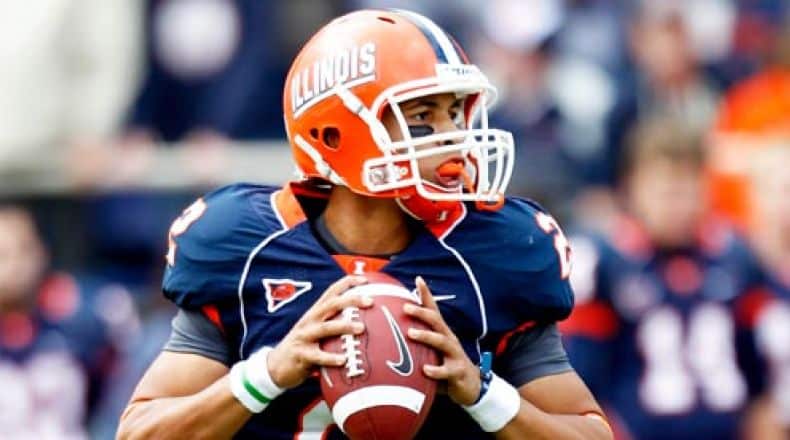 Senior quarterback Nathan Scheelhaase leads the Illini into Soldier Field on Saturday.
The Illinois Fighting Illini football program is 2-0 for just the third time in nine years which is always a welcome sight. What's even better is the fact the Illini offense has scored a combined 87 points in their first two games this year. They have also gained a total of 986 yards. But that's where all the good things come to an end. While the Illini have been very solid under senior signal caller Nathan Scheelhaase, we must be realistic here.
In the season opener back on August 31st, the Illini barely skated past FCS squad Southern Illinois with just an eight point victory. SIU was once one of the more competitive FCS teams. But over the last few years the program has seen a steady decline. Last week, the Fighting Illini successfully defended their home turf against a Cincinnati program which isn't always known for it's defense.
Plus the Bearcats this year are struggling to find an offensive identity. They were using a two quarterback system at the beginning of the year. So now here's the reality…. When Tim Beckman's squad leads his team out of the tunnel at Solider Field on Saturday, the 19th ranked Washington Huskies will be waiting for them. Washington started the year unranked. Last week they had a bye week, but back on August 31st the Huskies made their presence felt.
Washington dismantled the then 19th ranked Boise State Broncos 38-6, the loss would knock BSU out of the Top 25. The Huskies defense only allowed two lousy field goals that night against a team that easily scores between 35-40 points per game. They also limited BSU to 346 total yards, the Broncos normally gain between 400-500 yards per game.
Another impressive stat is that Washington's defense held Boise's offense to five series' that lasted five plays or less. They only allowed four series of 10 plays or more. Of the 11 total series' that Washington's defense was on the field that night, they limited the Broncos to seven drives of less than 25 total yards. The boys in blue only made it into the red zone three times that evening.
Washington may not have the biggest or baddest defense, but they play fundamentally sound football and can disrupt an offenses rhythm. They can also create turnovers as BSU committed two turnovers against UW. The Illini offense will indeed have their work cut out for them. The offensive line which has dealt with injuries since training camp, will be facing it's toughest challenge this season.
The Huskies will make it difficult for the Illini to move the ball down field. If Illinois is to have any chance of walking out of Solider Field as a 3-0 team, they will need to do the following.
1. Stay Healthy- Injuries on the offensive side of the ball are never a good thing.
2. Establish The Run- Illinois has only rushed for 259 yards this season. They can keep Washington's defense honest if they can do damage on the ground.
3. Get off to a fast start- Illinois needs to attack Washington's defense early and often just like they did against Cincinnati and SIU.
4. No Turnovers- This attribute speaks for itself.
5. Protect The Quarterback- If Nathan Scheelhaase can stay upright the Illini will have a chance.
6. Josh Ferguson- His duel-threat abilities will be Illinois' biggest asset.
7. The Defense- After all, football is a team sport.
If the Illini can pull of the victory, the rest of the Big Ten will take notice. It's task is not impossible, but it won't be easy. Follow me on Twitter @GabeSalgado82
For More Great Chicago Sports Content
Follow us on Twitter at @chicitysports23 for more great content. We appreciate you taking time to read our articles. To interact more with our community and keep up to date on the latest in Chicago sports news, JOIN OUR FREE FACEBOOK GROUP by CLICKING HERE