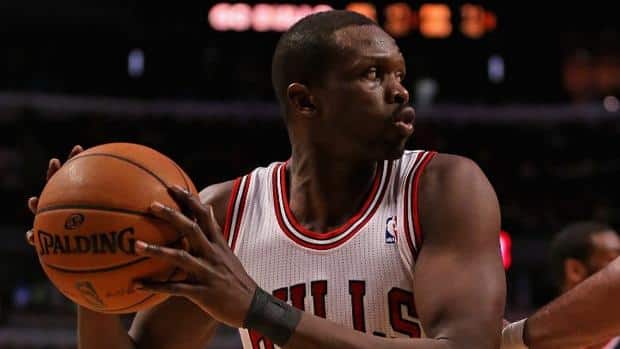 Since I wrote Part 1 of the Luol Deng Conundrum there has been an update on Deng's wrist. Deng has chose to forgo surgery on a torn ligament in his left wrist for a second straight summer, meaning he'll play another full season with the injury. Deng's decision to pass on surgery didn't come as a surprise last offseason since he opted to represent Great Britain in the Summer Olympics, but this offseason it's quite puzzling.  A likely factor in his decision was his expiring contract, as Deng doesn't want to take any risks coming into his contract year considering one misstep could cost him millions. Deng only missed seven games last season and played a full season with a hurt wrist, but he saw his jumper betray him. There is no promise his wrist will improve without surgery and it could possibly cost him even more games this season.
What impact does Deng's decision to forgo surgery have on his trade value? For one, it certainly makes it easier for the Bulls to pull the trigger on a trade since he is considered damaged goods. At the same time, others teams will be wary to pay $14.2 million to an injured player with no guarantee of him re-signing. In short, this news is anything about positive for Chicago whether they to decide to trade Deng or not. If the Bulls do decide to deal Deng they will have some possible suitors on draft day.
Detroit Pistons
Comcast Sportsnet Insider Aggrey Sam reported Detroit and Cleveland have interest in Deng if he is available. Detroit owns the No. 8 pick in the draft and could throw in the $8.6 million carcass of Charlie Villanueva in exchange for Deng and the Bull's No. 20 pick. Detroit is loaded with young players and Deng gives Detroit a much needed veteran presence and a suitable replacement for Tayshaun Prince. The Bulls could use the No. 8 pick to attempt to replace Deng at the small forward position, but there likely won't be elite wing talent left on the board. Chicago could go after UCLA product Shabazz Muhammad or take a shooting guard such as Lehigh's C.J. McCollum or Georgia's Kentavious Caldwell-Pope, sliding Jimmy Butler over to SF. Since teams aren't allowed to sign players until July 11th, it's doubtful the Pistons would be willing to part with a top ten pick for a player they may only have for one season.
Cleveland Cavaliers
The other option on draft day for the Bulls is the Cleveland Cavaliers who own picks 1, 19, and 31. ESPN's Amin Elhassan outlines the Cavaliers' draft needs, "Cleveland was one of the worst defensive teams in the league, allowing almost 110 points per 100 possessions. A healthy Anderson Varejao would have curtailed that some, but the Cavs need some more long perimeter defenders." Sorry Bulls fans, while Deng is a good fit in Cleveland, they won't be offering the No. 1 pick for his services. The Cavaliers could have up to $30 million in cap room and could afford to absorb Deng's contract, so they would be an optimal trade destination for Chicago if they chose to dump Deng outright. The Bulls could offer Deng and the No. 20 pick for the No. 19 and 31 picks or simply Deng straight up for the No. 19 pick. Chicago will hope Louisville big man Gorgui Dieng falls to them, but they will also take a look at Jayhawk's center Jeff Withey to replace the defensive presence lost from the departure of Omer Asik. On the wing, they'll have plenty of options at this point in this draft, as Glen Rice Jr. of the Rio Grande Valley Vipers of the D-League, North Carolina's Reggie Bullock, and Russian sharpshooter Sergey Karasev could all be on the board. They could also snag athletic New Mexico wing Tony Snell or Bucknell big man Mike Muscala with Cleveland's No. 31 pick. The Bulls won't necessarily grab elite talent this late in the draft, but it's the ultimate cap-saving scenario as they'll have a chance to bundle cheap rotations players while cutting Deng's contract in the process.
Free Agency
Even with his wrist injury, the Bulls should likely have several trade partners if they decide to part with Deng. They may not add the type of talent that fans may expect by trading Deng, but they'll also have many options though free agency. Matt Barnes, Tony Allen, Corey Brewer, Martell Webster, Ronnie Brewer, Kyle Korver, and Dorell Wright in no particular order make up a short list of free agents that would be a good fit for the Bulls. If Paul Pierce is bought out from the Boston Celtics, Chicago should make his wish list as he'll be a ring chaser; whether the Bulls will have enough money to entice him is another issue.  Letting Deng go could also give Chicago the flexibility to re-sign Nate Robinson, Marco Belinelli, and Nazr Mohammed. With so many options on the table for Deng, it's easy to see how the Chicago Bulls have a conundrum on their hands.