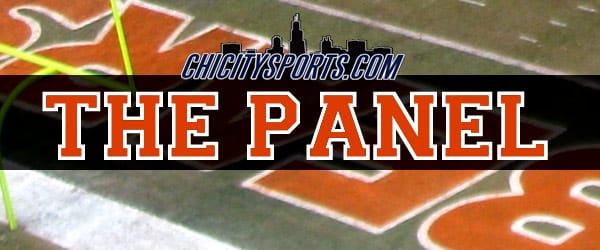 What a wild ride. We laughed, cried, got Tebowed and Hanied. The 2011 Bears were so close to making a deep run. Now we pick up the pieces, reboot and most importantly, we learn from our mistakes. Join us, as we express ourselves on the broken roller-coaster that we call, the Bears 2011 regular season.
The Bears Panel includes ChiCitySports writers and enthusiasts:
Adam Dyson – Chris Snow – TheChicagoFan – CubbyBear – Waldo
How would you grade the Bears performance this season, with all things considered?
AD:  I would give the Bears a grade around a 'B' grade. They honestly overachieved for the majority of the season, and I'm convinced that if health was on our side, they could have continued overachieving deep into the playoffs. Every team has injuries, but when your Quarterback, Running Back and #1(ish) Wide Receiver all go down, not many teams are going to be able to overcome that.
CS: I hate to do it, but I have to give this team a D+. I wanted to give them a C grade so bad, but I couldn't be honest with myself if I did. The front office has been front and center all season. From the Olin situation, which I side with the Bears when it comes to not resigning him, but I don't side with the Bears when they settle on Garza, despite doing a great job filling in. But it was a lot of problems like that. If I just graded the season based on what the Bears accomplished with what they had, I still give them a D grade. How do you go from starting a season by playing pass heavy, then changing to a run heavy offense, then back to a pass heavy offense? Good riddance Mike Martz is all I have to say. With all of the negatives about this season, his scheme amplified every offensive problem, and it didn't do much to give our aging players on defense enough rest down the line.
TCF: I would give the Bears a B- for the way they played this year. They got off to a rocky start, hit their stride, and then totally bombed after Cutler's injury. It wasn't a very impressive season, but I think the way that Cutler and the offense were playing in the middle of the season was good enough to help the Bears get a passing grade, in my opinion.
CB: All things considered I would probably give the Bears a solid C-/C. It started off as an A, but injuries exposed the weaknesses and Jerry's faults as a GM. The defense has gotten older and showed later in the season. Martz was correct about Caleb it seems. Along with the offensive line still showing minimal improvement, and the Wide Receivers are still mediocre on their best day. But it came with some positives. Melton was a nice player. Tillman made his first pro bowl, regulars went back (-Hester). But overall is a C.
WW: The grade I give the Bears will be a B with all things considered. Before the Bears started having injury problems, their a 11-13 win team. But then injuries happened and they feel apart. The main reason I give them a B is because of the defense. The defense kept them in every game and played outstanding. So… a B seems like the right grade. If all the injuries did not occur (Cutler and Forte), I would probably give the Bears a grade in the A range.
What was the biggest (positive) surprise of the year?
AD: I was pleasantly surprised with Chris Williams and Dane Sanzenbacher this season. Williams disappointed early in his career with injuries and inconsistent play, but he seemed to play well this season before going to the IR. Sanzenbacher looked like a poor man's Wes Welker at times this season, and I would expect to see him even more in the years to come.
CS: Major Wright. Seriously, this guy was a playmaker all season long, and he didn't get enough respect for it. In my opinion, he outperformed every expectation I had for him. I expect Peanut to play well, he surprised me a bit. I expect the franchise QB in Cutler to play well, and he did great with all things considered, but Major Wright needs to get a bone thrown his way for the huge improvements he has made in his sophomore season.
Ok, I'll be fair. Lovie was a pleasant surprise. He performs when his feet are to the fire, but when he has no accountability, he is a lot less prepared, even if his players are prepared. Plain and simple. This season he made less bonehead challenges, and his player-reputation as a coach has made Chicago desirable for a good GM to come on down.
TCF: This is a tough choice. I think both the emergence of Kahlil Bell towards the end of the season and the way that Dane Sanzenbacher, an undrafted free agent rookie, has played are great positive surprises. Bell was great when Forte and Barber were both out and will probably be the backup running back next year. Sanzenbacher was key in the beginning of the year when Earl Bennett was injured, but kept showing that he deserved to be on the team throughout the year.
CB: The biggest positive surprise in my mind, also happens to be the biggest negative surprise in my mind due to the hate this man received from not only the national media, but fans of his own team. That is the emergence if Jay Cutler as the Franchise Quarterback that the Chicago Bears had thought they traded for 3 years ago. He did so by showing not only how much he meant to making bad wide receivers look mediocre and showing a rare ability to evade many potential sacks, while somehow keeping his eyes down field.
WW: This may come as a surprise, but the defense, to me, surprised me the most. You can say the defense has always been the bright spot, which it has. But when Hanie couldn't make any plays and kept turning the ball over/going 3 and out, the Bears were on the field most of the game. Also, when the opponent had great field position, the Bears at worse make them settle for a field goal. A big surprise to me was Tim Jennings, besides a few games. I wasn't big on him, but to me, he played well. Other surprises that it could have been are RB Matt Forte and QB Jay Cutler.
If you could pick one game, which game of the season would you take back? (All injuries will still happen)
 AD: I'd always like to win the Packers games, but the game that hurt the most this season to me was the Denver game. It has very little to do with Tebow-Mania (though I'm glad that's coming to an end) and much more to do with HOW we lost that game. We played Tebow different in the last drive of the Broncos, and he torched us. He's not a good enough quarterback to beat a normal defense. Then, we got Barber'd. Not running out of bounds (which would've won the game) and not holding on to the ball in overtime (which most likely would've won the game). I hate it for Barber, whom I like as a player and hope to see back on the squad next year, but beating ourselves three times in one game was tough to swallow. Oh, and 110 yards by Prater in game-tying and game-winning kicks was pretty ridiculous.
CS: I was calling for a tank at the end. Why on earth did we have to be "professionals" and win that last game. I know, I understand why it's important. But I was just licking my chops over the idea of grabbing a better pick in the draft. We have too many key needs to fill this off-season to ignore this opportunity and beat out seven more teams for a better pick position. I'm not the kind of person that calls for a tank, but this was just a logical move. To top if off, Urlacher could have avoided his injury, and we could have had a lot of guys playing for roster spots in 2012.
TCF: This is kind of pointless to me considering that if all injuries still happen, there is no need to take back a game, but if I had to pick one I'd say the first game against the Lions. That was probably the Bears worst game of the season. It did help them figure out the defense and fix their problems, but it was a terrible game and the whole team probably wishes they could have that one back.
CB: Considering all injuries still happen it would either be the Vikings game, as its not like I like seeing the team lose, but if it's for the betterment of the team that 7 extra spots could have really helped the who the bears select and the value they receive. The other choice would be Denver, as beating them would have made me as fan happy, with my severe distaste for Tebow and all the idiot following that he has that believe there is something divine involved with football.
WW: The one game I would love to take back is the game against the Denver Broncos… when the Bears had a 10 point lead with about 3 minutes left in the game. The one part I hate was Tim Tebow was said to have one of his "comebacks". Which he did not. If Marion Barber did not make, not one, but two mistakes, the Bears won the game. After that game we all knew the Bears season was slipping away and the playoffs were a long shot. If the Bears won the game, the Cubs could be playing still. But they're not and are watching the playoffs from home.
Do you believe there a realistic move the Bears could have made to change the outcome of this season, after Cutler went down?
AD: No, not a chance. McNabb? Favre? Enderle? Nah, when news broke of Cutler being out 4-8 weeks because of his thumb, I looked at my family and said, "Well, our season just ended". Hanie showed us that our Offensive Line still isn't good, and neither are our receivers, but Cutler had a good rapport with both groups and knew when to throw and who to throw to. He was really looking like a pro-bowler this season. Perhaps it was best that he went down at the end of the day. If he stays healthy and we squeak into the playoffs for another disappointing loss, Angelo and Martz are likely back for the '12-'13 season.
CS: Throw Sam Hurd at QB, and let him take 40 sacks a game for the rest of the season.
TCF: I don't believe there is. Some say that McNabb or Favre could've led the Bears to the playoffs and Cutler could've taken over, but I think the whole team played worse when Cutler was gone and that wasn't going to change no matter who was at quarterback.
CB: In all honesty probably not. I would have liked to at least given McNabb a phone call, but he was pretty bad/terrible, these past 2 seasons. The other possibility is maybe benching Caleb a game earlier as he was horrendous and McCown though not good, at least looked competent.
WW: This is very obvious, but when Jay Cutler went down, they should have looked for a QB out of the organization (not McNown). I know they put a waiver claim in for Kyle Orton, but too bad the Chiefs claimed and picked him up. Another option that I think would have been a good option is Donovan McNabb. He's not the same QB he once was, but after Hanie was struggling big time, McNabb couldn't have been worse. To be honest, I think if the Bears benched Hanie and pick up McNabb 3 weeks or so sooner, the Bears are playing Wild Card weekend. But the move was not made and got to get over it. Hopefully Jay Cutler will come back fully healthy next year and leave off where he started.
What do you think of the Chicago Park District and their job of maintaining the field this season? Is the turf up to snuff, or are the players complaining less to prevent from sounding like a broken record?
AD: I always thought the bad turf was a big benefit to the Bears, who practiced on it constantly. They know what shoes to wear and how much force they can put on their breaks, while the other team has to adjust in-game. That being said, I believe it was most likely better this season. There's no one on the Bears team afraid to say what's on his mind, from bad play to bad sod to bad breaks.
CS: I'm sold that the Park District and grounds crew did a great job early on in the season. I remain skeptical that the solution is long term. I really feel for these guys, because they have tried a bit of everything to get the grass under control. It wasn't perfect, and I question whether the maintenance motive remained just as high in the middle of the season, as it was at the start. It might be a fact of life, that a natural grass stadium combined with the location will never be the pride of the league. If only we had the same ground heating system, like Green Bay, who seems to be the benchmark for cold weather fields.
TCF: I think after the big deal last year and how they weren't ready for the family night during training camp, they cleaned up their act. I think they started doing a better job and the field didn't have as many problems as it did last year.
CB: I would say moderate is the word to describe the turf, the Chicago Park District, and I'm sure the way the season ended had something to do with the players not complaining as much. I'm thinking had teams lost here later in the season and the Bears weren't bad/injured there would have been complaints. I'm hoping within the next couple seasons they get a hybrid of turf and natural grass as they have in Green Bay I believe. Looks as nice as the natural, and in the long run would be better for Bears.
WW: I think the park district did a good job with the field, but it's harder than you may think. It does mess with the players and they're not complaining because they keep making mistakes at Soldier Field. Players just have to keep their feet under them and they won't slip. Someone has to tell Johnny Knox because he slips all the time and Cutler takes the blame. Who knows… if Knox didn't slip, Cutler would have not broken his thumb trying to tackle the defender… when he threw an interception that shouldn't have been. It would be nice to have a good playing field, but can you do, nothing!
RECAP
Overall, the Bears grade a C+ with all things considered. The Panel hath spoken!
  All of our writers have a profile in the the Writers tab at the top of the site, or are seasonal contributors that can be found on the forums. None of the views or opinions in the Panel represent that of ChiCitySports, however if you don't like what we have to say, gives us your .02 in the comments section bellow.
For More Great Chicago Sports Content
Follow us on Twitter at @chicitysports23 for more great content. We appreciate you taking time to read our articles. To interact more with our community and keep up to date on the latest in Chicago sports news, JOIN OUR FREE FACEBOOK GROUP by CLICKING HERE