It's October, which means the NBA season is just a few weeks away. This offseason saw crazy moves across the league and a huge shift in power, none bigger than LeBron James rejoining the Cavs. Everyone will have their eyes on LeBron and other superstars this season, but here are a few low key players you should keep your eyes on:
Gorgui Dieng
For anyone who didn't follow the Minnesota Timberwolves last season or catch some Senegalese basketball this summer, it might be a surprise to see Gorgui Dieng at the top of this list. But trust me, Dieng is about as fun as he sounds.
Once a premier NBA prospect out of Louisville, Dieng took a tumble on draft day and fell to the Wolves with the 21st pick. Concerns about his ripe age of 24 and injuries problems probably caused his draft day slide, but teams are already hitting themselves for passing up on this beast.
To be honest, watching the Wolves wasn't on the top of my priorities last season, either. I probably watched Dieng's box score more than I actually watched him play, but that's what YouTube is for.
Apparently some crazed Dieng fan posted a ten minute highlight video of Dieng's rookie year, and it's fun right off the bat.
The first clip shows Dieng hit a Dirk-esque game-winning fadeaway with 4.6 seconds against the Houston Rockets. It's not quite at Dirk's level, but Dieng does hit this shot from time to time and he has a nice little in-between game.
Dieng averaged 8.6 points and 8.3 rebounds per game shooting 61% from the field in March, before exploding for 11.9 points, 10.7 rebounds, and 2 blocks per game in his final nine games of the season.
Dieng grabbed 20 boards twice last season, both against the Rockets, including going off for 22 points and 21 rebounds. Dieng kept up his hot play in the FIBA World Cup, averaging 16 points and 10.7 rebounds per game, leading Senegal to the Final 16.
Dieng is freakishly long with a 7'4" wingspan and he's finally starting to learn the game. Dieng is more Serge Ibaka than Mouhamed Sene, which will pay huge dividends for the Wolves. Say goodbye to Kevin Love, and say hello to the Gorgui Dieng Dynasty.
Zach LaVine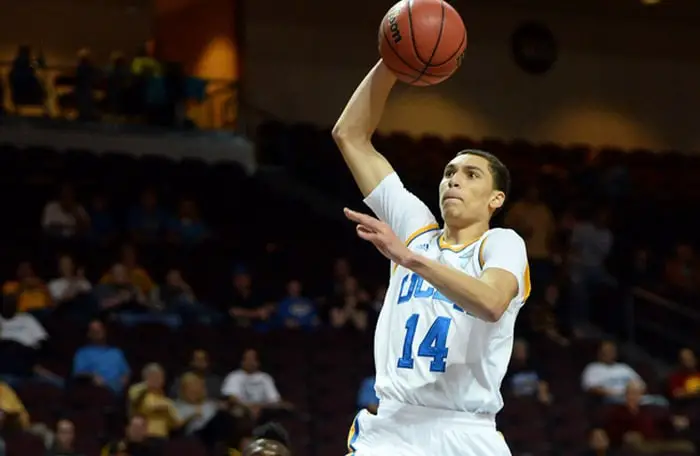 Another Timberwolves player? I swear I'm still a Bulls fan, but this team will be so much fun in garbage time. I already briefly covered Zach LaVine in my draft preview, so I'll try to keep this fresh.
LaVine was less than happy after being taken with the 13th pick by the Wolves—keep in mind this was before Kevin Love jumped ship.
It's really not that hard to explain why LaVine is so special. He's only 19 years old, and he might already be the best dunker in the NBA—definitely better than Kyrylo Fesenko.
Just to illustrate LaVine's freakish dunking skills, let's have a little dunk contest. We'll be watching his dunks from the Seattle Pro Am from this summer. I'll be the judge.
First Dunk
Windmill dunk off the bounce– Alright, he's one dunk in and he would've just won the 2014 dunk contest. We're still just warming up here, so on the LaVine meter, I'll give it a 9.
Second Dunk
Off the bounce, one-handed, head over the rim slam– OK, he's officially approaching Gerald Green height on that dunk. Let's take this time to acknowledge the fact that he's doing this totally nonchalantly. Couldn't care less. It's another 9, but we're getting warmer.
Third Dunk
One-handed windmill– Every great dunker has their comfort dunk that's tough as hell to do, but looks so easy. This is Lavine's. And it was a one-handed windmill. I'll give it an 8.
Now that we got the warm-ups done, here's LaVine's official 2015 Dunk Contest Submission Reel. Here are three other-wordly dunks:
Fourth Dunk
Behind-the-back dunk off the bounce
Fifth Dunk
Windmill from in front of the FT line
Sixth Dunk
Reverse through-the-legs off the bounce
10. 10.  and a 10. I'm pretty sure LaVine can jump a foot higher than anyone in the NBA. If I had to pick one of those dunks, I might go with the through-the-legs, which he started with the ball in his left and finished with his right. Just bogus. We've seen guys do variations of these dunks before, but LaVine adds speed, intensity, height, style, and effortlessness that hasn't been seen before.  Jamal Crawford plays for Lob City under Mayor Blake Griffin, and even he is still in awe.  I've already trademarked Zach "Levitate" LaVine. You heard it here first.
Troy Daniels
Transitioning from LaVine to Troy Daniels is a bit of a change of a pace here, but as good as LaVine is at dunking, Daniels is at shooting.
Daniels went from complete obscurity to a star in just one single shot. Down 2-0 against the Portland Trailblazers, the Houston Rockets were tied down the stretch in OT.
In an ugly play where James Harden almost turned it over, Jeremy Lin somehow came up with the loose ball and found Daniels in his sweet spot on the left wing. Daniels hit the  game-winning three pointer with 11 seconds left. His shot couldn't look more pure.
That was the first most had heard of Daniels, but he didn't come out of nowhere.
Daniels went undrafted out of Virginia Commonwealth, where he was a cog in Shaka Smart's HAVOC defense. Before playing four regular season games for Houston, Daniels broke shooting records in the D-League.
In 48 games for the Rio Grande Valley Vipers, Daniels averaged 21.5 points per game and made an absurd, league-record 240 three pointers shooting 40%–that's FIVE three's per game.
For some context and more absurdity, here's Daniels' shot chart:
As you can see, a whole lot of green circles (and red X's) on the perimeter, with scattered circles inside the arc. Nearly 78% of his shot attempts came outside the arc. If you want an NBA player for some context, just over 64% of Kyle Korver's shots came outside the arc.
The Blazers left Troy open in his favorite spot—the left wing, which made up for 29.63% of his shots. Don't expect Daniels to be open there any longer.
In this day and age, its more important than ever to have a shooting specialist on the roster.
Look at last year's finals, the Spurs had Danny Green and the Heat had Ray Allen perched behind the arc—look how that paid off for both teams.
Unfortunately, Daniels is only 6'4" and plays the same position as the Rockets' best player. Look for Kevin McHale to get creative and find ways for Daniels to get onto the court.
Daniels probably won't make 240 NBA three pointers, but coming off the bench, he won't need to. If Daniels can learn how to hold his own on defense, he might move onto the shallow list of top NBA shooting guards. Until then, he'll be just fine sitting on the perimeter.
For More Great Chicago Sports Content
Follow us on Twitter at @chicitysports23 for more great content. We appreciate you taking time to read our articles. To interact more with our community and keep up to date on the latest in Chicago sports news, JOIN OUR FREE FACEBOOK GROUP by CLICKING HERE